Home is a dynamic place having varied dimensions and family members with their own preferences. This makes buying the right kind of furniture – especially a bed, a herculean task. You can afford to go wrong while selecting a coffee table or storage cabinet; but a bed – no chance! Because you and your family's mental and physical well-being largely depends on sleep health. As a perfect bed helps you sleep better.
If sleigh beds is an ill fit for your space, adjustable beds could be a great option for ever-changing scenarios. It's a lot easier to outfit your home with these transforming furniture units, rather than going for other traditional options that serve a limited purpose.
Freedom to organize your side of the bed (as per your convenience) without having to ask your partner to change his/her personal preferences is another reason they are a great choice.
Benefits of adjustable beds
These alterable furniture pieces not only fit perfectly into the available space but also adapt to body curves. Sleeping on a flatbed can make your body feel uncomfortable, causing body ache and sleeplessness.
Fortunately, this is not the case with adjustable beds. They ease out back pains and swelling in legs. They also relive body soreness, improve blood circulation and soothe neck and shoulder tension, while providing relief to your entire body. They are also ideal for people who have just had surgery.
If a comfortable and relaxing sleep is your priority, don't think any further. Invest in a good adjustable bed. Apart from being comfortable, these beds are durable, as well as affordable. Moreover, you can customize them with advanced features like Bluetooth connectivity, USB ports, and motion-activated under-bed lights. Just like the multi-functional Tatami bed.
If you are planning to buy a stylish-yet-functional adjustable bed for your home, consider the following options for personalized comfort and sleep for healthy living.
# S-Cape adjustable bed base
Designed by one of the most renowned names in the industry, Leggett & Platt, this bed is meant to fit almost everyone's sleep requirements. What makes it stand out is the combination of essential design components and added features like wireless control and a high-performance motor capable of lifting 700 pounds.
It can raise the head at an angle of 59 degrees and feet at 45 degrees thanks to the wireless remote control. This solidly-engineered contemporary bed manages to provide a dual massage feature for soothing and relaxing aching muscles.
Price: $1,050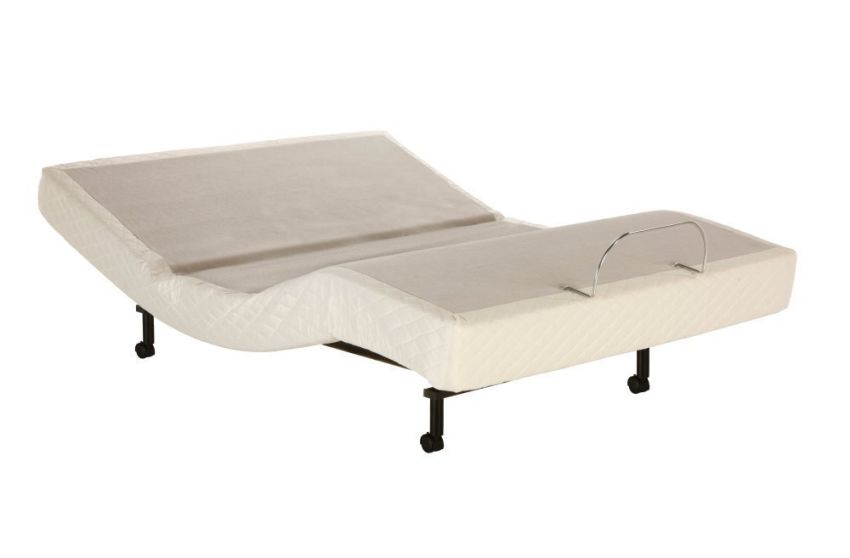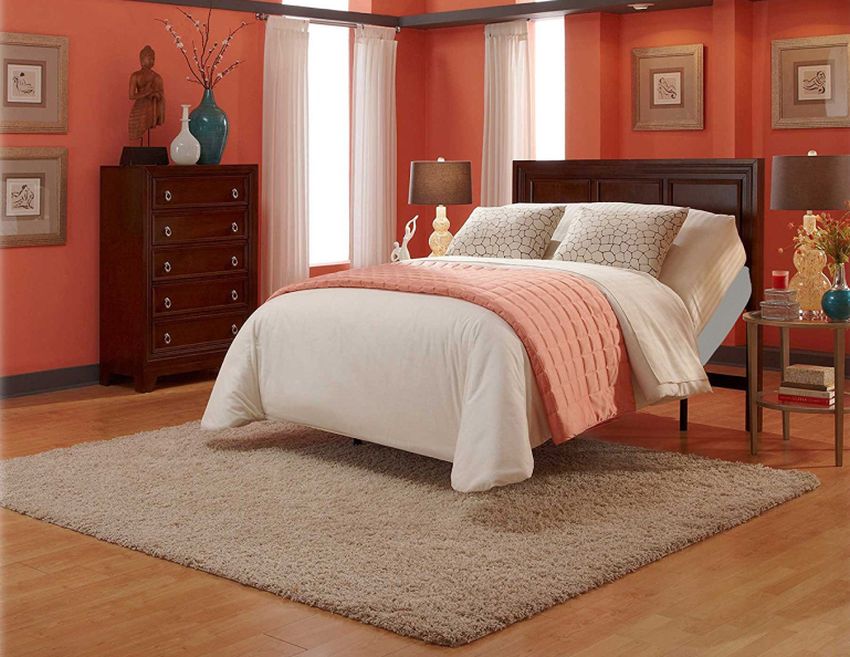 # Reverie 7S adjustable bed 
Perfect to recreate the bedroom of your dreams, the height-adjustable bed with a sturdy frame and flexible design is great for the ultimate sleeping experience. Flexibility to elevate head and foot to any angle offers maximum comfort for any kind of user. Built-in massage with 10 different intensity levels is an additional perk which takes comfort to the next level.
Smart features include controlling the bed with your smartphone via a dedicated app. The adjustable base having stunning aesthetics and advanced technology ensure great design and comfort for each and every member of your family. 
Price: $900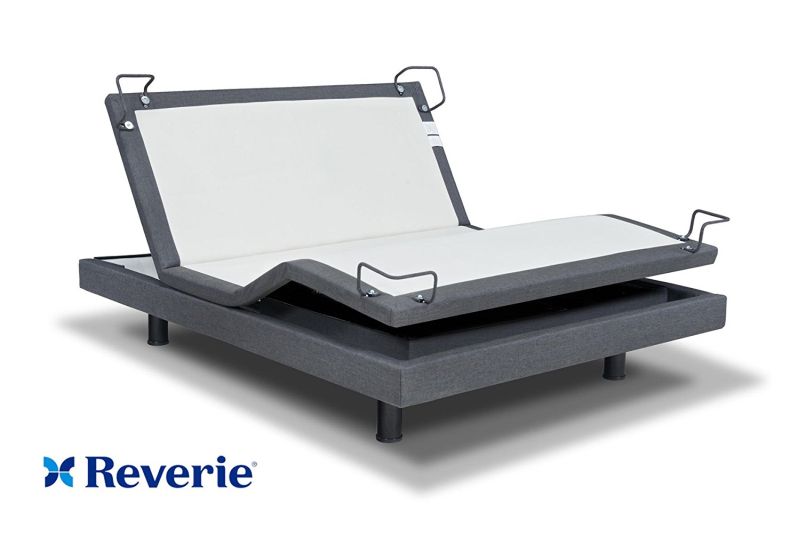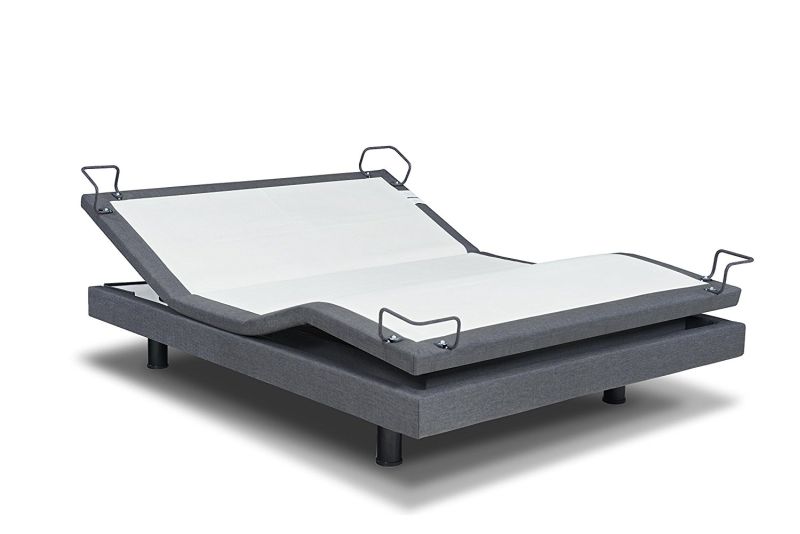 # Eco-Lux adjustable base (King Size)
The best thing about this bed is it adjusts to your personal preferences, which is a rare feature in large beds. This king-size adjustable bed has a split design that allows each sleeper to control their preferred sleeping position. Large size offers plenty of room for each occupant, and two individual remotes offer separate controls over the position.
Optional brackets are available to accommodate a headboard and footboard if desired. You can buy it to sleep comfortably while making desired changes on your side without disturbing your partner.
Price: $640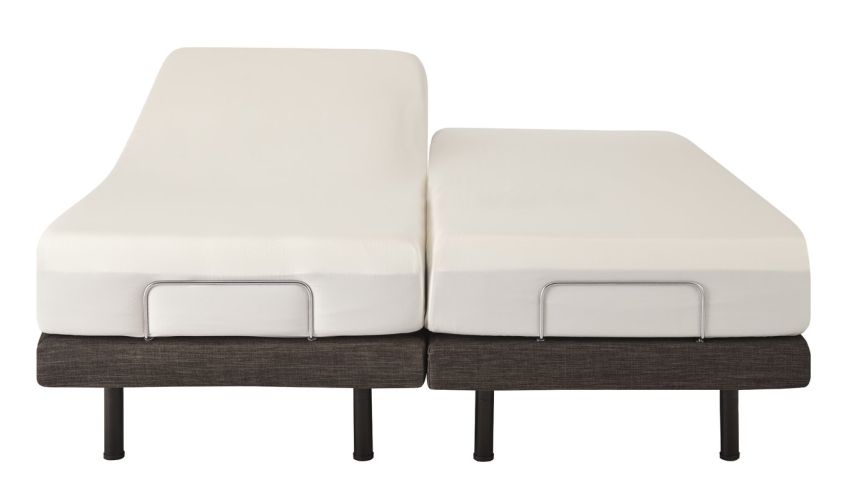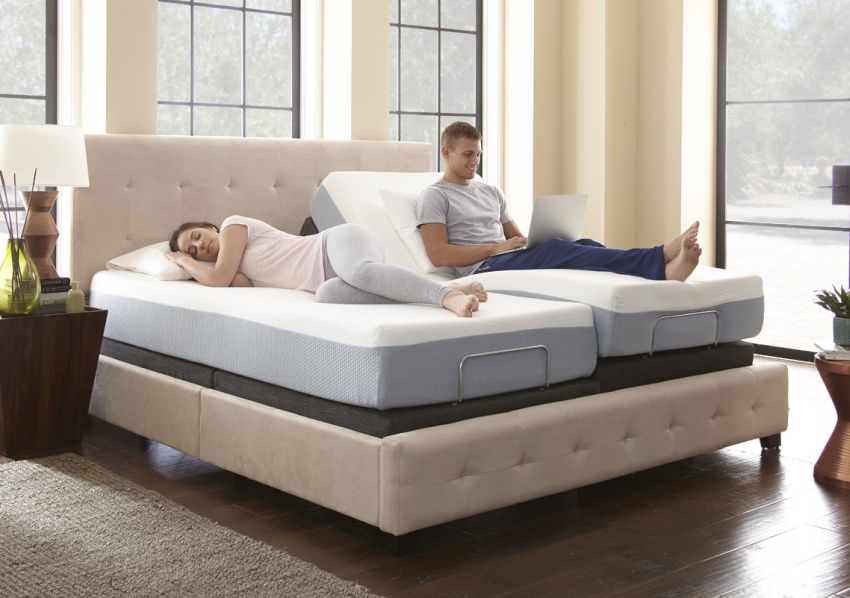 # Lucid L 300

Ludic L300 adjustable bed provides a durable and customizable platform. It comes upholstered with a charcoal gray frame that independently adjusts between head and foot sections.
It's an ideal option for tech lovers as it comes embedded with features like a wireless remote having a flashlight and dual USB charging stations on both sides for charging smart devices.
Price: $500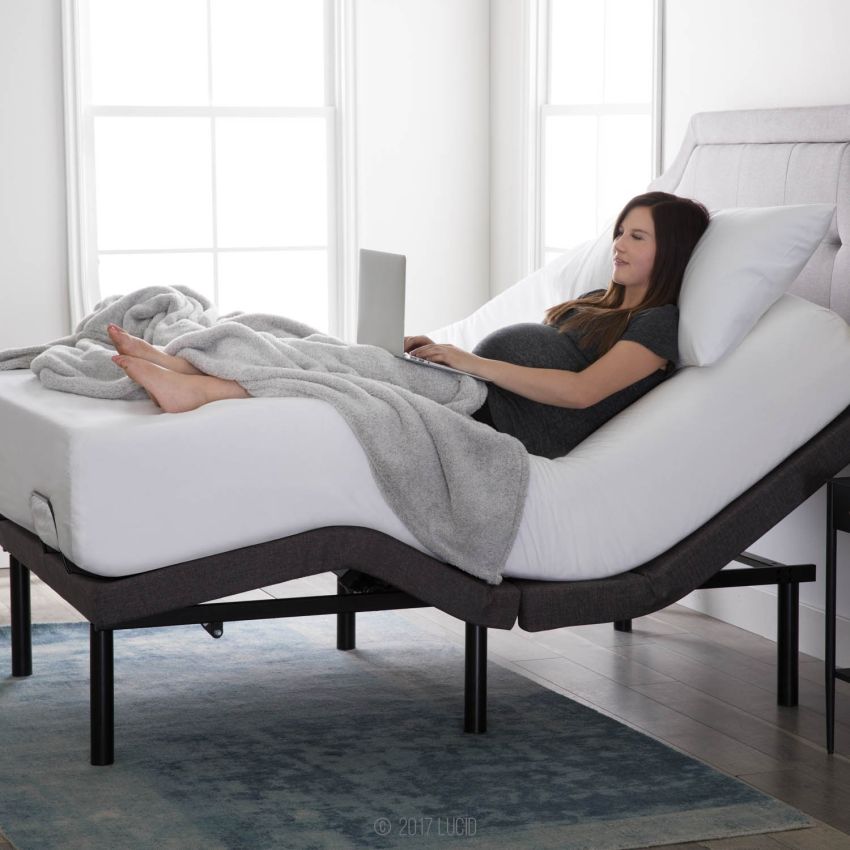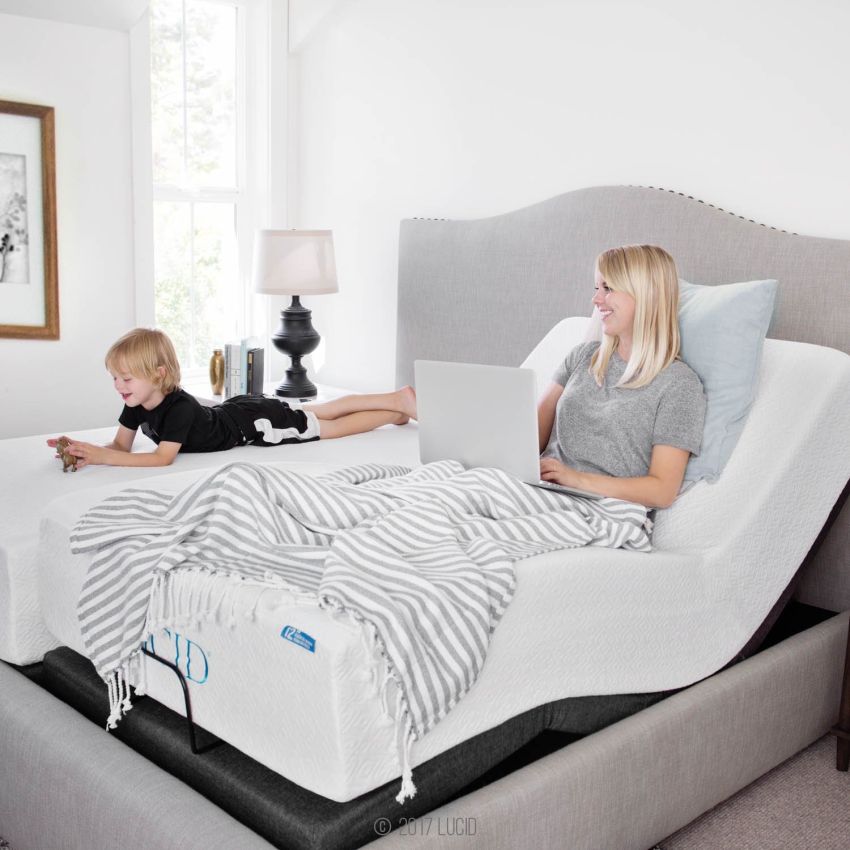 Also Read: 5 Most Expensive Mattresses For The Best Sleep Experience
# Classic Brands adjustable bed
If your partner always complains about your snoring habit, you need this adjustable bed in your home. It can adjust to the right body position to help reduce snoring at night. The flexible design offers comfort and tech-savvy features like USB ports, and the flashlight adds to its functionality.
The bed frame has a separate head and foot elevation supports to adjust to your body comfort.
Price: $560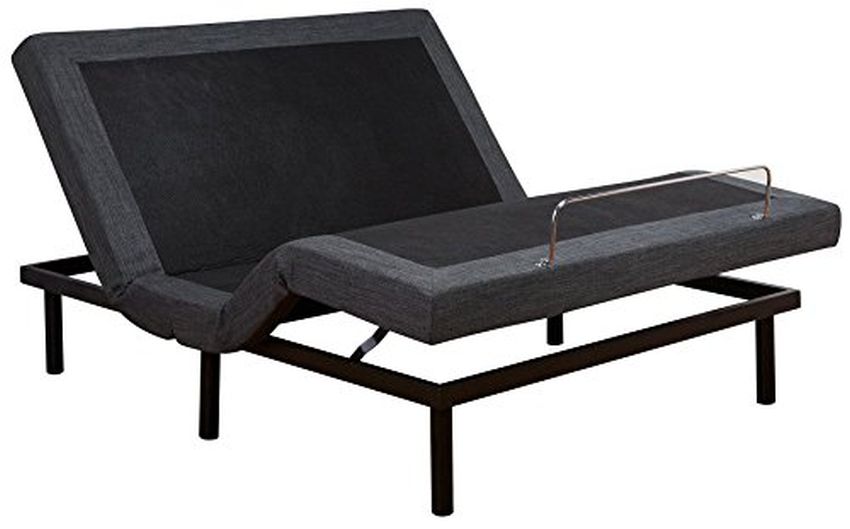 Image: Amazon
# Kristofer adjustable bed base
Kristofer base is another customizable and stylish bed that eliminates your back pain while placing you in a reclining position. The frame uses a mixed wood and upholstered surface design; combining traditional and modern element in one frame to offer maximum comfort and sublime sleep experience.
Unlike metal frames, the wooden frame gives a more authentic and warm appeal. The head and foot panels are independent of the frame, each controllable via a wireless remote. It also features a flashlight and dual USB charging stations on both sides for charging smartphones and tablets.
Price: $530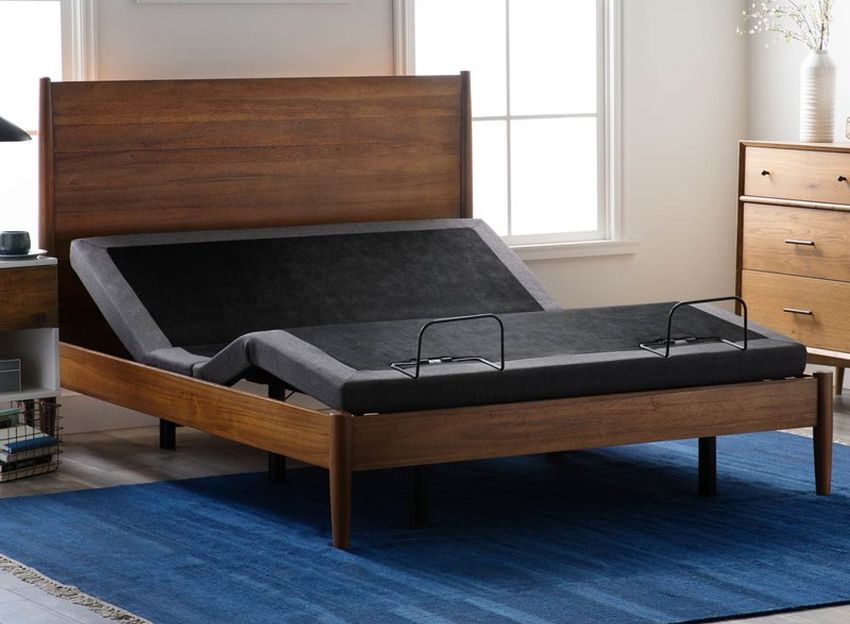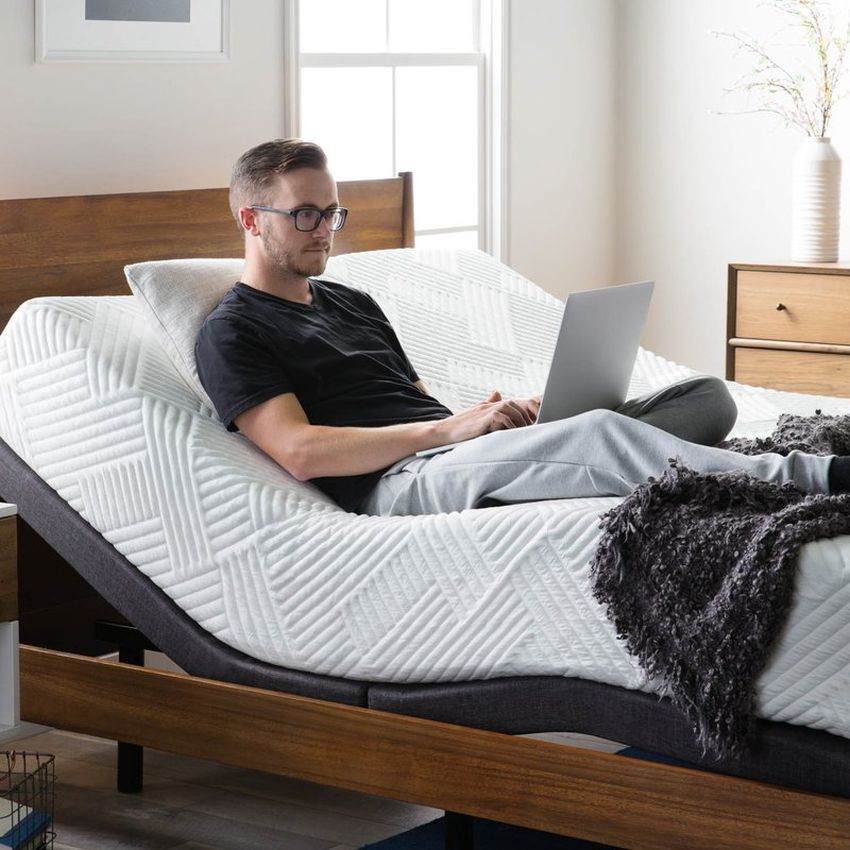 # PragmaBed Simple Adjust
It is a budget adjustable bed that comes in a foldable design. Due to its adjustable head and foot foundation, it is easier for an individual to arrange it as per their preference. The frame has enough support for the mattress and doesn't require any extra box spring for strength. 80-degree articulation at the head section and 30 degrees at foot help you find the most suitable position for a good night's sleep.
No tools are required for assembly, and the capped feet prevent damage to hard floors. Underneath the bed, there is enough space for storage.
Price: $175