Those who love books more than anything would always want them to by their side and never part from them. The percentage of such bookworms would be very less, but creative designers from around the world can't keep themselves from conceptualizing multipurpose furniture having the essence of a library intact for those people in minority. Chairs with built-in storage space is a perfect idea for all those who can't part away from their favorite books. So, here we have a collection of bookshelf chair design ideas that can be deemed as personal libraries conceptualized by genius designers hailing from different parts of the world.
1. Bibliochaise
This drool-worthy chair-cum-library comes from the house of Italian design house Nobody & Co. Bibliochaise chair that can store around 300 books is a nice place to store your books. The chair that measures 40.16"x33.86"x29.33" is made out of oak wood, and comes with a wax finish and leather cushions with removable covers in a wide range of colors.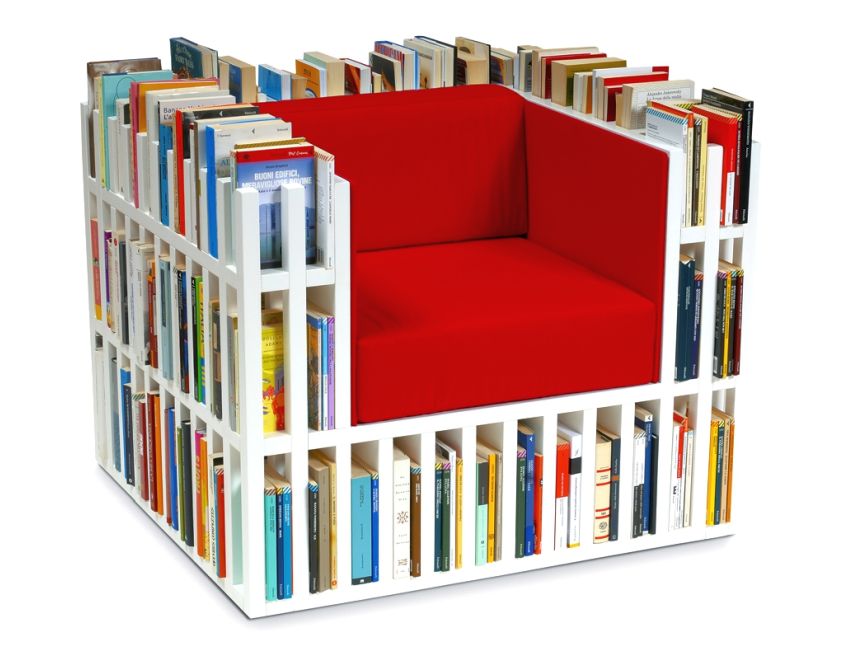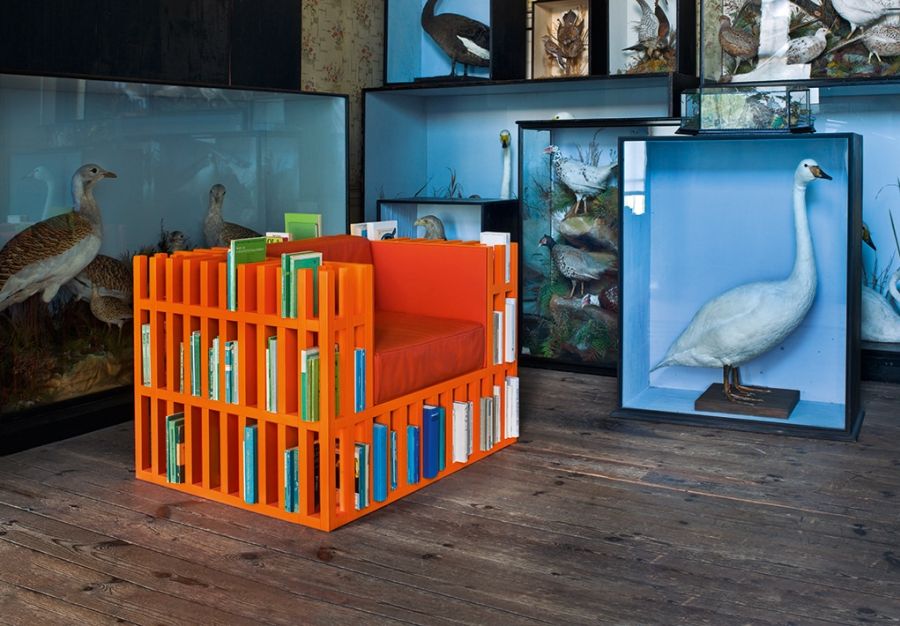 2. Domus Bookshelf Chair
Domus Chair by the young Italian designer Andrea Mangano is a multipurpose furniture unit that combines a reading chair and bookcase in one. The modular seating is designed keeping in mind increasing urbanization and shrinking living space inside a house. The Domus chair having 4 modules for book storage is made out of wood reinforced with aluminum foil.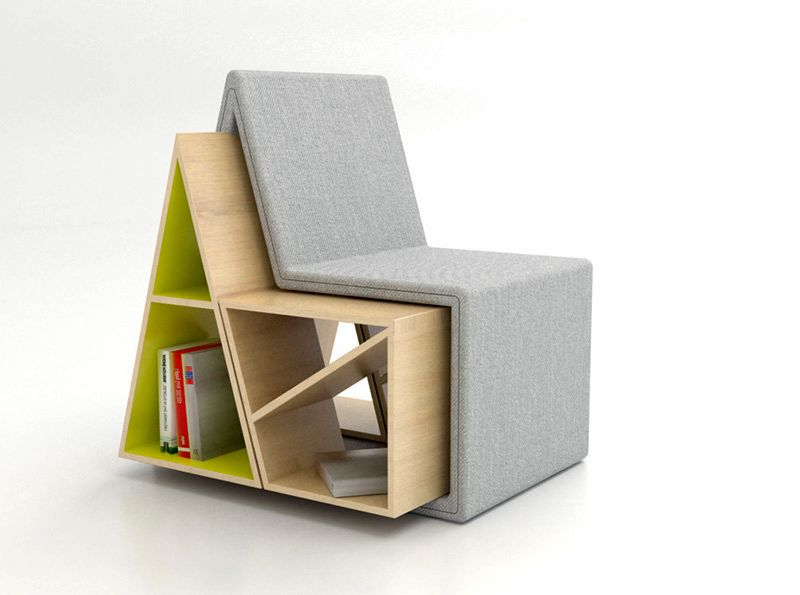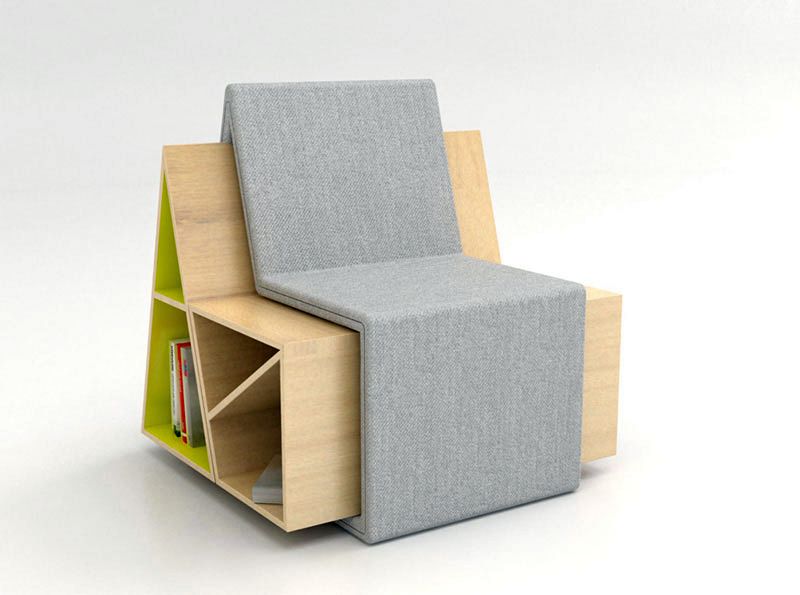 3. Openbook
A comfortable chair designed by Studio Tilt in collaboration with Oxford Hub, the Openbook is ideal for bookworms. The design is crafted carefully keeping in mind the readers' personal space. Not only does it have space for storage of books but also for hanging magazines and newspapers. On first look, the chair looks comfortable and perhaps a cozy place to be in while reading your favorite stuff.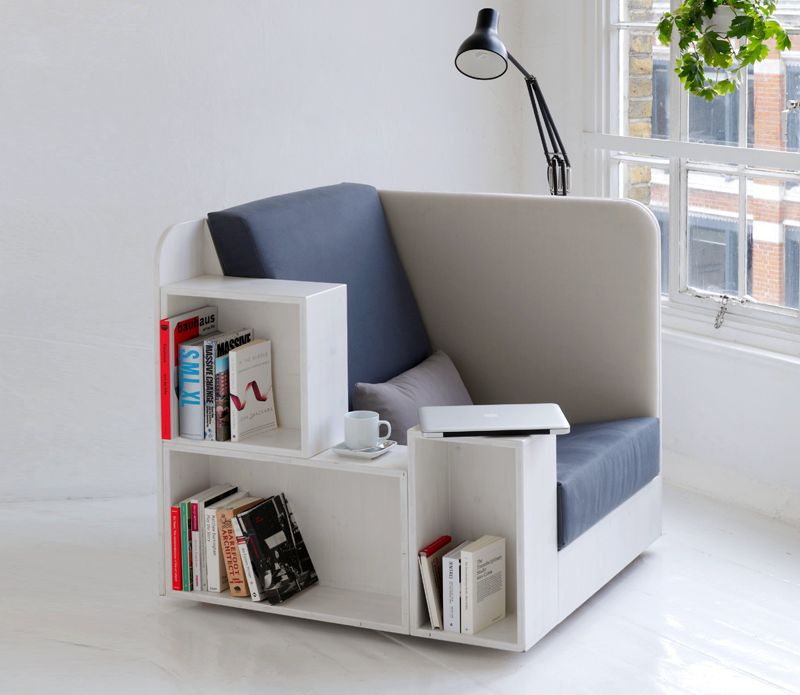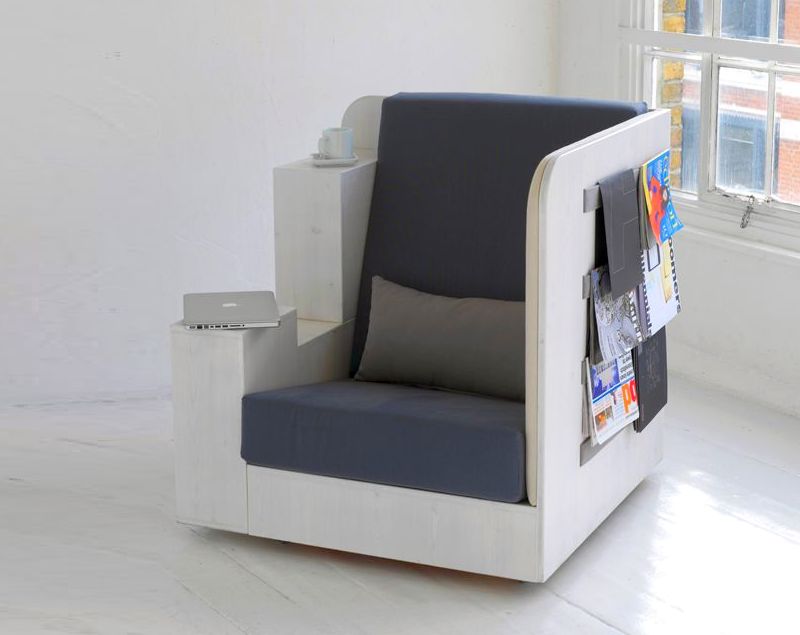 4. Bookinist
Bookinist by Nils Holger of Moormann takes a cue from the wheelbarrow design. The chair that doubles as a bookcase has a built-in lamp and a wheel so that the person sitting on it can effortlessly scoot it around while reading his/her favorite book or novel. The imaginative and versatile piece of furniture comes in dimensions of 31″x30″ x36″ and can be purchased for $3,500 from Moormann.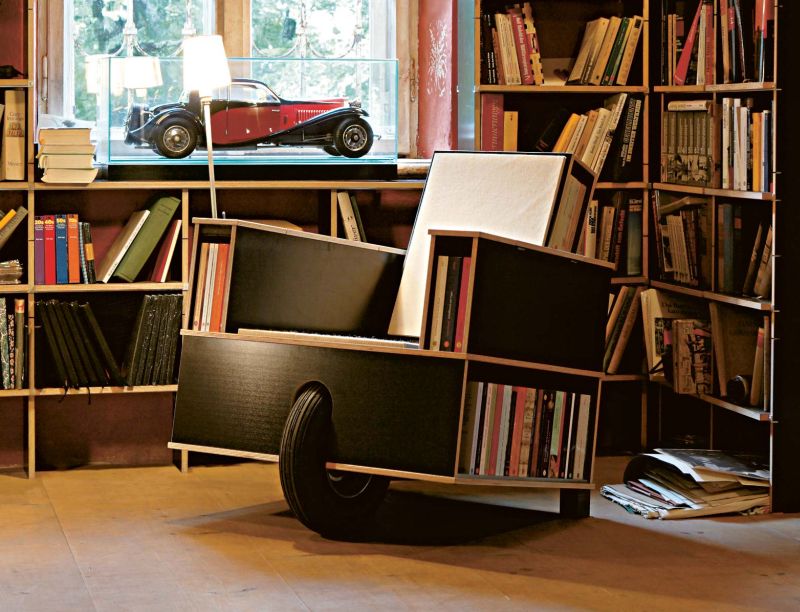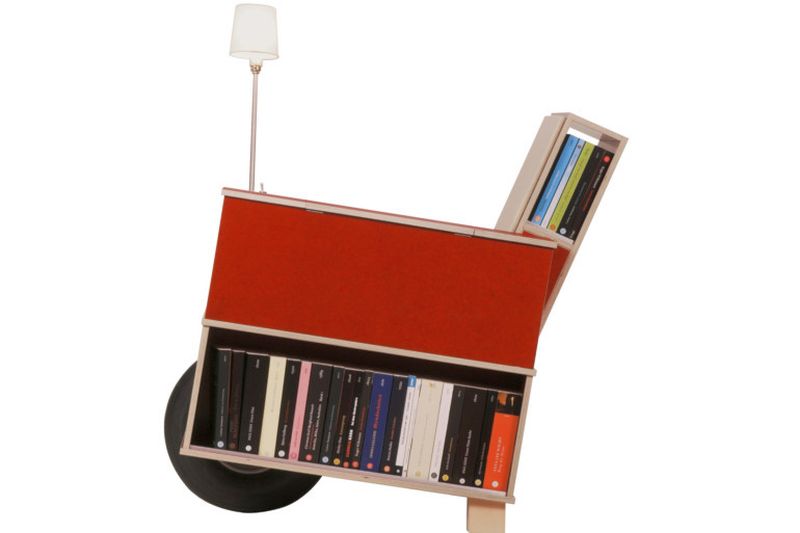 5. Reading Chair
Reading chair having a compartment big enough to store books has been envisioned by D-school graduate Remi Van Oers. Made for bookworms living in a small apartment, having books piled up everywhere around them. Intelligently designed chair having a built-in lamp has an extended back all the way under the seat. The space between legs has been utilized as storage space for books. The bookcase underneath is big and open making it easily accessible with both the hands. The reading chair is a part of the reading furniture collection that was exhibited at Dutch Design Week 2010.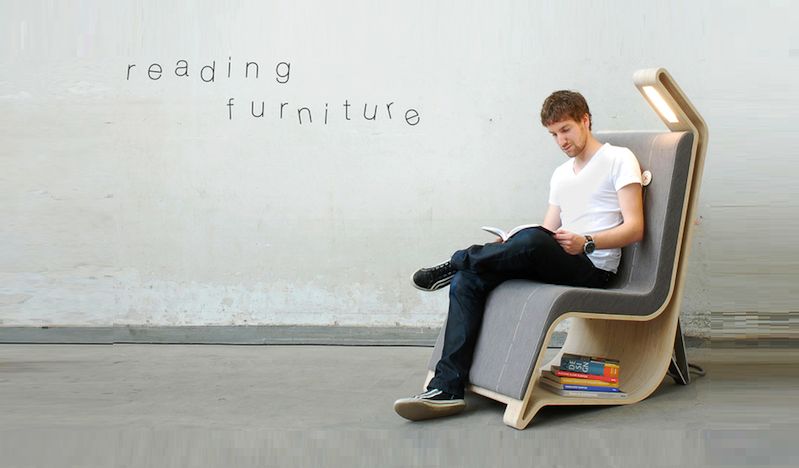 6. Bookseat
Another chair combining ergonomic seating and bookcase in one is Bookseat. Designed by Fishtnk Design Factory, the Bookseat is a chair that playfully becomes a bookcase. The creative yet functional design is targeted at today's urban living and is relatively more functional and practical than others. Built-in bookcase has several bookshelves that change its storage space along the curves of the chair.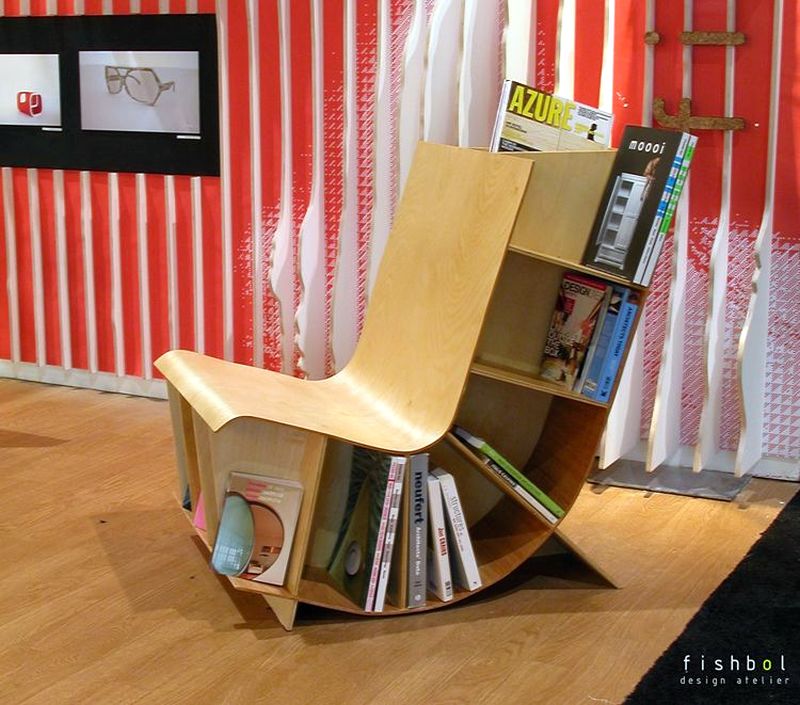 7. OFO Bookshelf Chair
Here is another unconventional chair design that has beautiful curves and a lot of storage space for books underneath the seat. Designed by Solovyov Design Studio, the OFO chair with quite an awkward shape has a big hollow compartment for book storage. Indeed, it can turn out to be highly functional for space restricted modern urban spaces.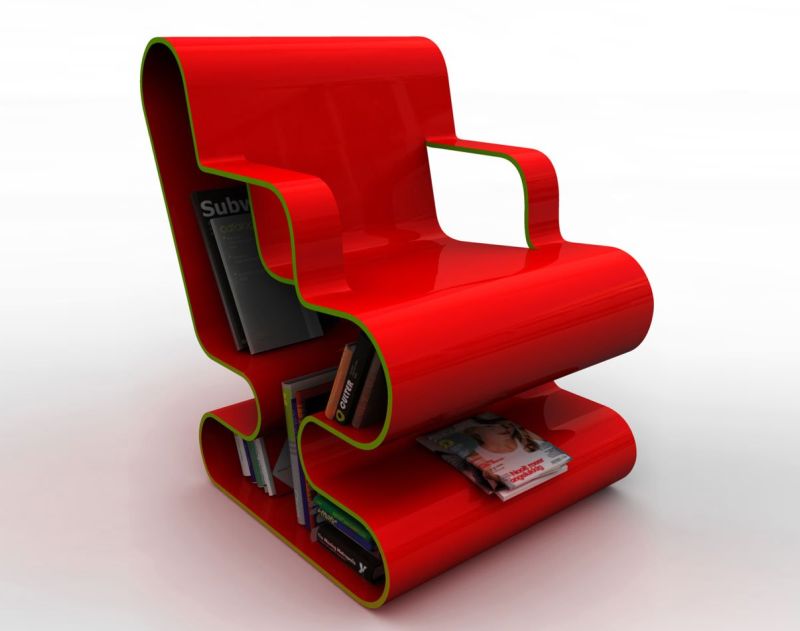 8. Sunflower Chair
Designed by He Mu and Zhang Qian, the Sunflower chair is conceptualized for avid book lovers. As per designers of the chair, it's like sitting in the middle of a blooming sunflower surrounded by books that act like petals of the flower. The chair has numerous compartments around its circumference that can hold two or more books or magazines. The chair was exhibited at 5th Design for Sitting Grand Prix and won Redtory Design Award.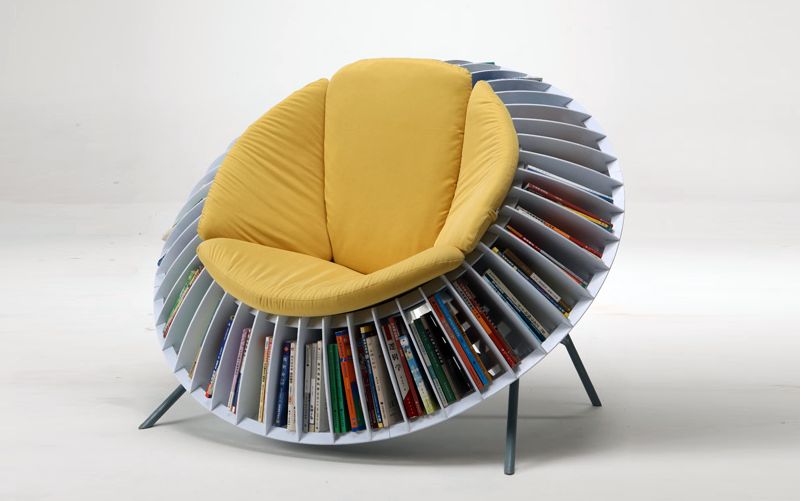 9. Spacebook
Spacebook by Turriniby is a functional armchair with built-in bookcase. The armchair combines both comfort and functionality. With the dual utility, it offers a place to relax and a place to enjoy reading some books at the same time. It relaxes your body with its ergonomic design and a big enough library at your fingertips. Elegant cushioning material and transparent compartments further spice up your reading experience.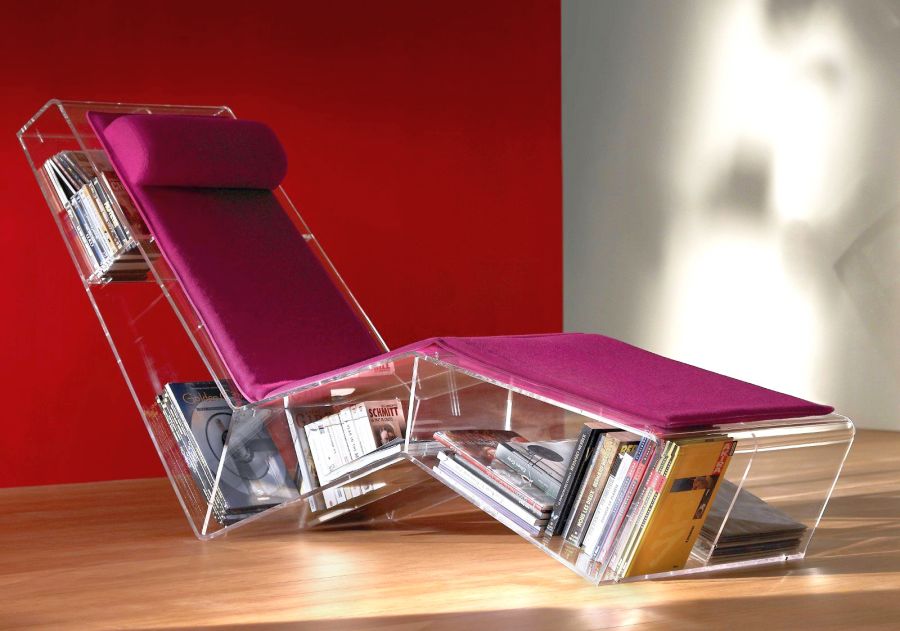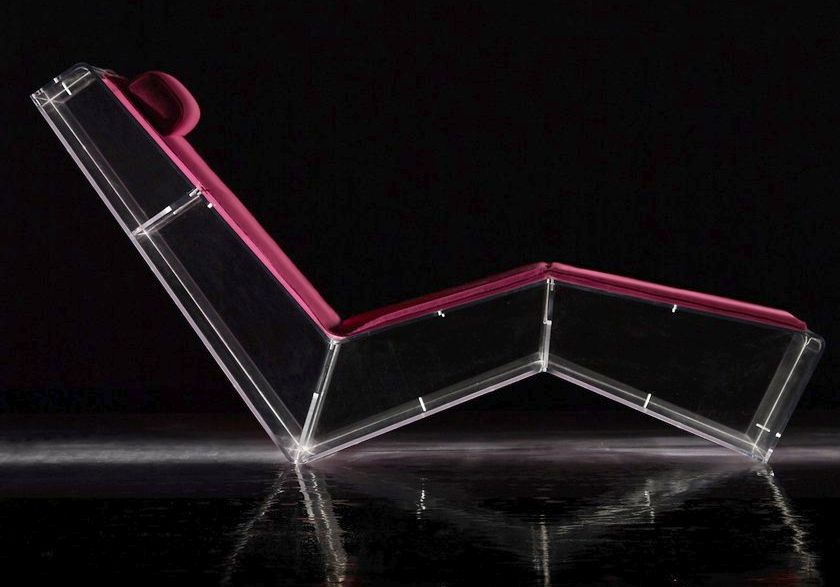 10. Paciocco
Combination of an armchair and hammock, the Paciocco chair is made without using any screws, nails or glue. It is more of a suspended chair which has enough space underneath to keep your favorite books. This chair designed by Punto Soave made from solid ash wood is well suited for people who like a laid back book reading style.