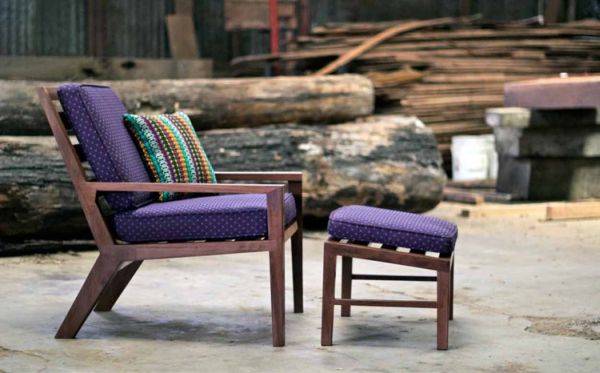 Contemporary style achieved by traditional craftsmanship – this dictum sets the benchmark for the design pieces of AP Furniture. Founded by designer Aaron Poritz, the company is relatively new in the furniture scene with their first collection (pictured above) being showcased at New York City in July of this year. And quite interestingly, many of the furniture pieces are intrinsically related to Aaron Poritz's numerous travels around Central America (he actually divides his time between New York City, Managua and Nicaragua). How so? Well, during one of his routine travels through Nicaragua, he came across a wood mill that collected hardwood from hurricane felled trees during 2007. This innovative measure allowed Poritz to collect some rare varieties of hardwood that was used for the debuting furniture collection.
In essence, many of the designs utilize wood that have been salvaged in a sustainable manner from hurricane affected trees. This 'second life' not only alludes to eco-friendliness, but also inspires the user to form an intangible bond with his furniture item. Beyond the hurricane scope, timber varieties were also utilized from teak and coffee plantations. In this regard, the types of wood used for the collection included – nogal, frijolillo, teak, nanciton, guapinol and cedro macho.
According to the designer himself –
When I design a piece of furniture, I consider many elements, from scale and proportion, to materiality and tactility, to how a person physically interacts with the object. As in architecture, I like to explore the structural capacity of the materials I use. I design pieces that limit waste while expressing their strength and maintaining structural integrity.
So, the ambit is not only about upcycled wood, but also its functional as well as aesthetic value. As for pricing, the items range from $220 for stools to $3,095 for coffee tables.
All images are courtesy of AP Furniture.
Via: AaronPoritz