The simple idea of space-saving furniture is to minimize clutter, and Vancouver-based furniture makers, Expand furniture have made a full-blown business out of it. Holding expertise in space utilization and convertible designs, Expand furniture is a leading name in the furniture design industry today. The Vancouver-based furniture company provides incredible furnishing from smarter wall beds that fold over sofas and desks that transform into convertible coffee and dining tables.
We get into a discussion with the Co-Founder of Expand furniture, Adam Joubert, who throws light on the importance of space-saving design and discuss customization for homes. In an exclusive chat with Homecrux, Adam not only elucidate the design philosophy but also give us a live demo of Expand Furniture's product lineup. But, where did it all start for Adam and his team at Expand furniture?
"After having a brief stint with a furniture company in Australia that used to make manufacture for Wayfair, me and my brother moved back to Vancouver in search of a good apartment," tells Adam. The brothers were left astonished when they came across the rent and prices for property which were really high.
"This made us look for smaller places to live in ourselves which implied we had to compromise on furniture," he added. It was that point in time when the idea of expandable furniture hit upon them and the brother decided to set up a convertible furniture business to help people save space.
After establishing their business in 2014, some of the top Expand furniture lineup today includes Compatto – Wall bed revolving bookcase table, The Cadence: Wood lift top table with a glass base, Box coffee to dining table, and Junior Giant console transforming table.
He further informs, "Every single of these products specializes in space-saving and is great for use in small areas, as well as multiple-purpose rooms." Transforming tables are in fact, one of the top-selling products on their website, Adam mentions. The other driving force for the Joubert brothers was the furniture they needed did not exist in our market at that point in time. In a bid to solve their own problem, they went on to make furniture that makes other lives convenient too. 
Despite Compatto – Wall bed revolving bookcase table garnering a lot of attention on social media, Adam feels not every house needs a Wall bed or a Murphy bed but almost every home could free up space by incorporating a coffee to a dining table or console to a dining table. "It's always nice to compact down a large dining table irrespective of the size of your house, "he says.
Alzare Square – Transforming Coffee Table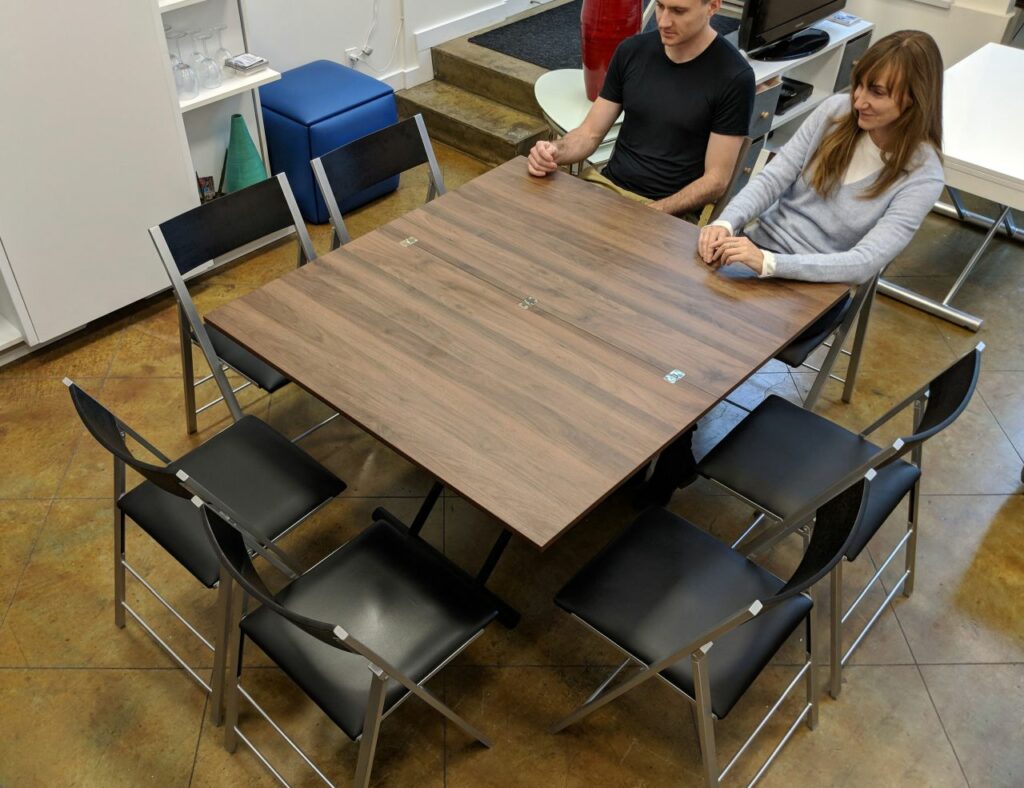 Costing $1,495, the Alzare is a small transforming coffee to dining table that utilizes a hydraulic gas lift system for strong support and easy use. Boasting its low profile build, it poises at 10 inches in height and raises to a 30-inch dinner height or anywhere in between.
Console to Dining Table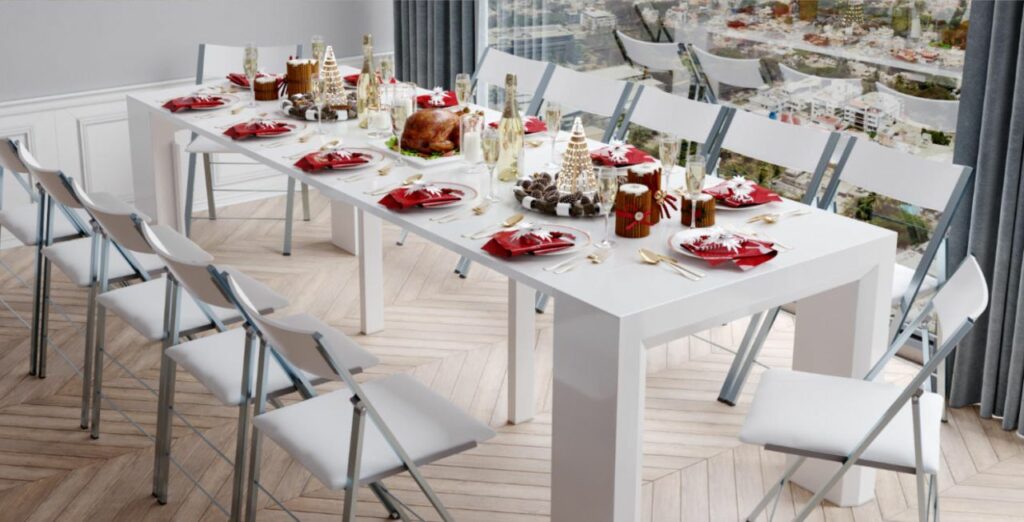 Expand Furniture also has a whole catalog of consoles to dining table that hides away as decorative consoles or functional compact desks. Whenever there is a need for a dining space they extend, flip, fold or transform into larger expanded dining tables that seat 4 to 14 people or even more.
Compatto – Wall bed Revolving Bookcase Table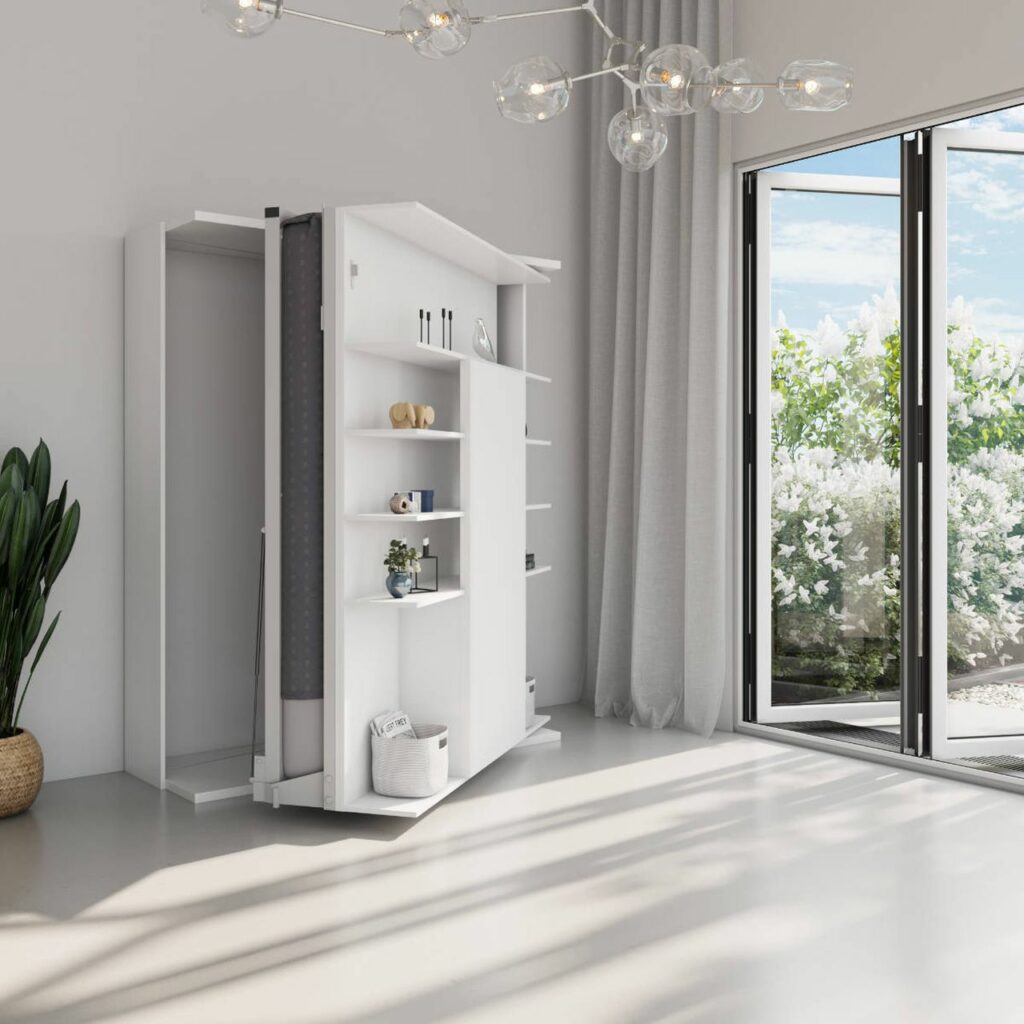 Despite tables being the most preferred furniture at Expand Furniture's line up, it is the wall bed revolving bookcase table that steals all the limelight. Costing $5,995 the premium Revolving Murphy bed with a table is a wonderful addition to your space.
The table folds up and the Murphy bed rotates 180 degrees. Balancing books and items that rest on the shelf, the large dinner/office table smoothly conceals itself when not needed and the shelving has plenty of vertical storage to keep your home organized.
Upon being asked how he manages to maintain the right balance between aesthetics, versatility, and functionality, Adam responds by citing an example of the Junior Giant table which has a middle support leg. Adam mentions that it can be rotated out of the way to keep the aesthetics as nice as possible. "One needs to think a few more levels deep when one is producing, designing, and manufacturing," he adds.
Talking of designing and manufacturing Expand Furniture does a bit of both but mainly caters to the design part. While collaborating with manufacturers outside designs are tweaked a little, if required, and modification is done keeping the needs of the customers in mind. "We are even open for custom projects but the customer needs to have some patience because production can be a little bit slow, especially with the last few years with logistics being a little bit crazy due to the pandemic."
Commenting on the post-Covid era and recession worry, Adam states, "Sales are slowing down, though not a dramatic amount but people are being conscious. The last few years have been challenging for everyone but we are all getting through." Expand Furniture's predominant market is mostly Canada and USA but they are also flexing their muscles in the European peddles. So, if you are the one in need of a space-saving design, Expand furniture should be on your checklist.