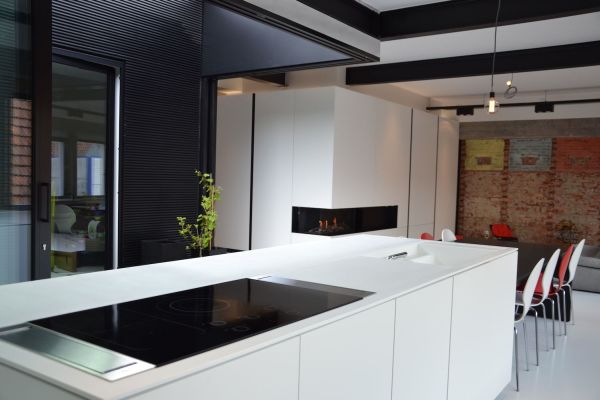 Kevin Nechelput, architect from Aeon Architecture in collaboration with EeStairs, has transformed an old textile factory into a beautiful apartment in Deinze, Belgium. The architect has preserved some aesthetics of the factory like its brickwork and color-blocked walls as a reminder of its former existence. The new apartment includes two bedrooms, a kitchen, a bathroom, a small indoor garden, a roof terrace and is complete with customized furniture.
The interior of the house is mainly of black and white color including the similar themed furniture. The red colored chairs, brick wall and green indoor garden are used to add some color to the basic black and white shades of the house. Color scheme of the house is decided brilliantly to maintain its elegance.
The best feature of the house is the staircase by EeStairs, which takes only up to one square meter of floor space. It is designed to connect with the terrace and remains hidden in a closet until needed, which is quite impressive. Nechelput has set a brilliant example by transforming an unused factory into a beautiful space saving apartment with a modern look.
Via: Archello