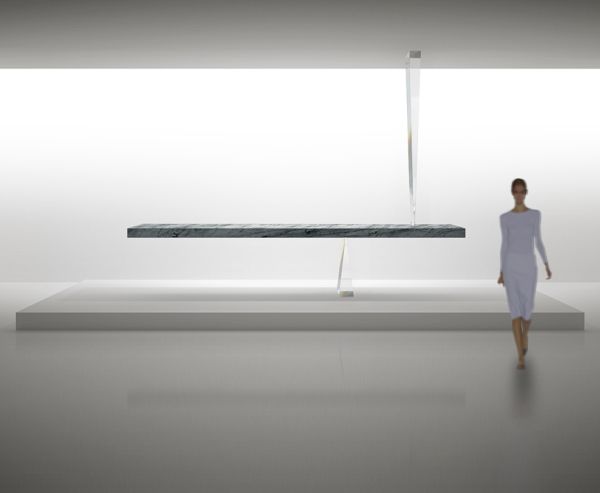 When it comes to designing a table, often wood is the most preferred materials for its construction. However, stone is also a durable as well as beautiful finishing material if used wisely. Japanese designer Tokujin Yoshioka has made use of the same material to showcase his craftsmanship by designing a beautiful stone table that defies the universal law of gravity. Dubbed as the Agravic Stone Table, this exclusive design will be launched at the Milan Furniture Fair (Salone del Mobile 2014) this year.
The marble plate that seems floating in midair is carefully balanced between two vertical acrylic bands. Dark timber elements, turquoise glasses, translucent onyx stones accompany the marble and reflect the dark as well as pristine shades of nature.
The Agravic stone table represents a long journey, the visual limits of which fade away in the numerous reflections of the mirrored surface. This journey – which started in the past by Aziz Sariyer from Turkey, followed by a reflection on the present made by Italian designer Fabio Novembre and then projected into the future by Yoshioka Tokujin of Japan, was conceived by the design studio of Erdem Seker of RDM Architettura.
Via: Designboom