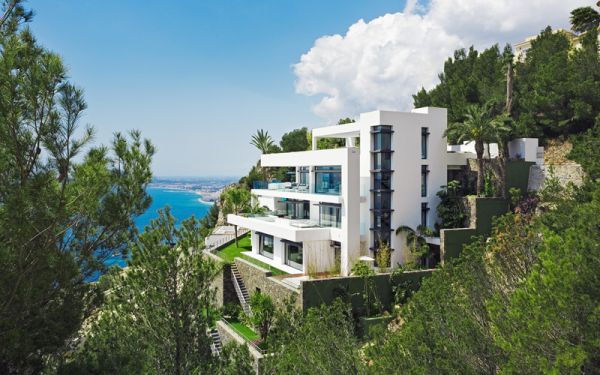 Altea Hills Estate has recently launched the Blueport Altea, the most luxurious residential villa on a Cliffside of Costa Blanca, in collaboration with architectural studios Carlos Gilardi, Pepe Cabrera and interior designer Eric Kuster. The complex is built on 5,300 square feet area facing the beautiful Mediterranean coastline and includes five bedrooms, a large living room, a kitchen, a dining room, bathrooms, a fitness center, a swimming pool and a room for home theater. All the rooms are fully equipped with latest technologies like geothermal energy source and contemporary interiors.
The villa also contains an elevator, a garage, independent service quarters, beautiful patios, gardens and ample storage spaces. Thus, making it a completely functional complex with all luxurious facilities that one may think of. The house has plenty of glass walls offering mesmerizing views of outer landscape so you can feel close to nature while relaxing inside any area of the villa.
White dominates exterior as well as interior of the building giving it a modern outlook. Interior of the house also has all contemporary furniture and décor objects to provide comfort and style for those who love to live a stylish lifestyle. While talking about interior of this estate we cannot neglect the master bedroom, as it provides a wealth of pleasure and comfort and is en-suited with a bathroom, Jacuzzi and a private garden for relaxing and enjoy beauty of nature all around.
This most luxurious Cliffside villa in Spain with 180 degree view of the sea is currently on sale and could be yours for € 5.8 million (approx. US $ 7.90 million).
Via: DesignRulz