There are many different environmental impacts associated with consumer electronics but the major issue is sustainability. Most of the electronic products are difficult to recycle and they can't also be repaired easily. Meet Ammos, an innovative home audio system that is fully recyclable and can be repaired with just a screwdriver. It is innovative in terms of materials too, as it uses a sheet of glass to produce quality sound.
Glass is a sustainable material and the main design element. It is durable, contains secondary materials, and can be easily recycled at the end of its life. Inspired by these points, the design team has created a product that emphasizes on sustainability, repairability, and longevity.
The speaker system comprises glass, bamboo panels, a sturdy aluminum frame, ABS for housing parts, natural rubber for seals, and aluminum PCBs for the electronics that provide better heat dissipation, durability, recyclability and are non-toxic. In contrary to standard audio systems that use large speaker drivers in opaque structures, Ammos combines tiny actuators with glass to produce music.
The glass is used to produce mid to high range frequencies from 200 to 20.000Hz. The actuators are placed invisibly close to the edge of the glass, putting ample force on it. Additionally, there is a small subwoofer in an enclosure to provide the low-frequencies from 20 and 200Hz.
The speaker is connectable through Wi-Fi and Bluetooth and has a USB-C, 3.5mm audio jack, and power support as input. It also has a haptic touch surface on the front panel for the user to control the main functions of the speaker. There is also a luminous backlit LED matrix located behind the bamboo surface for indication.
With the Ammos speaker, the design team of Martin Steffner, Emilio De Jonghe, Orelio De Jonghe, Dimitrios Seleridis, Rick Cazemier, and Thor Gerard hopes to promote recycling and create a chance for the users to repair their audio systems easily. Ammos speaker is the winner of the James Dyson Award 2020.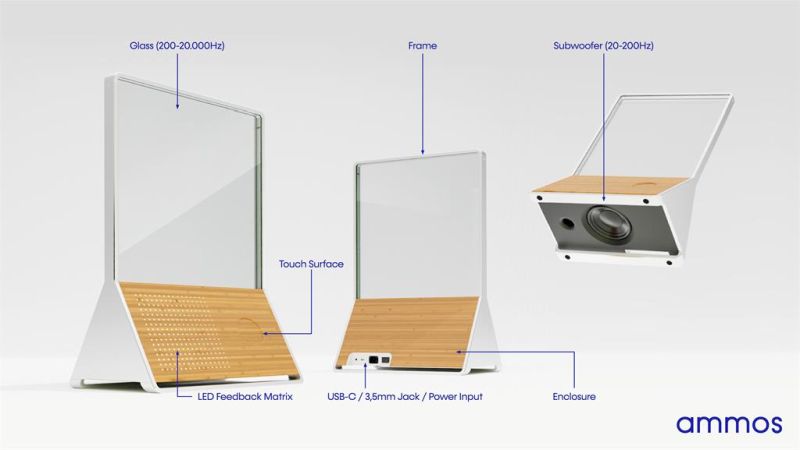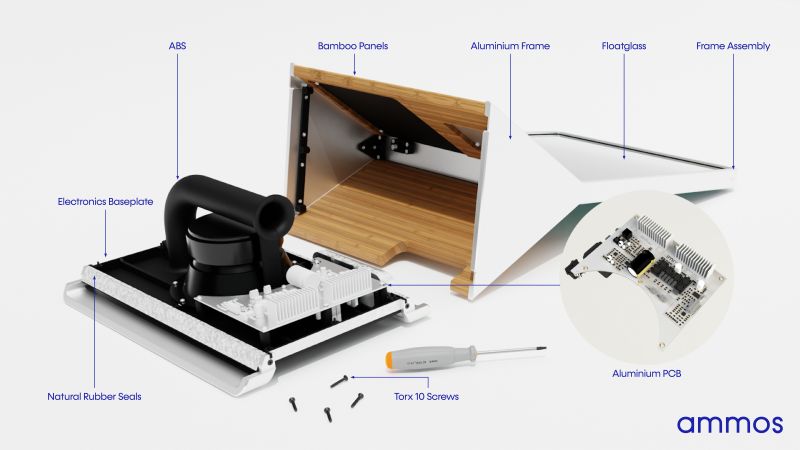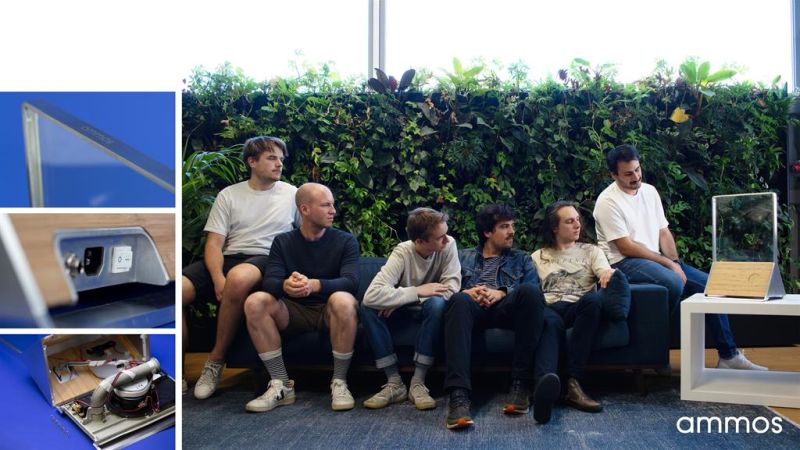 Via: JamesDysonAward