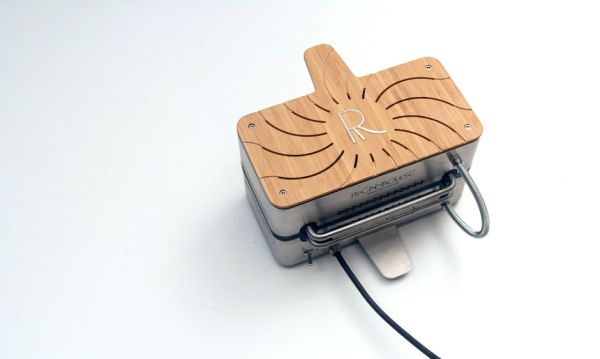 Hot ice cream – the very phrase is an oxymoron, right? Well, it is also real – courtesy of designer Andreu Carulla! The guy has ingeniously went on to contrive a special device made from stainless steel and bamboo plywood that serves 'hot ice cream'.  Now before we confuse you further, it is not the ice cream that is hot. The aforementioned special device (aptly named as the Oxymoron Maker II) is actually a modified sandwich presser that can bake hot and fresh brioches (a rich variety of French bread) with cold ice cream injected inside them.
Hence, the remarkable working scope of the Oxymoron Maker II entails the thorough cooking of the brioche dough for a few seconds, with the scoop of ice cream safely pouched inside the bread. This blatant contrast in temperature plays its tantalizing part along your taste buds, thus offering you a desert delicacy which is wholeheartedly unique in its conception. In fact, the dish is offered as a specialty item at the El Celler de Can Roca restaurant in Catalonia, Spain. And, given its success among patrons the restaurant has actually prevented full fledged commercial marketing of the Oxymoron Maker II, thus making the hot ice cream dish exclusive to the establishment.
Now, many of you must have noticed the 'II' part in the Oxymoron Maker II moniker. This signifies the device's second (and more advanced) version, with improvements like integration of LED lighting and an enhanced cooling mechanism that prevents the ice cream from melting too soon.
Via:  AndreuCarulla