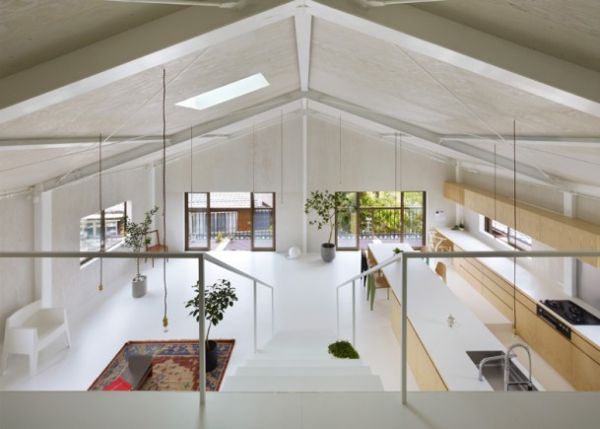 To understand the full impact of the above architectural project, one needs to have a brief idea about Japan's current housing scenario. Still dictated by the effects of Second World War, majority of the houses in the country are part of the 'scrap and build' policy. This means that most of them have low lifespans with no credible considerations or even public enthusiasm for renovations. However, the government has taken some recent initiatives that provide incentives for renovations. And, now to show people how renovations are actually effective in real time, architect Keiichi Kiriyama (Airhouse Studio) has undertaken the project of fully renovating a warehouse (for farming equipment) in Gifu Prefecture.
The end result is the fascinating spatial transformation of the warehouse into a fully functional house. Draped in hues of serene white, the expansive volume of the building has been deftly used to organize the interior sections. For example, we can see the main central space of the warehouse converted into a collective drawing cum dining space with an integrated kitchen.
Finally, when it comes to private spaces like the bedrooms, the designer has opted for a large loft that ends the central space. Hence, a single bedroom along with two bathrooms are perched on the top of the loft. This segregates them from other semi-private areas like the kitchen, thus giving the users a personalized circulation space.
All images are courtesy of Toshiyuki Yano
Via: Airhouse