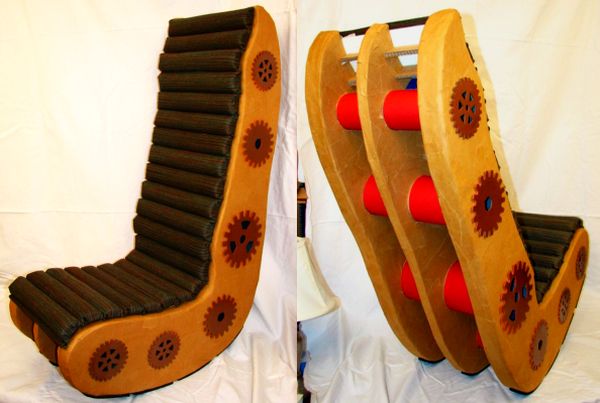 The above style may come out as a tad bit confused; however, it is the thought that always counts. And, that thought process entails a full fledged chair crafted from recycled cardboard. In this regard, the designers from Artsmith Craftworks did use scrap corrugated cardboard to make the whole furniture piece. Even the main framework of the conception comprises of many laminated layers of cardboard, which are in turn structurally connected by heavy cardboard tubes salvaged from paper spools or carpet (refer to the right-side image).
Of course, the utilization of cardboard extends to the front faced seat, which is built by gluing several pieces of smaller corrugated cardboard pieces. These pieces are draped in flat fiberboard for a more uniform surface that allows the application of padding. This padding in turn is made from foam cylinders that are further covered in salvaged drapery fabric.
Finally, coming to the visual quotient, the designers have tried their best to give a Steampunk-esque finish to the chair. This is quite noticeable from the brass tones, the copper gears (again made from foam) and even the papier mache of the cardboard panels. However, the details have fallen a bit flat with the irregularity of the chair form. In essence, this imbalanced form endows a more vernacular characteristic, rather than some Victorian age sci-fi flair.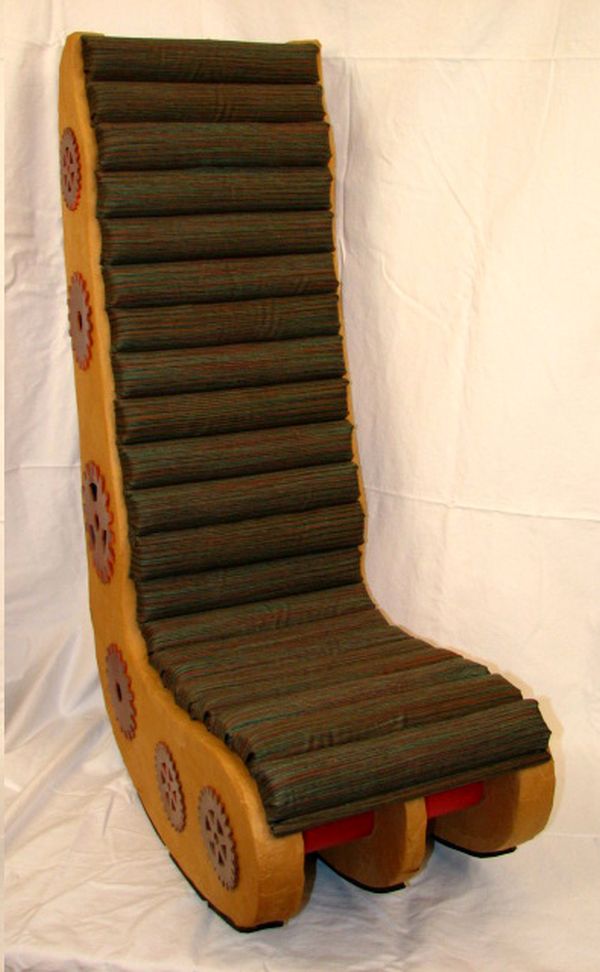 Via: ArtsmithCraftworks