Mobile gaming is making market inroads at an unprecedented pace. Almost 45 percent of global video gaming revenue in 2022 can be accounted to smartphone gaming alone. To that accord, it is fitting for Asus to give mobile gamers a chair tailored for their convenience.
Launched at CES 2023, Asus ROG Destrier Ergo Gaming Chair arrives with adjustable, padded armrests to make handheld gaming comfortable. Asus Republic of Gamers (ROG) has been path-defining with the ROG Phone series, which are go-to handsets – loosely saying – for mobile gaming.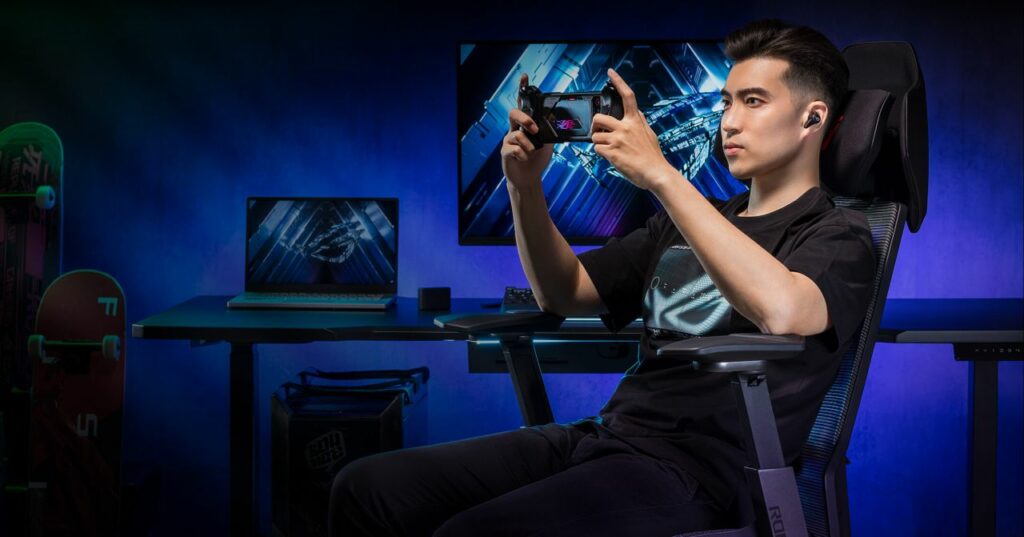 In addition to being a fitting partner for your gaming experience on the ROG Phone 6 or an iPhone, for that matter, ROG Destrier Ergo is a versatile chair that will entice console/PC gamers as well. With aesthetics to cocoon you in meshed comfort and an acoustic panel for an immersive gaming experience, the chair has much to talk about.
Gaming chairs are a good way to maintain a befitting posture. With so many options on the market offering tactile feedback, ensuring minimum outside distraction and much more; ROG Destrier Ergo fits the bill with comfort, support, and adjustability. It is fashioned with breathable mesh and an aluminum frame in a pretty futuristic aesthetic.
Mobile gamers can leverage the adjustable, rotatable armrests for comfort. The armrests elevate the gamer's arms up to 14 cm to ensure the elbows are in a comfortable position (resting on specially padded form factor) for mobile gaming. The customizable two head and two lumber support (adjustable between 1 and 7cm) options add to a personalized gaming experience in the ROG Destrier Ergo gaming chair.
Also Read: Self-Driving AI-Powered Smart Baby/Cargo Stroller
Video gaming without an immersive experience would have been a little impetus for a gamer to make a switch. Keeping that in mind, Asus provides its new chair with a detachable panel that wraps around the user's head, cocooning the gamer in an immersive environment devoid of ambient noise.
ROG Destrier Ergo Gaming Chair weighs 25kg and has a payload capacity of 150kg. Unless you have been a Sumo wrestler, struggling still to shed some kilos post-retirement, you should be good to game in this ROG chair. The price and availability have not been officially disclosed, however, we expect the ROG Destrier Ergo to land in Q1 of 2023.