I have always been one of those girls who loves blue and black colors and I am often agitated by the gender association of colors. No matter what color you love, you cannot deny the beauty of each shade and the special allure these palettes have when it comes to interior design. Pink has been a favorite among female housemakers for its vivacious appeal and the freshness it offers.
And who can forget Barbie! The Barbie fashion dolls by Mattel somehow became the ambassadors of the color pink. Well, I never adored her in pink but I admit, she is cute. With the first live-action Barbie film right around the corner, the world is going gaga over the pink. The pink-infested utopian Barbie Land has inspired Barbiecore – a fashion and design movement – that has taken over both territories at warp speed.
The world of interiors is obsessing over the candy-colored utopia and how it can be translated into living spaces. Some are trying to recreate the feel of a Barbie Dreamhouse inspired by the surreal, immersive world of the film and toy sets, while others are using exquisite varieties of the color pink in various degrees in home interiors to give them a fresher and brighter vibe.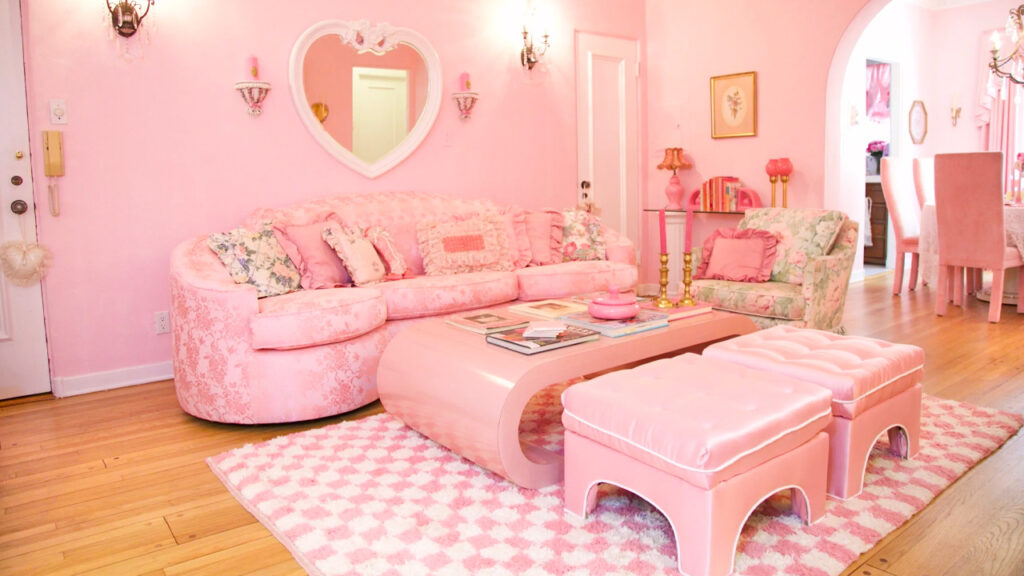 While I may not be the biggest Barbie fan, I certainly get the allure the doll has over so many people. She is the perfect role model: she is a businesswoman, she is a housemaker, has a dream house, and is married. She seems to have an accomplished adult life where she has absolute control over her life – sometimes she's with Ken, sometimes she's not – she can do whatever she wants defying all gender roles while rocking one of the most feminine colors in the world has assigned with the gender.
Now coming back to pink and home interiors: ever since photos from the sets of Greta Gerwig's Barbie came out, Barbiecore interior trend is celebrating everything pink variation from peach, pastels, and rose to bright fuchsia and flamingo. But let's face it, no one, I repeat, no one wants their entire house clad in an overpowering, piercingly bright pink.
Also Read: Embracing Barbiecore Design Trend at its Understated Best
Can you even imagine sleeping in a pink bed, under pink sheets, in a bedroom painted in the brightest pinks possible while all the other furnishing and décor accents are also pink? Living in the perfect Barbie Land may seem like something you'd want but that is not the world we live in. The utopian world cannot be materialized either in terms of life quality or in the home interior realm.
Hot pink plays right into the wave of maximalism, which is enjoying its day in the sun in the past couple of years. To be fair, the simple and elegant minimalist aesthetic has dominated home interiors for so long, it is normal to get tired of it. But one does have to question the sanity of an all-pink space, even if it is so unpretentious to love one color.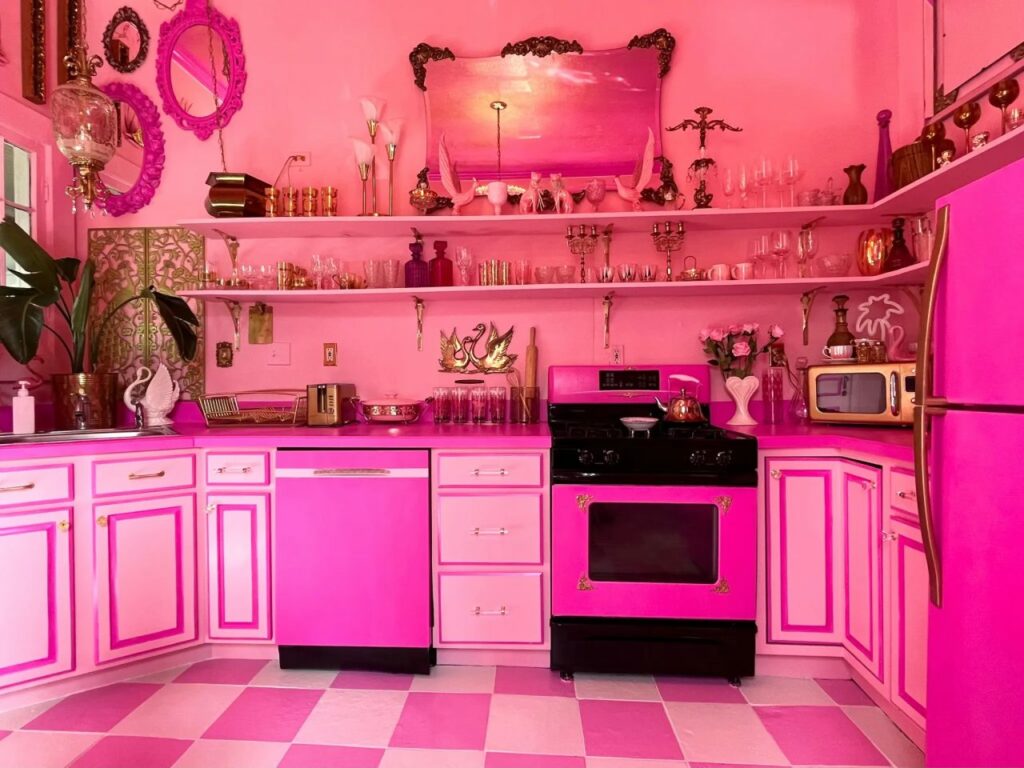 The internet these days is flooded with perfectly renovated homes and apartments where pink has taken center stage; pink walls, pink furniture, and pink accessories have enthralled people of all generations amidst the rise of Barbie. But who can blame them when gorgeous Margot Robbie and heartthrob Ryan Gosling aka Ken are rocking their roles in the movie, looking pretty in pink.
Steeped in the nostalgia of Y2K, Barbiecore encompasses the whimsy and fun of fashion and home décor. But it's not only bubblegum pink marking convertibles and towering dream houses that define this trend.
The interior design trend is spread vast through paint colors, linens, textiles, furnishings, appliances and accessories and so much more. It brings together millennial pink, pastel pinks, hot pink, fuchsia, magenta, and all other variants of the palette. Barbiecore further receives encouragement thanks to the Pantone Color of the Year "Viva Magenta" painting the town already in the vivacious deep pink.
Also Read: Understanding Color and its Conundrum With Pantone Director Leatrice Eiseman
Sue Wadden, director of color marketing at Sherwin-Williams, says, "Barbiecore is a fun and natural progression of where we've seen home trends moving the past few years. Pink's popularity isn't new but it's evolving. For example, when millennial pink was introduced just a few years ago, that trend in itself came from the rose gold megatrend and an interest in the warming up of neutrals and the desire for color after a decade of grays and cool whites."
Even when you are not a fan of pink, the thing is that it offers a surprisingly versatile blast of color and personality you didn't know your space lacked. I am not advocating that you should go all out with this trend but there are subtle, subdued ways to incorporate this trending style here and there in our homes.
"While the pink popularized by Barbie is specific, the color pink has a wide range of tones and shades, from cheery to neutral that can appeal to anyone" Wadden further adds.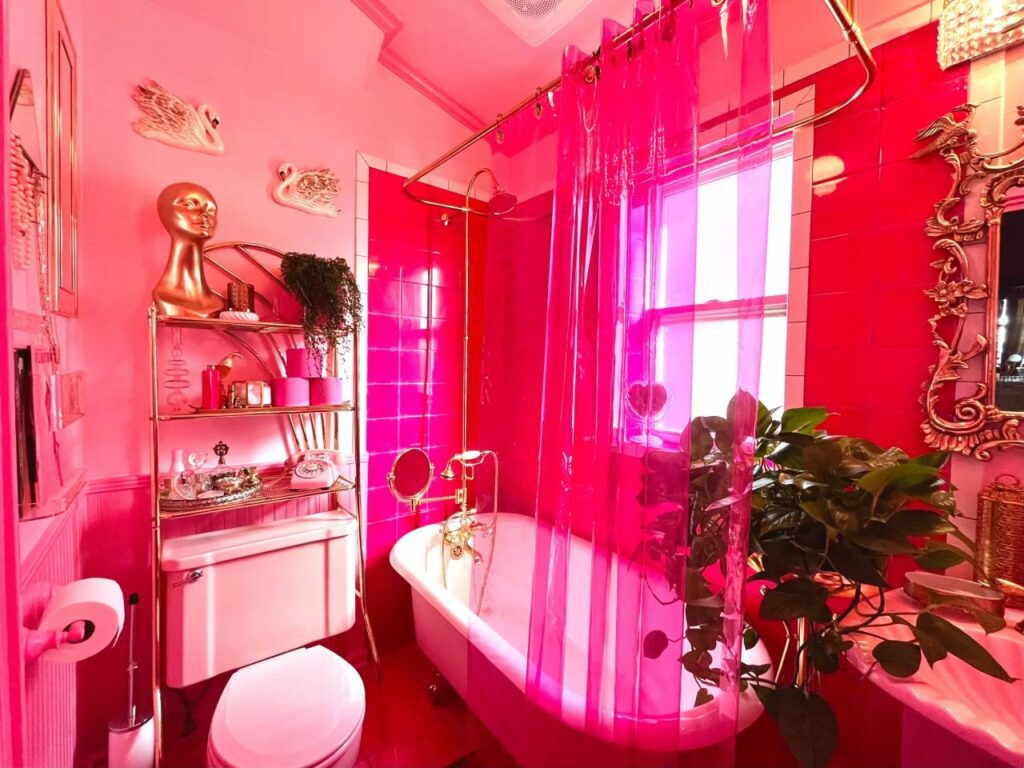 When pondering about the rules of decorating with Barbiecore design trend, experts believe there is no rule. Hevenly design editor, Heather Goerzen, says, "Throw out the rulebook and let your imagination guide you. Lean into statement silhouettes featuring waves and curves, play with patterns, and don't be afraid of color… This translates to imaginative silhouettes, bold and dynamic patterns, vintage mid-mod pieces, and of course, the clever use of color, including Barbie's signature pink. Above all, there's an unabashed sense of filling your home with the things you love."
The lounge-worthy furniture in exquisite Barbiecore shades is probably one of the best and safest ways to decorate your household in this hottest trend. Now, most people think that Barbiecore comprises only a pink palette. I am here to tell you that they cannot be more wrong. Sure, the trend has a majority of pink shades, but there are many other colors that add an undeniable amount of whimsy.
If you are not a big fan of pink Barbiecore like me, you can always pick other soothing colors for your interior. You have the option of picking aqua blue, coral, Tiffany blue, orange, lavender, lime green, bright yellow, or patterns.
When Barbiecore first reared its head as a home interior design trend, it truthfully made me queasy. Sure, pink is pretty and I find all shades of pink fascinating but to live in a space that is overpowered by pink from top to bottom is obnoxious, and frankly, it's way too much pink.
While many believe that the Barbiecore design trend is going to be long-lasting, I think it won't be around that much. Once both homeowners and designers get sick of the overuse of the color, Barbiecore will have a transformation toward muted and toned-down form from its maximalism state of a palette dominated by hot pink. In small amounts, the design trend might live on but in its over-emphasized, loud, maximalist state, it is likely to fizzle out soon.