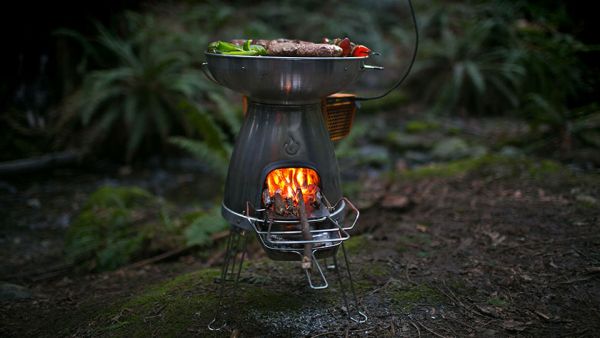 New York-based start-up BioLite, has been alluring people with its energy product designs that make use of burning wood in form of twigs, sticks, and pine cones while producing off-grid electricity to charge your mobiles and other portable electric devices. Now, BioLite has designed a new product, which is again a stove but is spacious enough to grill eight burgers at a time. Dubbed BaseCamp, this is a stove that makes use of thermoelectric technology and is especially designed for those who love camping in a group. You can also call it a smarter alternative to other fossil-fueled stoves available today.
The BaseCamp appears like a little chimney where the fire pit lies with a grill surface. You can make use of fallen branches, twigs or small pieces of firewood and burn them into the base. The  chimney includes a thermoelectric generator packed in an orange colored enclosure that converts heat energy produced by combustion into about 5W of usable electricity.
This electricity can juice most of devices like your smartphones, digital cameras, iPads, iPods and many others via a connected 5V USB port. The orange enclosure also consists of a battery to store the converted energy, so that you can charge your devices even without a live fire. Unlike other fuel powered stoves, BaseCamp minimizes smoke from the burning wood. BioLite has launched a Kickstarter campaign for BaseCamp, the campaign will run through till June 15.
Via CNet