Star Wars BB-8 is one cute little droid which has inspired many gadgets and gizmo designs. Also, home decor items are inspired by this sci-fi robot having a contoured look. For a geek looking to give his/her home a Star Wars makeover with BB-8 dominant décor items, this is a collection of the best ones. Be it a fire pit, Christmas tree ornament or huggable pillow, we've got it all in BB-8-inspired look. Truly, a collection of home decoration items that'll make you a true Star Wars fan, so let's take a ride to the dark side.
# BB-8 Fire pit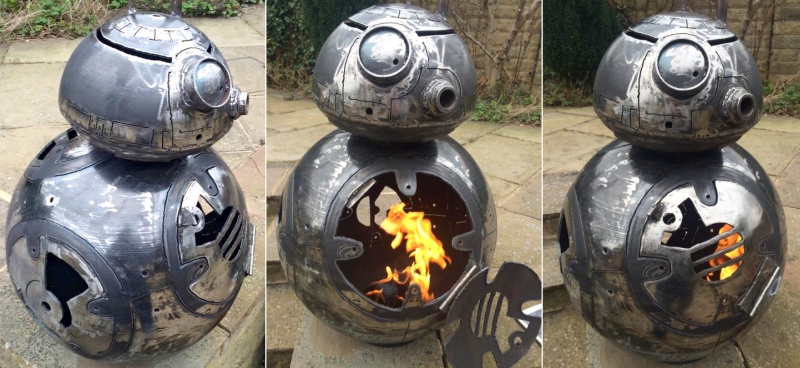 A home is complete without a fire pit, and even if geeks don't get much chance to enjoy star gazing that much, this fire pit is still a must have. Made from old LPG cylinder, the BB-8 Fire Pit created by Barnsley-based Alex Dodson is absolutely amazing. The thing that'll keep you from buying this fire pit is its colossal price tag of $820 USD.
# BB-8 Lamp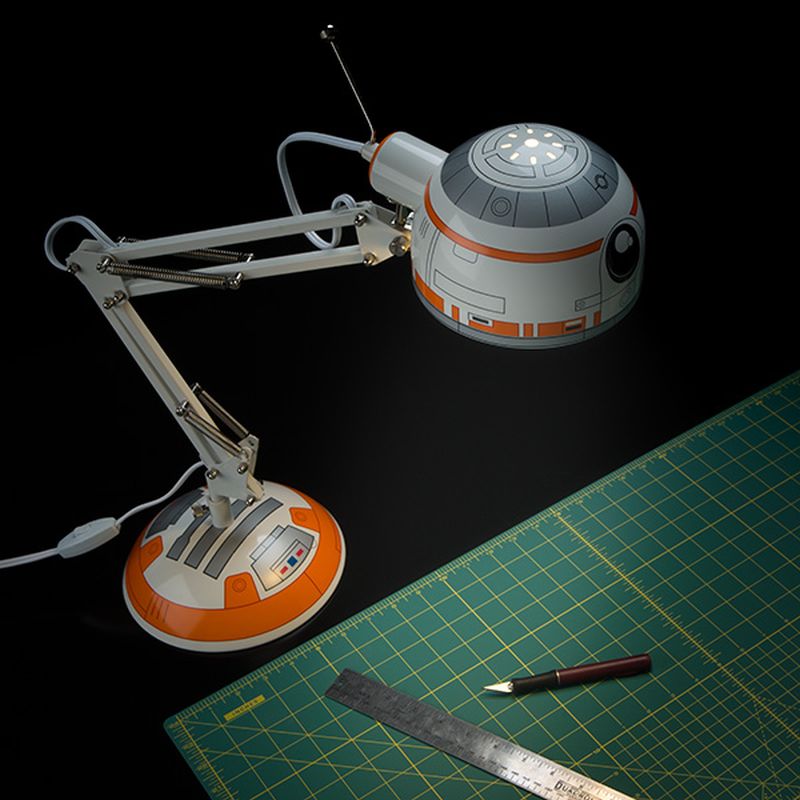 Inspired by the fresh Star Wars: The Force Awakens movie, this officially licensed lighting solution bears a traditional looking lamp design fused with the sci-fi design. It looks like BB-8 Droid with flexible body, since it can be adjusted for height and the angle at which you want to position the lamp head. The BB-8 lamp comes in two models – 25.5" and 16" tall with a price tage of $49.99 and $59.99 USD.
# BB-8 Jack-O'-Lantern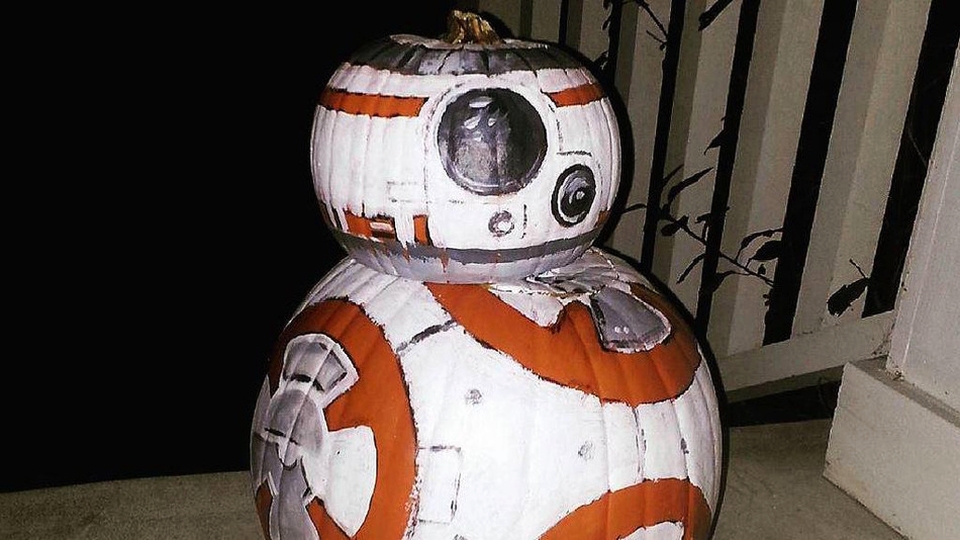 Halloween is just a few months away and what better than getting a BB-8 Jack-O'-Lantern for your decorations. That is going to be a unique way to celebrate Halloween, isn't it? Created by Star Wars fan Daniel Hookamp, this Jack-O'-Lantern can be made at home easily. The bottom and head section of the BB-8 are made from two differently sized pumpkins to replicate the exact size of the BB-8 Droid.
# BB-8 Plush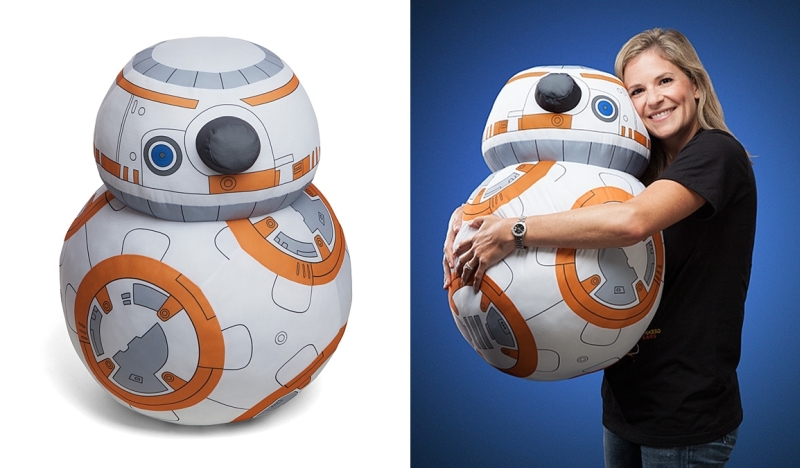 Who wouldn't want to hug a cute fluffy BB-8 in their arms? That is why ThinkGeek have created the Life Size BB-8 Plush which is 2' tall and has a total diameter of 18". Also the accessory weighs around five-and-a-half pound, so it will be able to cope with pillow fights in the bedroom. It is the replica of Sphero version of BB-8 and totally huggable. By the way you'll also have a good night's sleep with this plush by your side, just in case you are a loner. This is an officially licensed Star Wars: The Force Awakens accessory, so you can swear by its quality. If you want to own this BB-8 plush you'll have to shell out $49.99 for it.
# BB-8 Christmas Decoration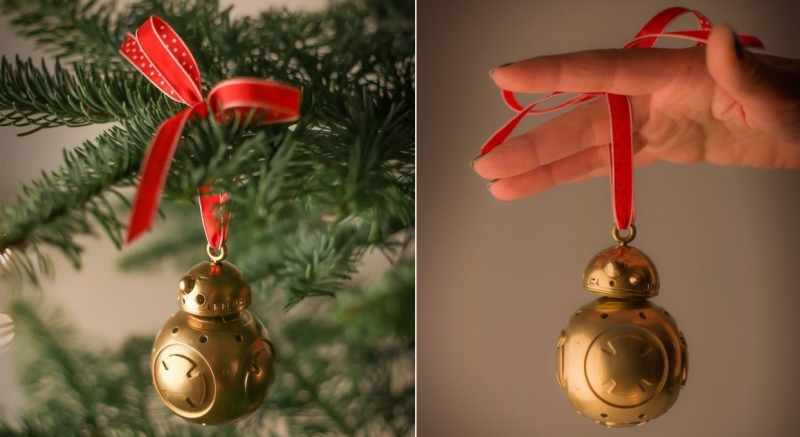 Although Christmas is quite some time away, you can still keep you to do list updated. That would be to 3D print your own BB-8 droid Christmas decorations. Inspired by the Star Wars: The Force Awakens, this decoration is unique, and will give your Christmas tree an appealing look. Martin Hajek has put up all the files to 3D print this decoration for just $10.
# BB-8 Glitter Globe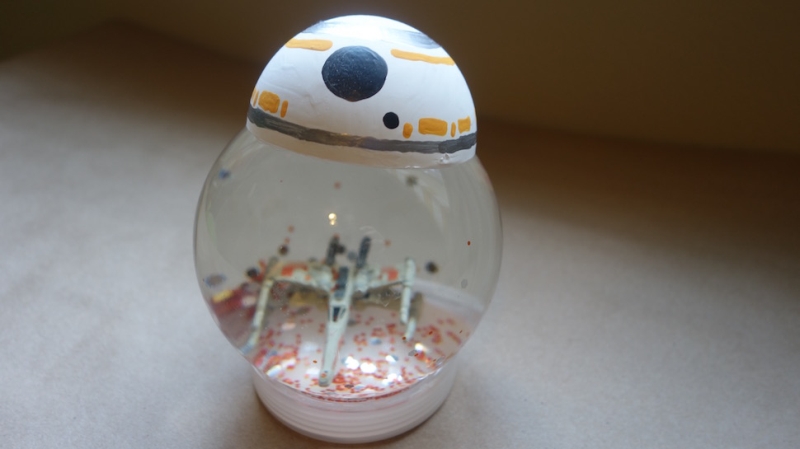 If you want to go for a small desk accessory that keeps you reminding of the BB-8 droid, then this DIY is perfect for you. BB-8 Glitter Globe is quite easy and interesting to make, and you can incorporate your own ideas too. Just follow the instructions and you'll be able to come-up with a unique weekend project.
# BB-8 Tea Set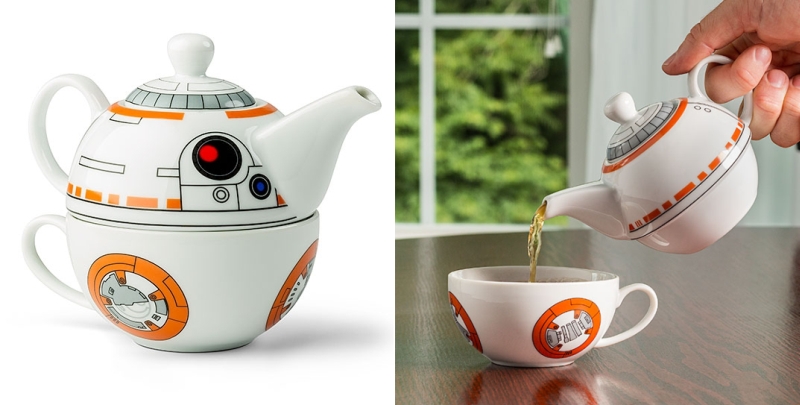 You won't believe that BB-8 can take form of a tea set too. Yes, and you can buy it too. ThinkGeek has created this teapot and cup set which is strangely dubbed as 'BEE BEE ATE MY COOKIES'. The kitchenware is officially licensed Star Wars: The Force Awakens merchandise, and that makes it even more lucrative. The teapot has exactly the same details as BB-8 droids look, and you can buy it right away for $24.99.
# BB-8 Mini Fridge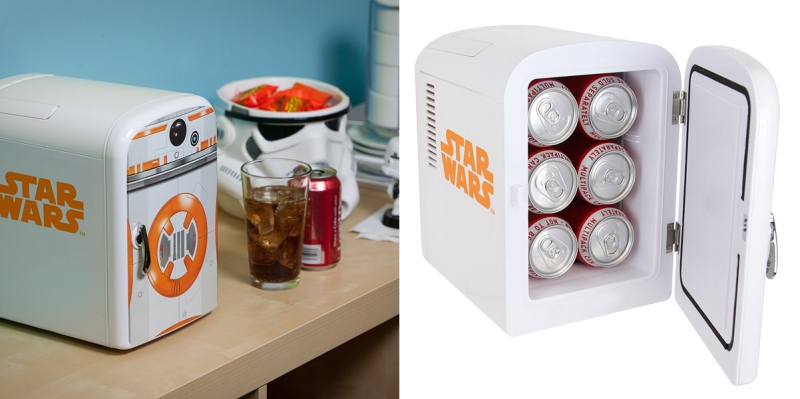 Another officially licensed Star Wars merchandise that is capable of holding six-pack of 12-ounce cans. The mini fridge can be setup at home or in your car for cooling beverages. All Star Wars fans will want to have this accessory in their collection, since it has a practical use too. Buy the FRIGIDROID for $79.99 which is not a bad deal for such a cool merchandise.
# BB-8 Wall Decal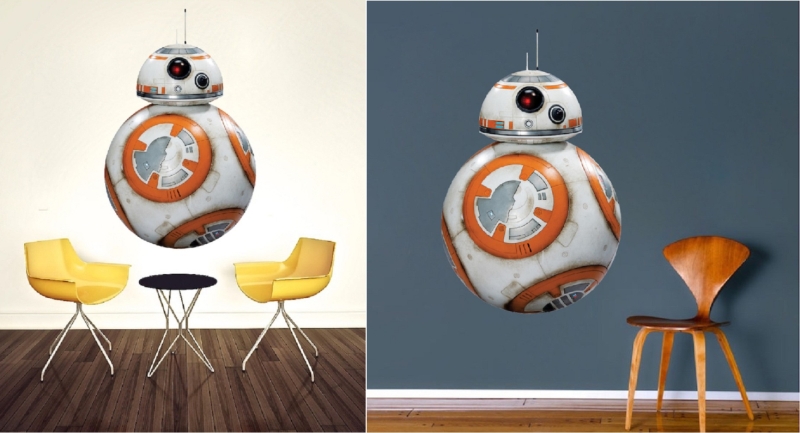 If all of the above mentioned decorations are a bit too much for you, then go for this wall decal of the BB-8 which will make your living space look ultra-geeky. Size of this decal is quite convincing and you'll be complimented by anyone who comes to your place. Not only in your home, but this wall decal can also be installed in your office or shop. It comes in different size options ranging from small 8"x5" to the big 70"x44" decal.