The Treehouse Masters Season 4 airing on Animal Planet takes the viewers on a journey of ingenious custom treehouses, that are magical and beautiful. This time, it transcends us into a remarkable beehive-like structure on a classic single-tree treehouse.
The Beehive house created for Alison and Donald in Washington state is a stunner! Believe it or not, we haven't seen anything like this before. Thanks to Pete Nelson, for making it possible. The design and the onsite structure on this beehive tree house are exquisite, and a rare architecture that you'll come across.
Owned by Alison and Donald, who moved to Washington State (a little over fifteen years ago) wanted a magical wood house with curved edges and honeycomb-shaped windows; a hut house, that is quirky and well connected with the natural surroundings. The couple's luxuriant property has everything idiosyncratic like bright yellow, elevated passage along the forest floor, and a London telephone booth. The extravagant property also has an adjoining hillock, where lies a small room sporting separate doors.
Also Read: 25 Best Treehouse Hotels You Wish You Could Live In
The Beehive snuggles up to 25 feet high in a single, exceptional Doug fir, measuring over two and a half feet in diameter. The plush property also has an awesome artwork, which is mind-altering and awe-inspiring. Right from natural shape and subdued color palette that work together as camouflage, to the front door- inspired by Takashi ("Taka") Kobayashi (the renowned Japanese treehouse-builder) this treeehouse is as comfortable to live in as it sounds.
The hexagonal window, illuminating crimson light in the house , and the roofing is custom-cut to fit the organic placement of the branch-based frame. The beehive woodhouse has amalgamated pretty well with the surroundings of the forest, having cedar eclectic shingles and soft green hues to compliment the serendipity. The whole experience of being in and out of the beehive tree house is surreal and out of this world.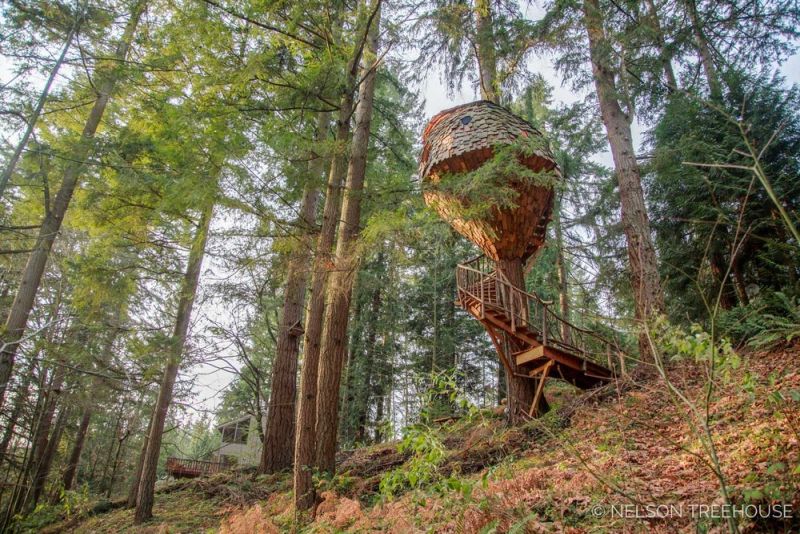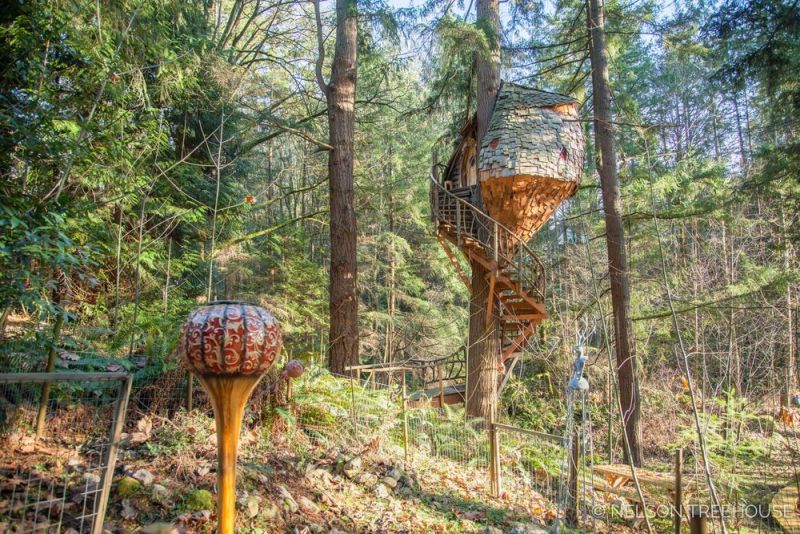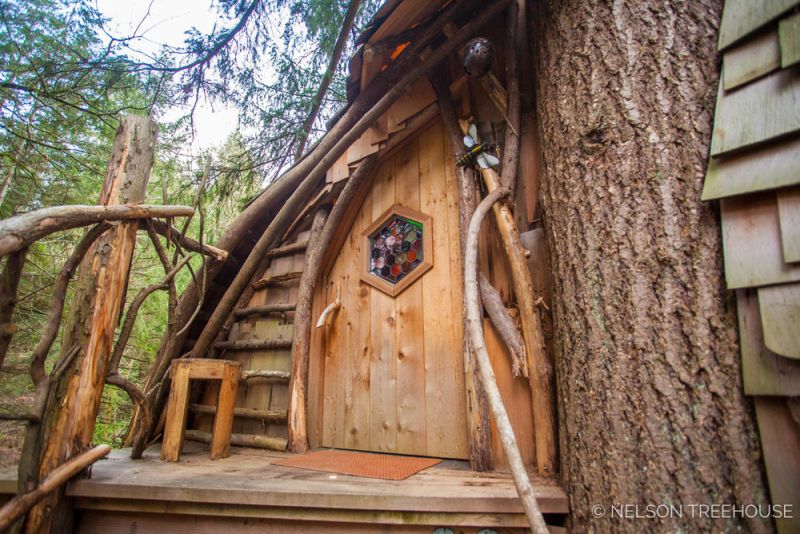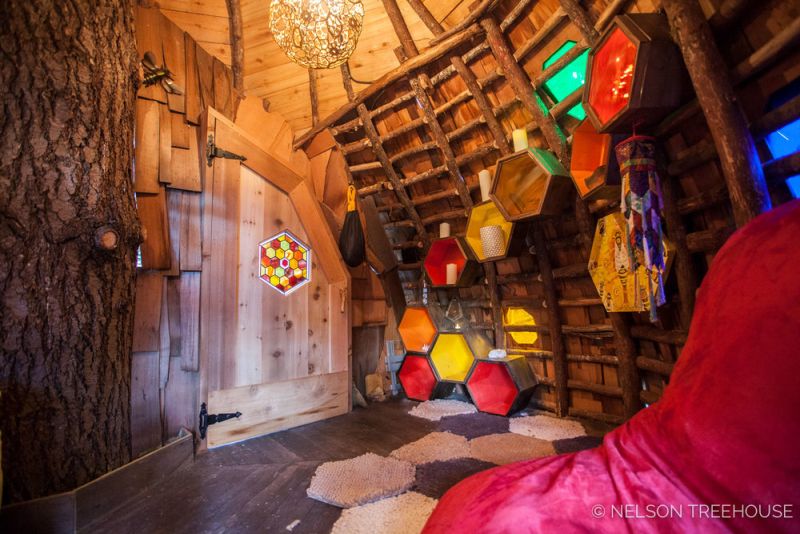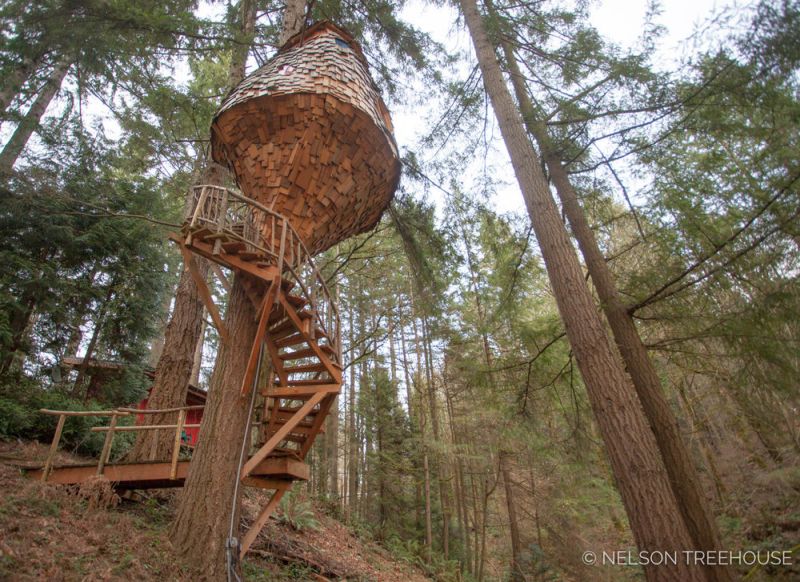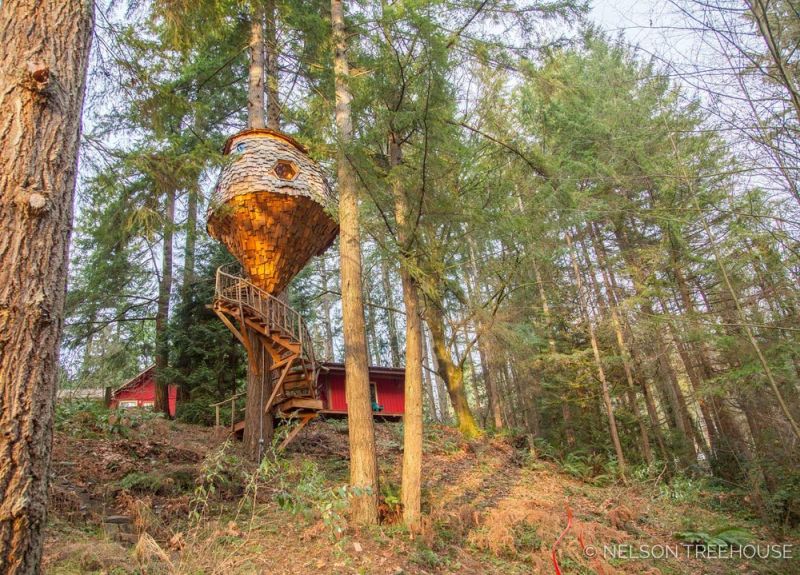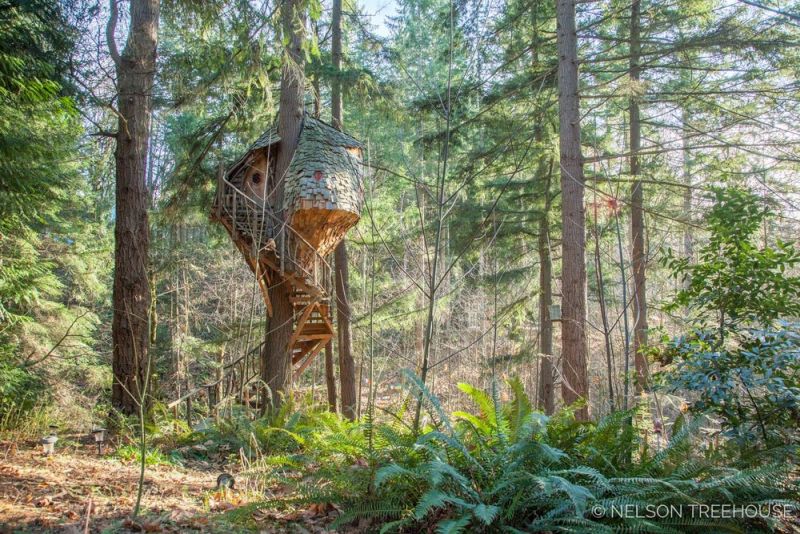 Via: NelsonTreehouse