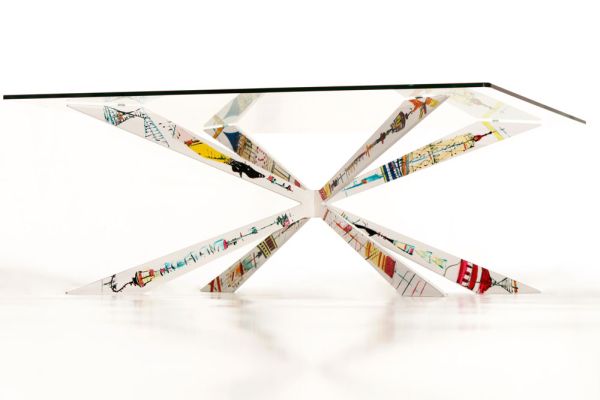 The innovative play of form and space – this in a nutshell defines the allure of the Clix coffee table. Efficaciously designed by Benjamin Auzier, the conception only entails a conventional square glass top with supporting legs. However, it is the shape and arrangements of these legs that creates the wondrous effect of structural harmony. In this regard, there are actually two legs both shaped as identical crosses. They are placed at an right-angle to each other, thus contributing to that unique degree of 'sculptural' aesthetics.
Anyhow, we daresay that this novelty of visual essence is not the greatest attribute of the Clix coffee table. Rather it is the modular nature of the furniture that really notches up its practical scale. How so? Well, the aforementioned legs can assembled and disassembled without the use of tools, as they use a simple interlocking mechanism.
Also Read: Sculptural Furniture for Design-Minded Homes
Moreover, from the perspective of usability, the coffee table is available in various styles, like the Original Range, the Limited Edition and even an Artists Collection. The originals comprise of RAL shades, while the Limited Edition has pop art and concrete leg components. But the most exclusive models pertain to the Artists Collection. Here Auzier has collaborated with other well known artists to concoct variant graphical styles of the supporting legs.
Via: Yooko