Bentley, the British luxury car brand has recently launched its Home Furniture Collection at Paris's design salon Maison&Objet. Bentley collaborated with Italian furniture makers the Luxury Living Group, to create the new Bentley Home Collection. The furniture series consists of different furniture units and homeware displaying exquisite and exclusive designs with luxury finishes. The luxury carmakers of the UK are renowned for their luxurious cars, which features sophistication and engineering expertise. The same things are reflected in the luxurious furniture collection of the car brand.
The Bentley Home Collection includes beds, sofas, and armchairs where each of the items is inspired by Bentley's in-car craftsmanship. The color palette used in the collection is natural and blends tones like mocha and cognac with deep purple-reds, blues, and even brick. Wood and metal are the main materials used to create the frame while wool, cashmere, silk, and leather are used for cushioning and upholstery.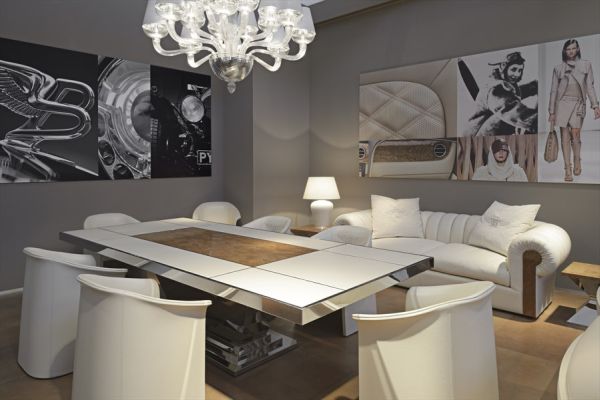 Limited to five furniture units the Bentley Furniture Collection includes:-
Minister Sofa
Priced at $14,790, the minister sofa is quite simple yet well proportioned. This furniture unit can be designated with a fabric or leather finish and is upholstered in rich purple-red velvet with burgundy velvet accents.
Butterfly Sofa and Armchair
This two-piece more closely reflects the brand's current in-car interior design ethos than any other item from the collection. The sofa is sheathed in a shell of ivory leather, whereas the armchair is finished with pinstripe gray wool. Both pieces show off Betley's distinctive quilted diamond pattern stitching.
Richmond Bed
This luxury bed features a unique double-shell construction with a headboard made of iridescent sand-colored wool with quilted leather and embroidered Bentley logo. Offering a splendid quality and comfort, this Richmond bed comes with a price tag of $14,790.
Ambassador Sideboard
This sideboard is a gunmetal frame with optional lava-colored leather, briar root, or Ebony Macassar veneer.
Harlow Armchair
This armchair looks quite like a director's chair, finished in cognac-colored leather and a gunmetal frame. This Harlow armchair is priced for $9,220.