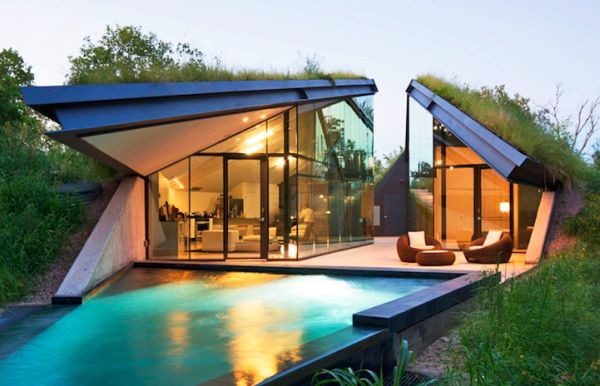 With an objective to raise awareness about being sensitive to Earth's finite resources through an aesthetically pleasing eco architecture, Bracy Chen Studio has created the Edgeland House in Austin, Texas. Edgeland House has been built into the Earth and features a roof covered in thick layer of sod. Modeled after the American pit hut, one of North America's oldest housing typologies, the Edgeland House has small carbon footprint and a very artistically pleasing design to make inhabiting the house a tranquil experience.
Featuring an unusual triangular roof with layer of lush green turf, the house is designed like a scar to mark the site's industrial past. The Edgeland House is divided into two areas – living and sleeping. In order to pass from one side of the house to another, there is no internal connectivity, one is required to walk outdoors and simultaneously enjoy the nature on offer. To ensure house and its surrounding nestled with greenery, Bracy Chen Studio has instated 40 native species of flora on the site.
To improvise its sustainable features, the Edgeland House takes advantage of its sunken structure. It uses the Earth's mass and the added thermal insulation to keep warm in winters and cooler in summers. The house also features phase‐change thermal heat storage and hydronic heating and cooling. There is also a triangular smart pool in the Edgeland House which adds to its geothermal heating and cooling systems.
Via: IfItsHip,ItsHere/MyModernMet