"I declare after all there is no enjoyment like reading! How much sooner one tires of anything than of a book! — When I have a house of my own, I shall be miserable if I have not an excellent library." These words by Jane Austen, one of my favorite authors, are true of anyone who profoundly enjoys books. If you are an avid reader – with or without a library at home – surely, you also want a good reading chair.
It is factual that when someone loves to read they rarely care where they are or what they are sitting on. Regardless, being cocooned in a comfortable chair in a well-lit corner with your favorite book is just the best thing. So I thought, why not compile a list of such comfy chair designs for my fellow readers to sit back, curl up, or lay back as they dive into their favorite books.
Although not really an official classification, reading chair refers to a seat that offers relaxation and coziness while you get lost in the world inside your book. Ranging from posh lounge chairs to well-structured velvet-covered options, here are the best reading chairs in every budget range for you to take your pick and make your binge-reading weekends more fun.
Christopher Knight Home Garret Tufted Chaise Lounge
This indoor chaise lounge will allow you to read in style. It is a brilliant pick for people like me, who enjoy reading while laying down on a comfy surface. This one-person piece will create a relaxing nook with its elegant tufted body and hardwood frame. The curved design provides a contented form for the human body, and multiple color options give the liberty to get it in your preferred color.
Buy: $256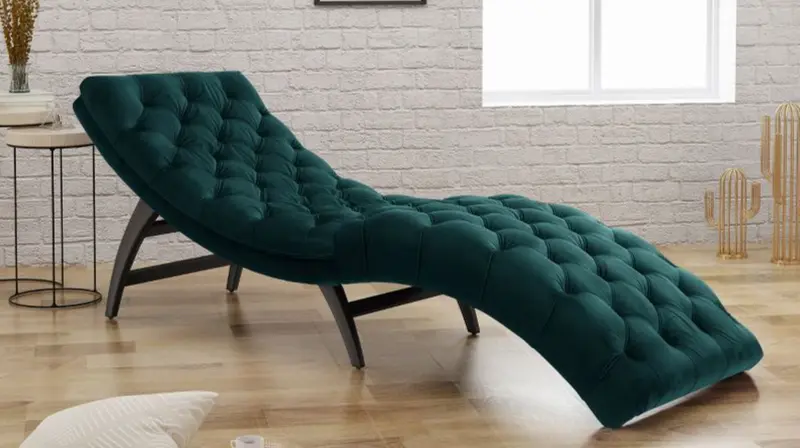 Alexander Armchair with Ottoman
If your idea of unwinding includes curling up in a cozy chair with a good book, you have got to have this armchair with a footstool in your home. Standing on solid birch legs, the chair features an ergonomically curved backrest and thick cushions that are padded with a high-density sponge. It has a French script pattern and elegant style on the cover, adding a touch of charm to your space.
Buy: $260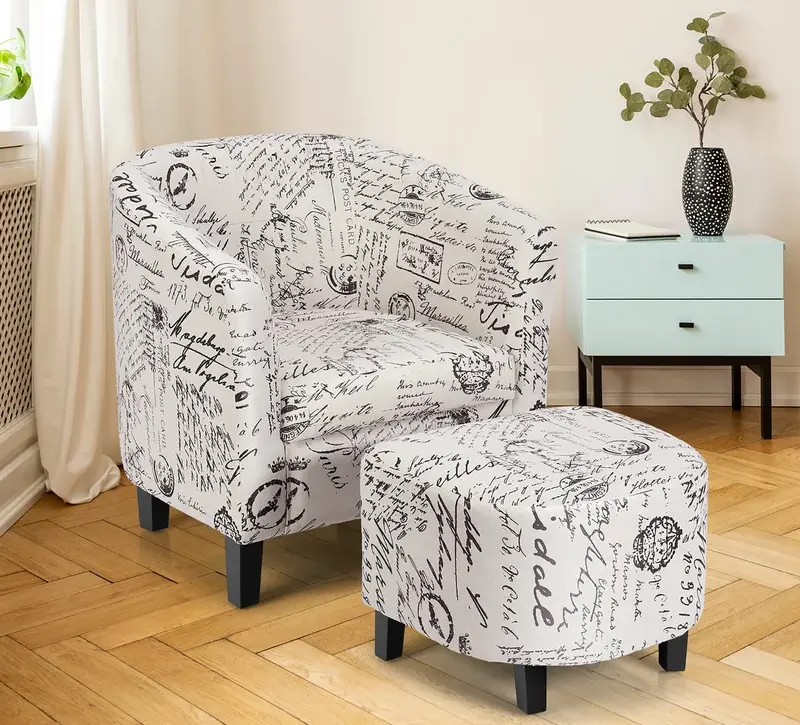 Ronald Armchair
With a weight capacity of 250lbs, the Ronald armchair offers an extra seat in your space. Use it for movie nights or binge-reading, it's totally up to you. It has a manufactured wood frame and foam padding, providing a sturdy, comfy seat. It features a microfiber fabric upholstery that brings a charming touch to the room.
Buy: $250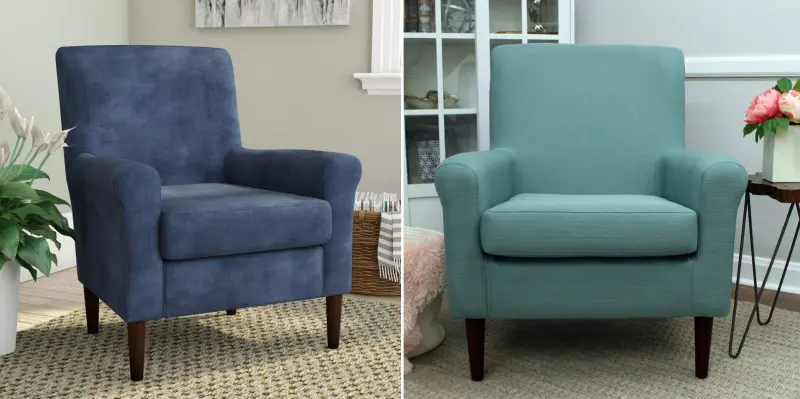 Hendrix Velvet Barrel Chair
Have you ever seen Sandro Botticelli's painting "The Birth of Venus?" My mind raced to that image of Venus rising from a seashell when I laid my eyes upon Hendrix velvet barrel chair. It has a seashell-inspired form with an arched, vertical channel-tufted back and smooth circular seat. Its foam-filled sinuous spring cushions, velvet upholstery, and iron legs make it a perfect fit for all spaces.
Buy: $285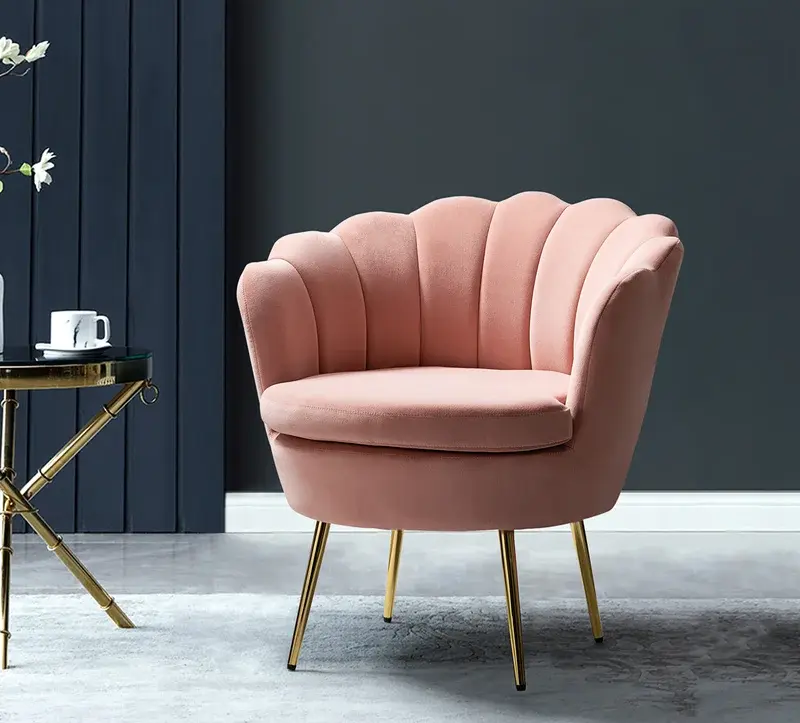 Cayleigh Velvet Wingback Chair
Sit gracefully on this throne as you pop open a classic or contemporary novel. Cayleigh velvet wingback chair features a soft, plush, stain-resistant velvet upholstery over a dense foam padding. Its brushed gold stainless steel dowel legs are eye-catching. The luxurious accent chair will not only provide comfortable seating but enhance the design layout as well.
Buy: $310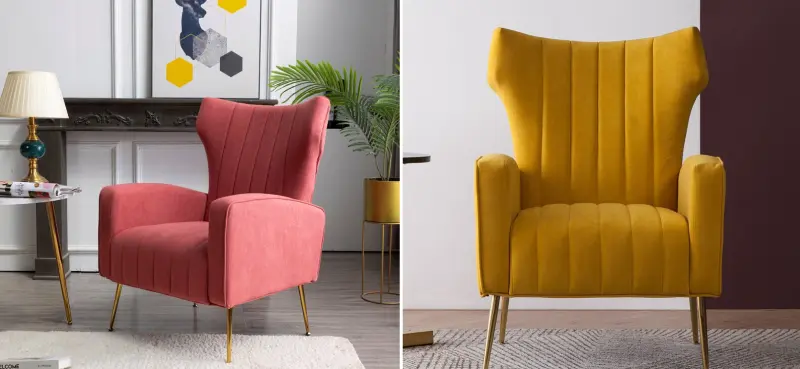 Danney Tufted Velvet Wingback Chair
What I like the most about tufted chairs is the button accent. Danney button-tufted velvet wingback chair will create a mid-century style for your home. Sturdy and durable, it features a dramatic wingback, flared arms, and tapered dowel legs. It will look amazing by the fireplace, in the special reading by the window or anywhere in your living room.
Buy: $310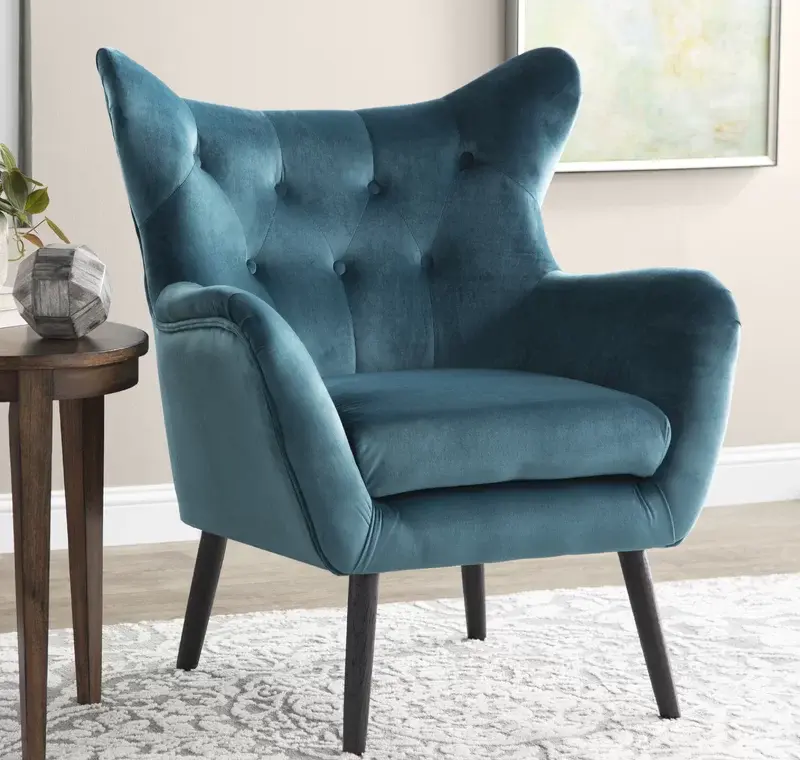 Andover Mills Euart Tufted Armchair
A comfortable chair is a must if you are going to spend much of your weekend with a book. This Euart tufted accent chair is a suitable inclusion to any modern or contemporary interior. If you fancy evergreen floral patterns, the chair comes in three versions of them. There are a handful of plain monochromatic options as well. Its rolled arms and web suspension seat construction will offer optimum comfort and will add a sophisticated vibe.
Buy: $330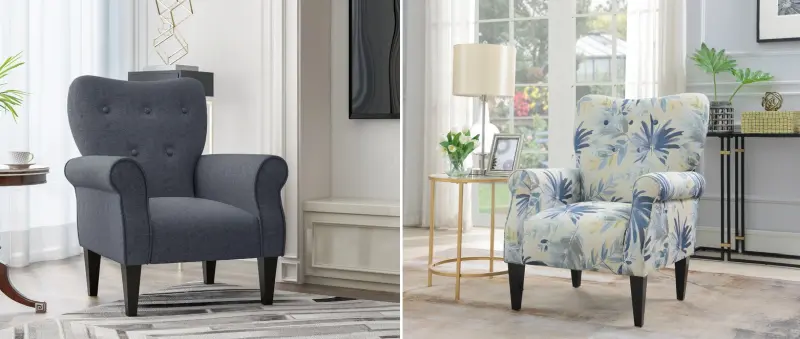 Abasi Velvet Barrel Chair
A handsome inclusion to your reading space, this velvet barrel chair is made with a kiln-dried solid pine and engineered wood frame that is poised on wide metal legs with a glossy gold finish. With a rounded back and velvet wrap, this chair will certainly become your favorite seat in the house, be it for reading, watching TV or just idling away. It has a weight capacity of 300lbs.
Buy: $334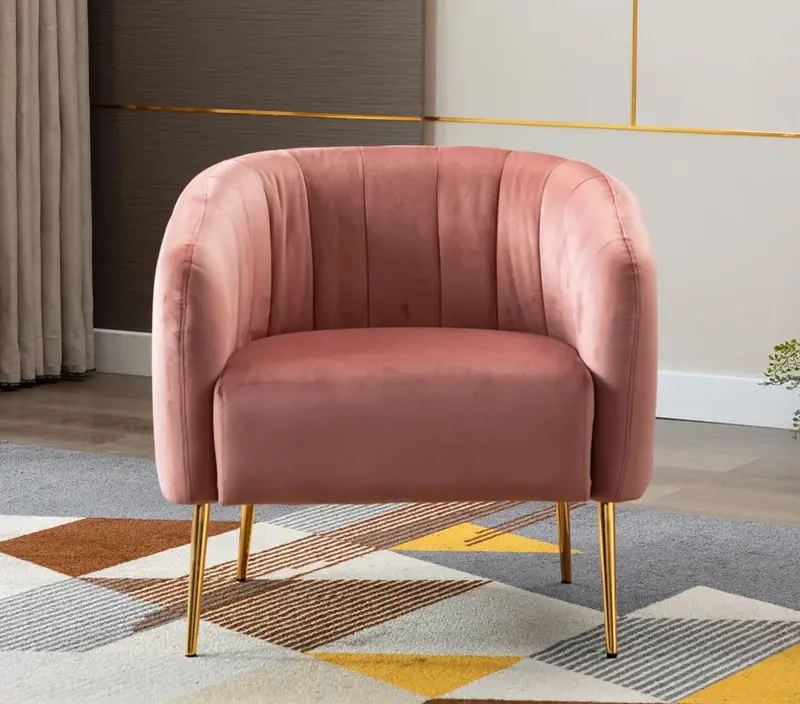 Losoto Tufted Armchair
Before you immerse yourself in the written words, consider getting ergonomic seating for your reading nook. Available in three colors, this Losoto armchair blends classic and contemporary elements. The tufted upholstery creates an approachable and inviting seating, with supportable frame and comfy foam filling.
Buy: $440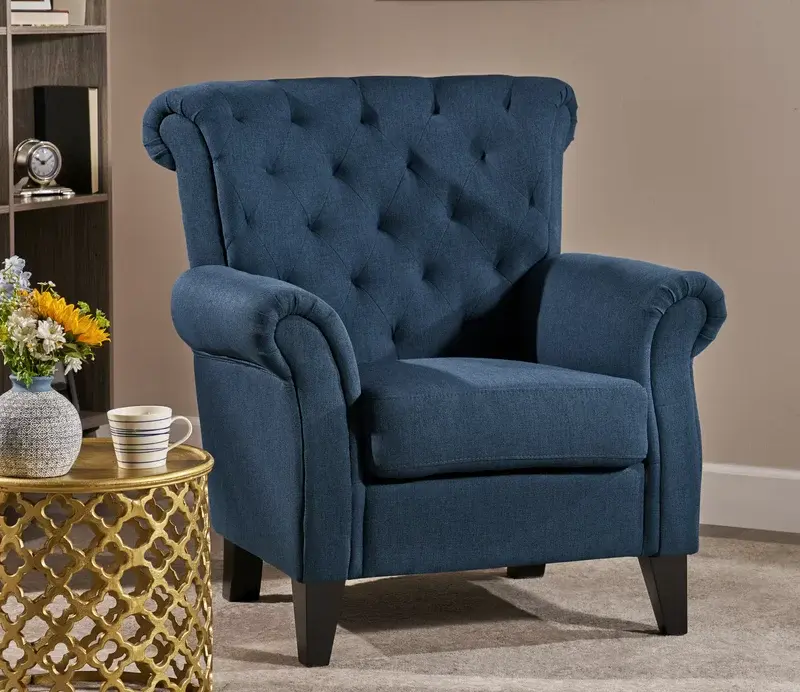 Andover Mills Leia Armchair
Do not let its looks discourage you because this armchair is an amazing piece with a striking floral pattern and a pretty silhouette. Think of it as a fashionable twist on your grandmother's armchair. It features a solid and engineered wood frame poised on tapered legs. It will fit right into a vintage apartment or quaint country home. Wrapped in 100 percent polyester, the chair is foam-filled creating a comfortable seat. Besides, a chic floral print is always welcome.
Buy: $500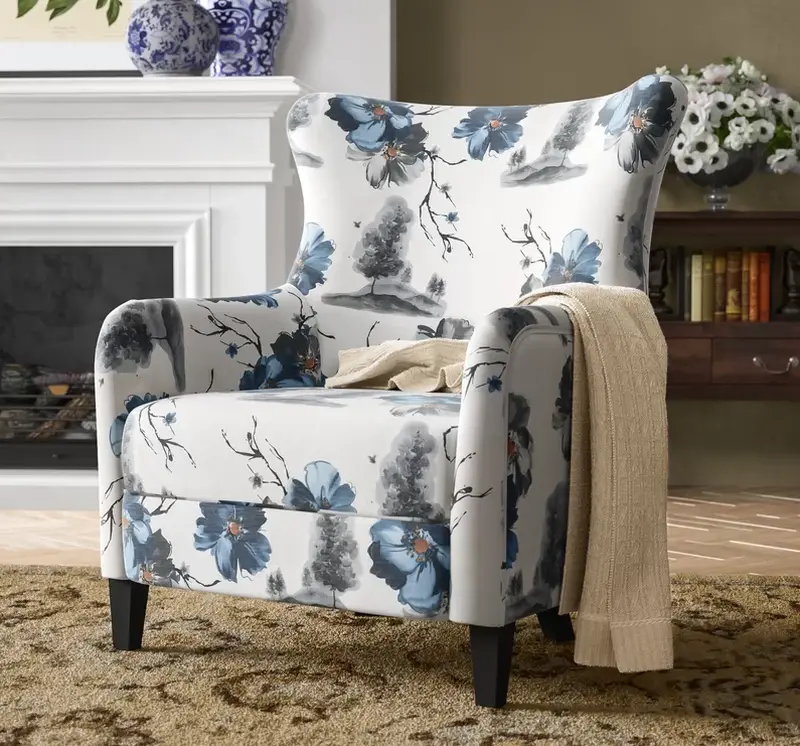 Book Nook Armchair
The name says it all. It is a Book Nook armchair, perfect to be placed in your favorite reading corner. It is a timeless design that can blend in any interior seamlessly. The chair is compact in size and works brilliantly in tight spaces. You can disassemble and reassemble it easily during transportation. Place this upholstered piece, add a lamp and a side table and you are all set to dive into your favorite book.
Buy: $569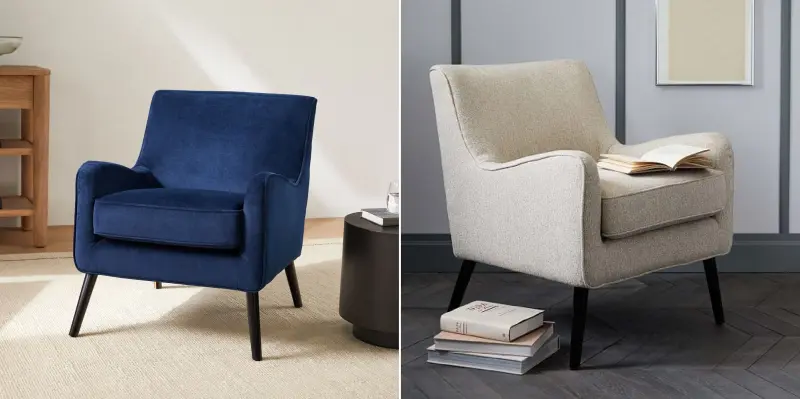 Homary Mid-Century Velvet Lounge Chair
Add medieval-chic aesthetics to your home with this pink velvet upholstered chaise lounge chair with an ottoman and an adjustable back. Both the chair and ottoman have foam-filled velvet upholstery with button-tufted details. You can place it beside a sunny window to create a welcoming reading nook. The chair has a weight capacity of 220lbs and is also available in green and blue shades.
Buy: $599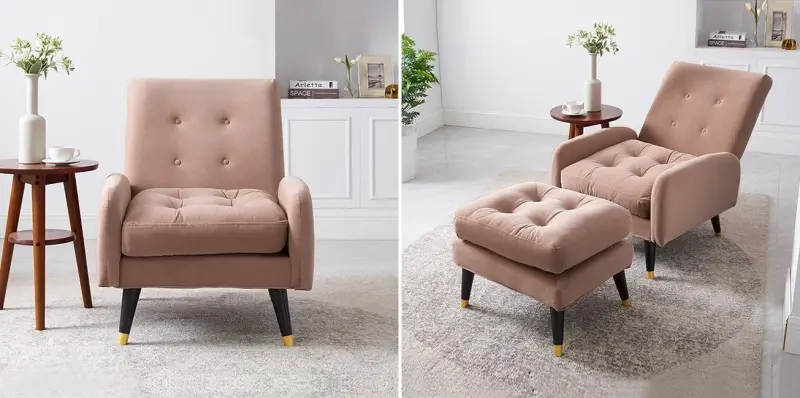 Wombwell Tufted Velvet Lounge Chair
There is something profoundly alluring about a well-structured lounge chair. Take this Wombwell tufted velvet lounge chair for instance. It will bring style and character to your home. Featuring tufted cushions, polished wood legs, and a low-slung seat, this chair will complement your existing interior design and offer posh seating. It comes in different color options, each accompanied by toss pillows and an ottoman.
Buy: $620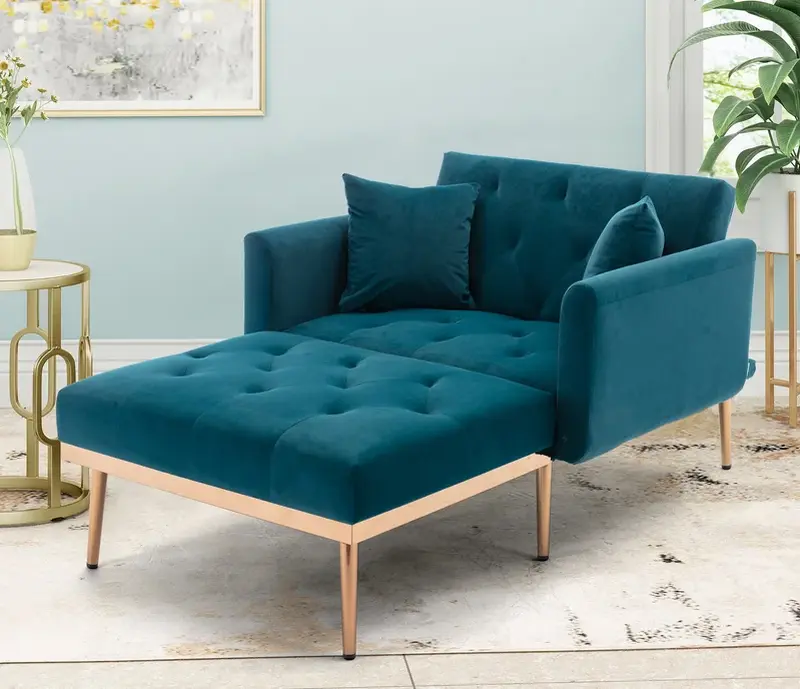 Savannah Rattan Chair
Combining the modern and classic French rattan design, the Savannah Rattan chair will add a soft, curvy geometric twist to your home. Its upholstered cushions and low profile offer ultimate comfort and will bestow a distinct vintage character. You can place this beautiful piece by the fireplace, get a steaming cup of coffee, and get lost in the written words. Simply magical!
Buy: $664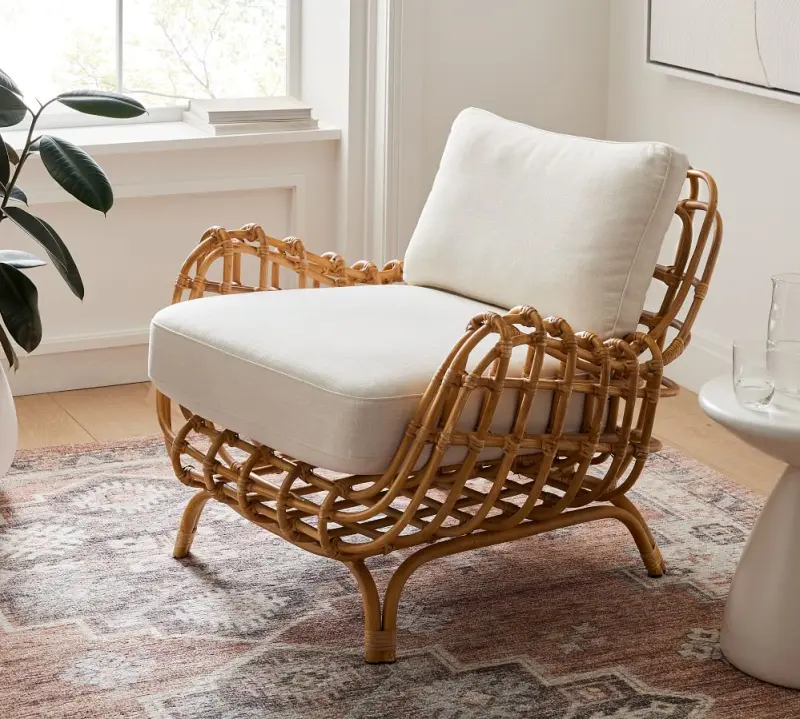 Ceni Armchair
Poised on solid wood legs, the Ceni armchair in volcanic gray hue is a touch of boldness your space requires. Whether you are looking to jazz up your room or in search of comfortable seating, this chair is the right pick. It is crafted in a low, solid walnut base, loose cushions, and has high-density foam wrapped in polyester. This mid-century styled armchair will become your spot around the house, where no one else will be allowed to sit but you.
Buy: $699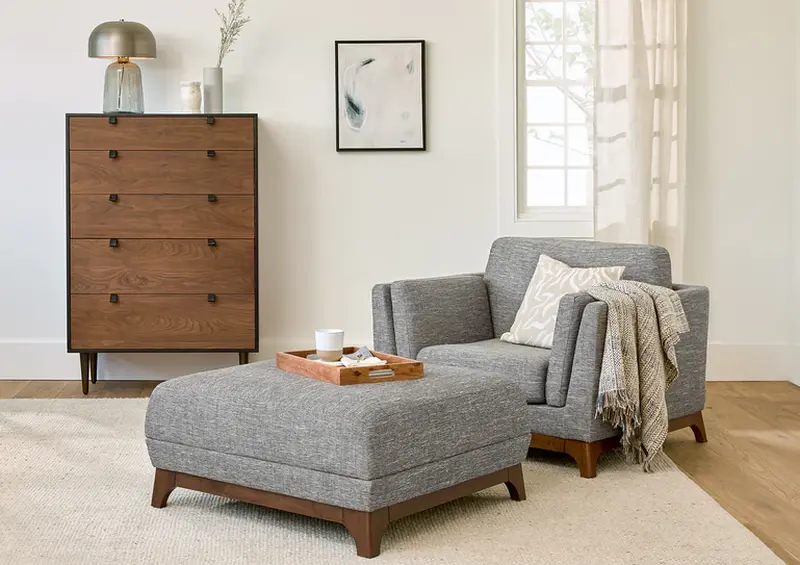 Lucia Wing Chair
What do we look for in a chair? Good lumbar support. Sturdy construction. Posh cushions that comfortably cup the buttocks. Right. Lucia Wing Chair has got it all. It is a modern take on Italian mid-century design. Its dramatic wings and sharp profile are balanced by the sleek metal legs. With a wide range of colors to choose from, this chair can blend in with any interior.
Buy: $700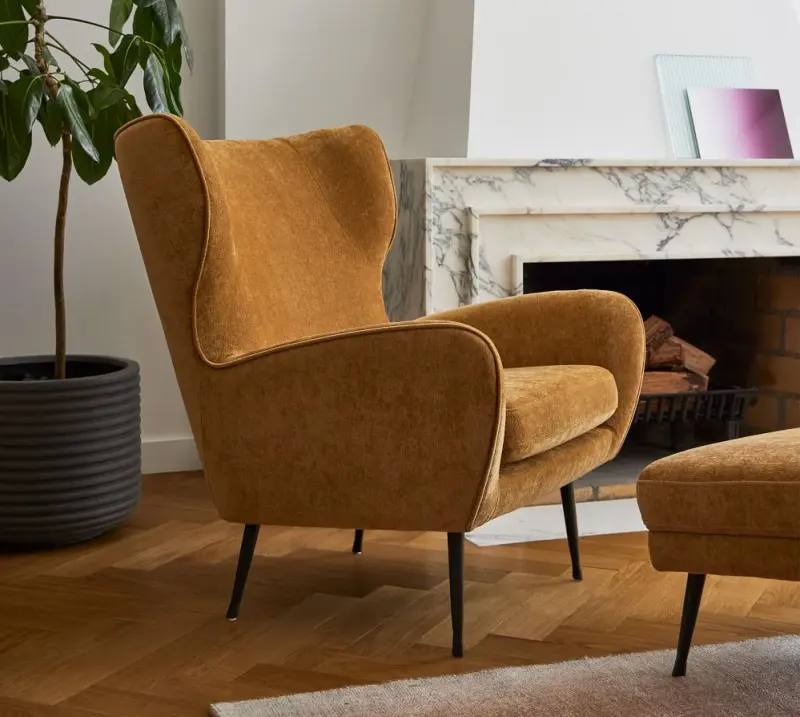 Viv Swivel Chair
If it were up to me, I'd call it the snuggle chair. Viv Swivel chair has an absolutely cute design that wraps around you. It has a welcoming frame with cloud-like seat cushions to provide you with supreme comfort. It has kiln-dried pine and an engineered wood frame providing strength and durability. It can be a part of your bedroom, living room or library, and it will equally comforting irrespective of the location.
Buy: $749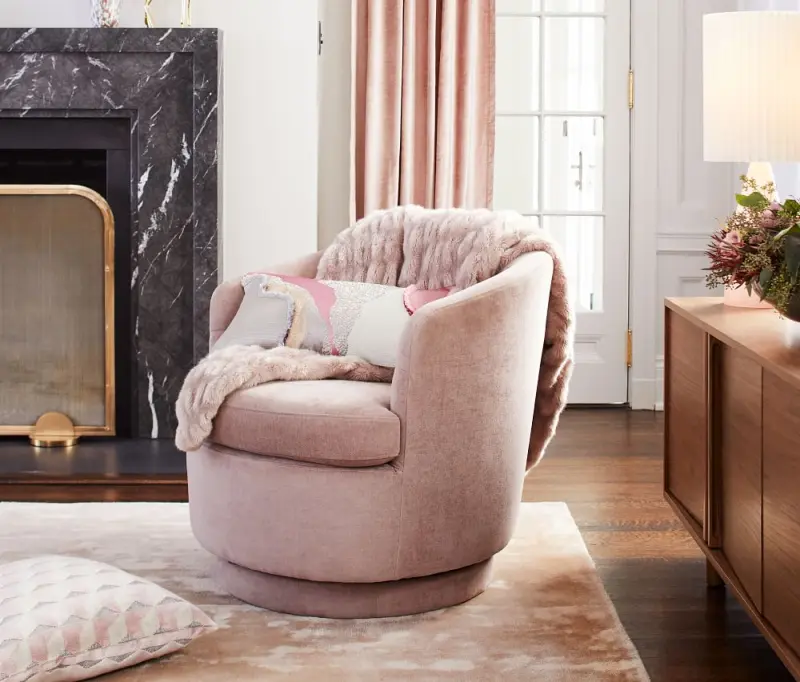 Paidge Chair
A handcrafted gem, Paidge Chair is a modern take on a typical frame. Its sweeping arms and welted seams create a polished look. With hand-built frames, plush cushions, and hand-finished upholstery, this piece of furniture will add texture and style to your library. There is a wide selection of colors available allowing you to choose the perfect fit for your home.
Buy: $849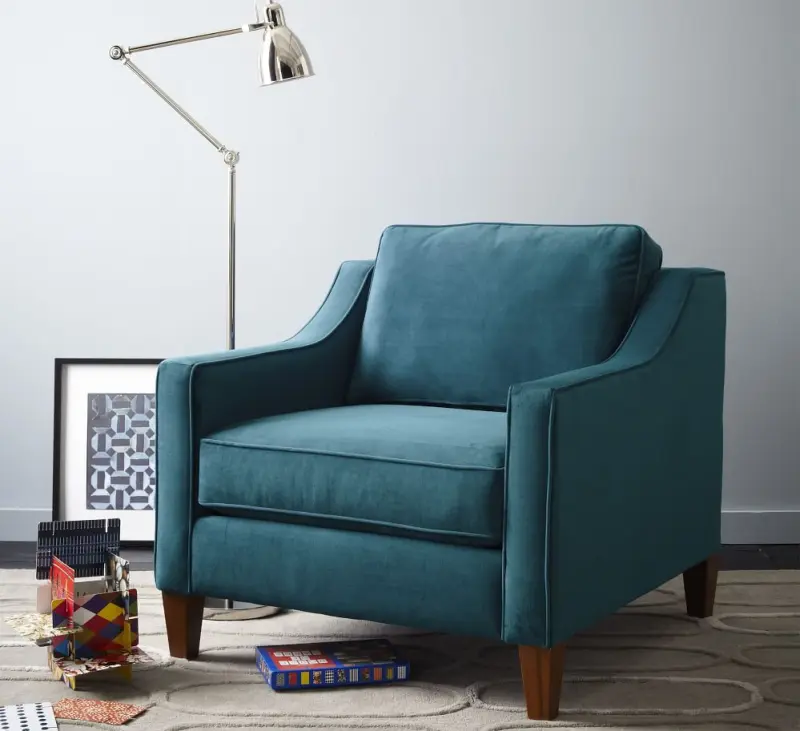 Comfy Chaise Lounge
Available in over 40 color options, this traditional chaise lounge is perfect for a modern home, whether you are creating a lavish seating area in the living room or a cozy reading nook. Made from solid and engineered wood frame, the chair is wrapped in a variety of neutral upholstery. It has square back and rolled arms that offer maximum comfort and classic touch to your home.
Buy: $930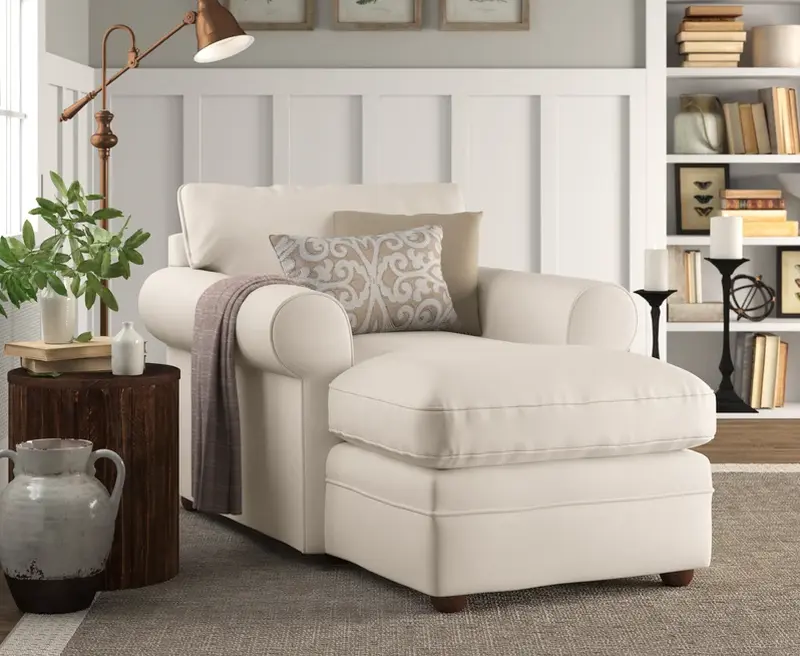 Eames Lounge Chair and Ottoman
I admit spending thousands of bucks on a chair seems a bit wasteful, but Eames Lounge Chair and Ottoman is not just a piece of furniture. It is a luxury. Designed in 1956 by designer power couple Ray and Charles Eames, the chair has become a design statement and a symbol of minimalist style over the years. If money is no issue for you, then get this lounge chair for a pleasant combination of ultimate comfort, premium material, and brilliant craftsmanship paired with your reading hours.
Buy: $7,995