If the word beautiful had copyright, Hügge tiny home by Tiny Healthy Homes would have been a prime contender in sealing the intellectual property rights to itself. Led by Ben Garratt, the Canadian tiny house manufacturer has gained a reputation for building pocket-sized homes from all-natural and salvaged materials.
Hügge is a Danish word which means happiness or well-being. It is sometimes even called Hygge because of the inspiration behind the project. Most tiny house designs feature the same cliché structure but Hügge challenges the notion of the traditional tiny house with a curvy roof that is the biggest highlight of the little dwelling apart from biophilic design.
There are multiple elements of biophilic design which make it stand tall from other tiny houses. It has a number of windows and even a skylight, plus built-in indoor planters that keep in interiors fresh. The tiny house on wheels is beautiful and enhances the life of the owners, Walker and Heather.
There are plenty of other features that add aesthetic to the tiny house on wheels. Starting with the exterior, it is elegant thanks to the organic color scheme and a living roof with plenty of greenery to peer at. Overall, this tiny home looks really gracious from outside.
Moving on to the interior, this 24×8 foot tiny house is both pleasant and practical. There is a kitchen, living, bathroom and a couple of bedroom lofts. It's quite spacious and can accommodate four to six people comfortably. The living area in the main floor is accoutered with a couch that can be used while watching television.
On the opposite end, there is a beautiful kitchen equipped with cooking necessities, from an electric oven to a two-burner cooktop and a beetle kill blue pine countertop. If you are pondering where is the fridge? It has been cleverly tucked under the stairs that leads to one of the two bedroom lofts.
The bedroom lofts are equipped with large double-pane windows and also have plenty of storage spaces. This is the area where inhabitants get the up-close view of the curvy ceiling. The bathroom features a pebble floor, beautiful tiled walls for a stylish and a modern look. Furthermore, there is a custom soaker tub/shower and a toilet to cater hygiene needs.
Also Read: Nine Best Luxury Motorhomes With Built-in Garages For Cars and More
The Hügge tiny home incorporates biophilic design and uses natural materials for construction. It provides beautiful, natural and healthy living space and makes a positive impact on environment.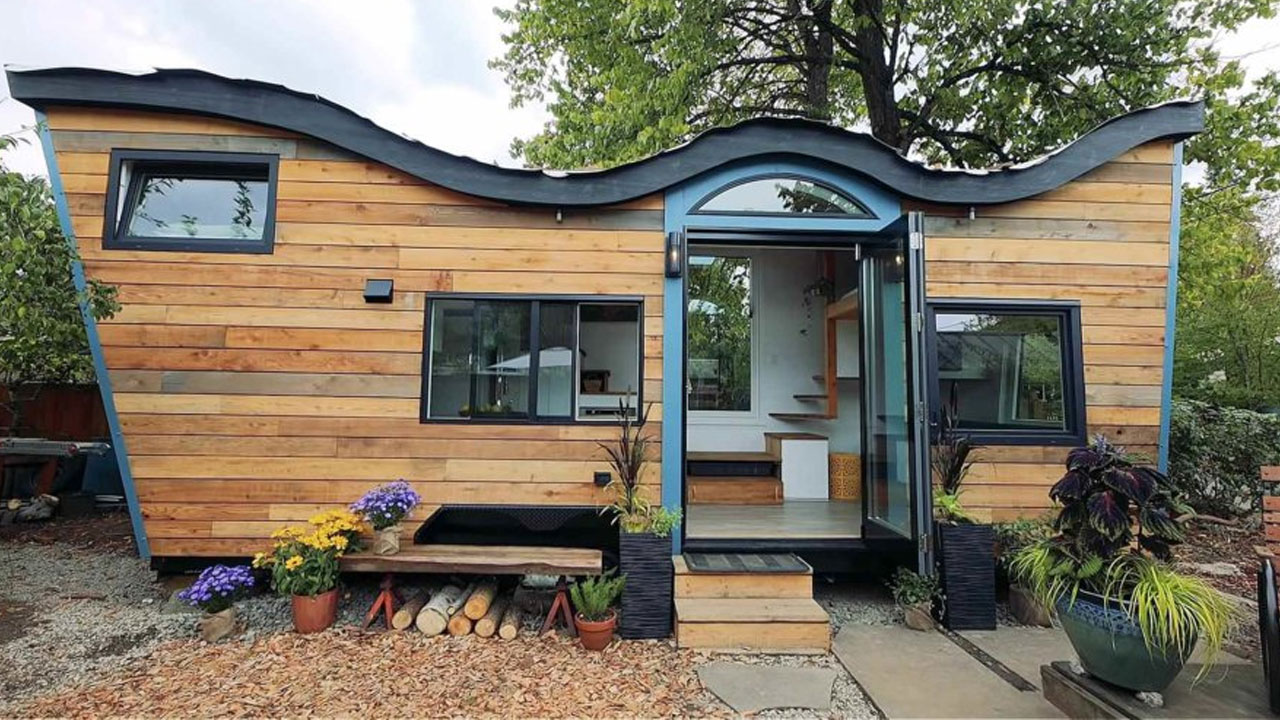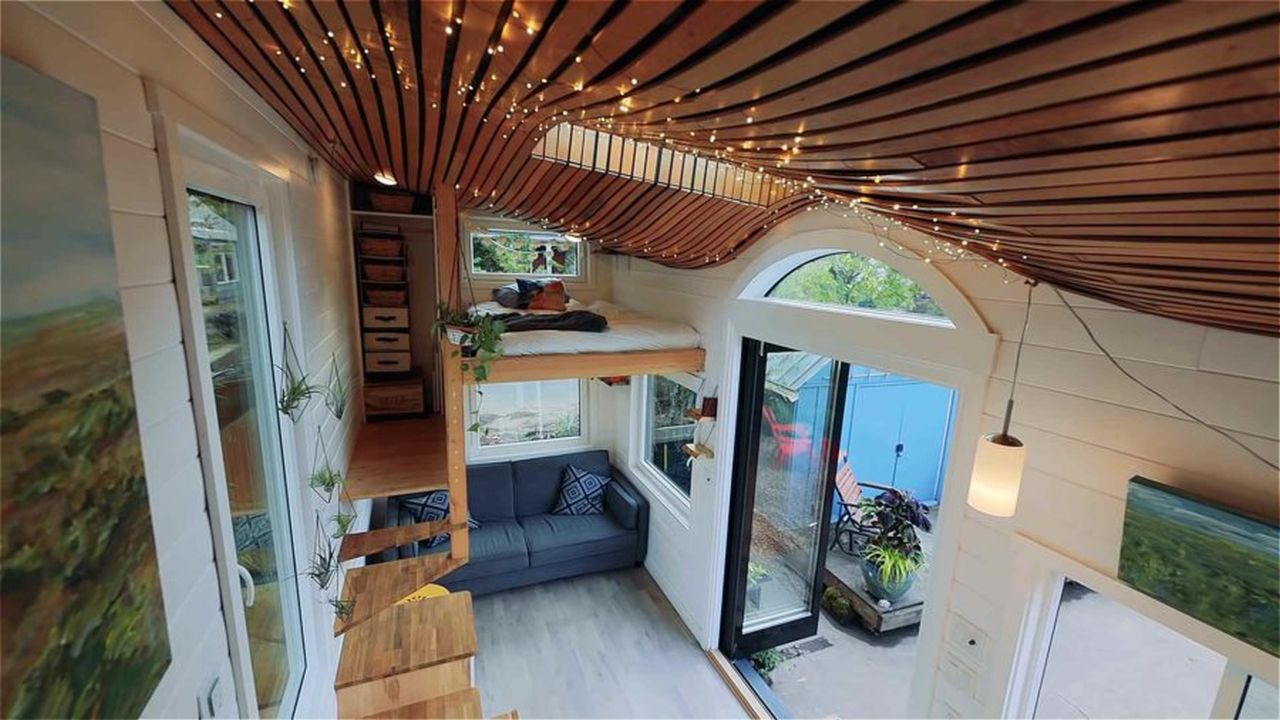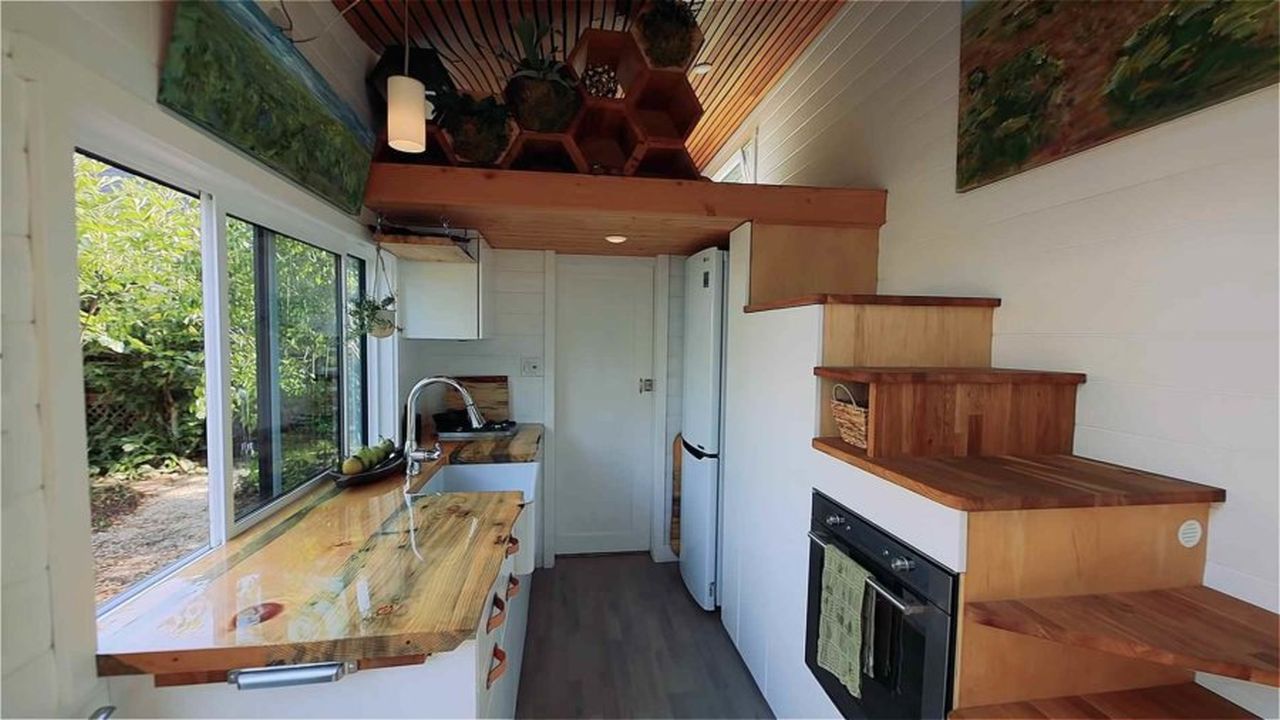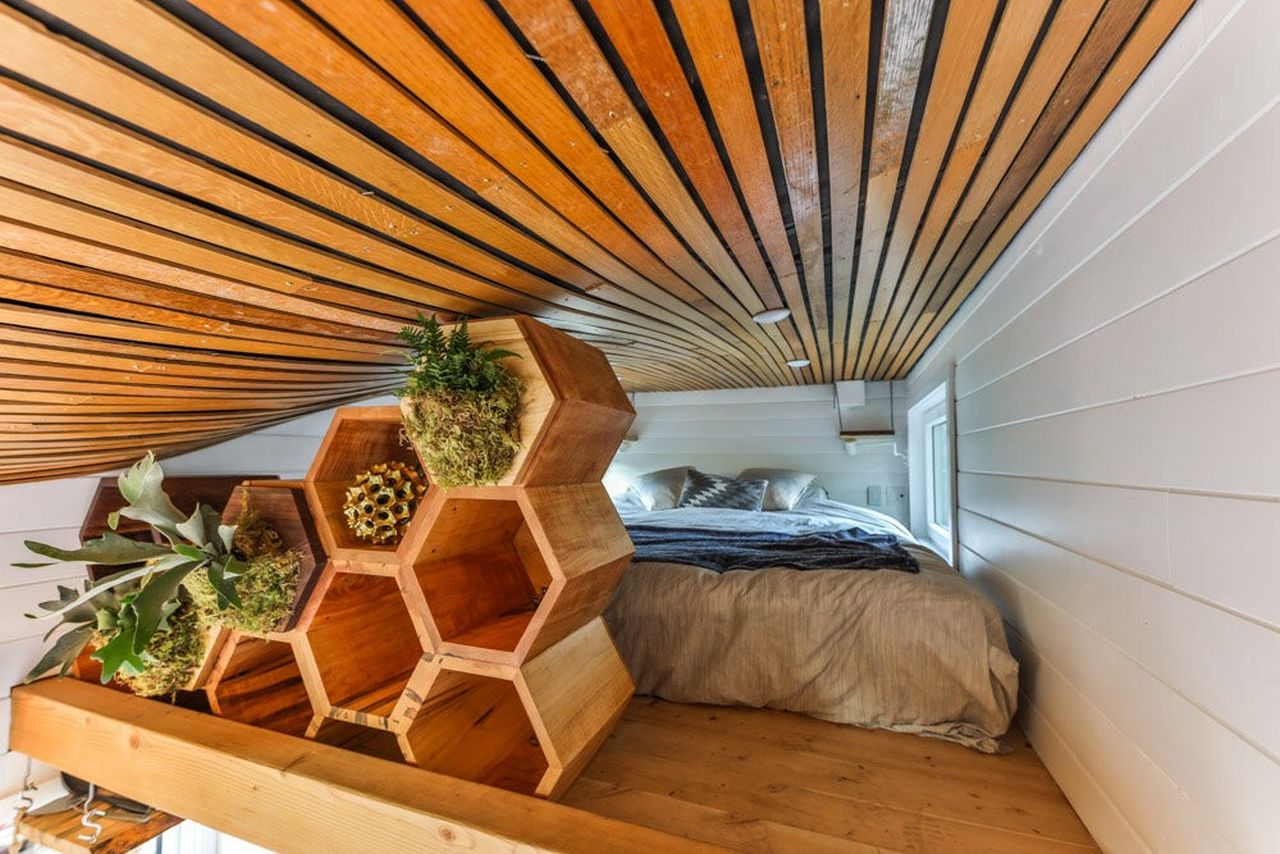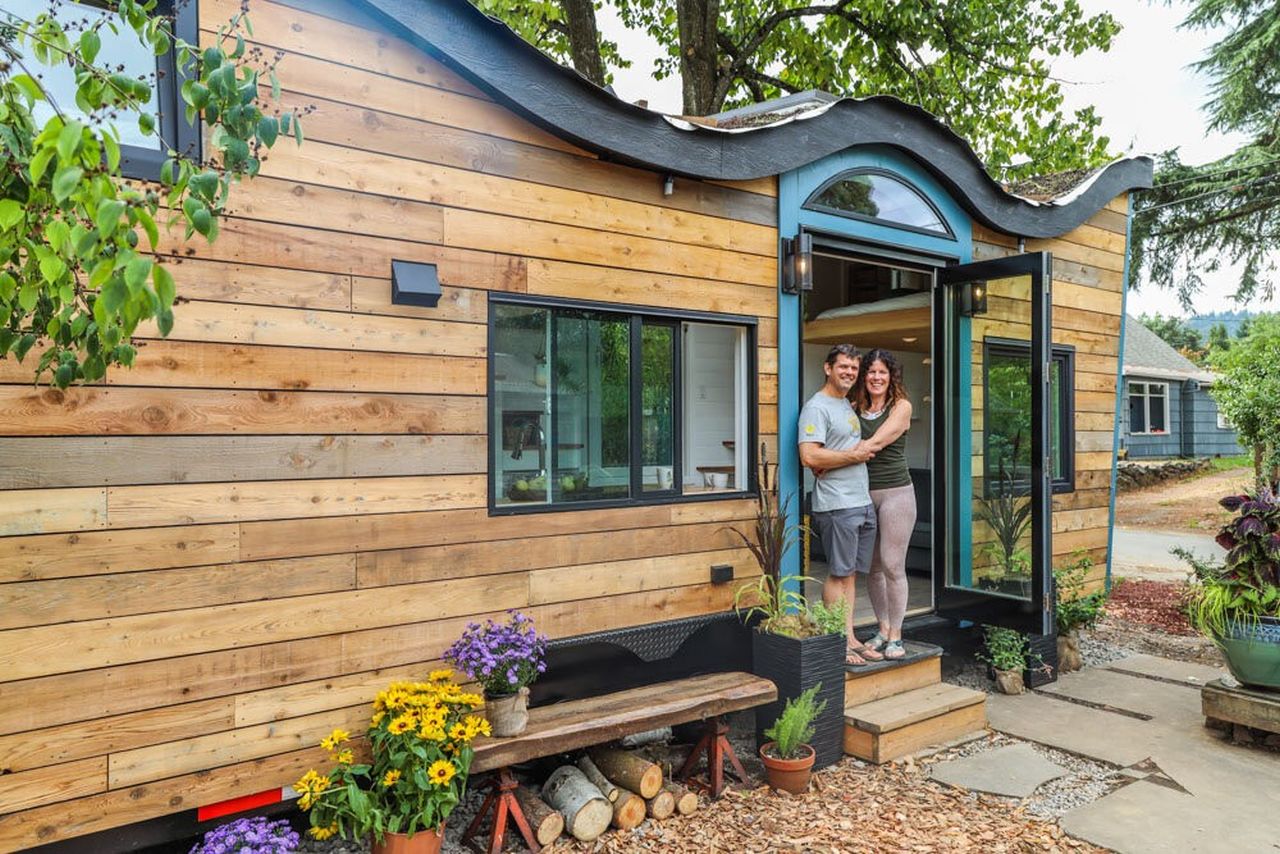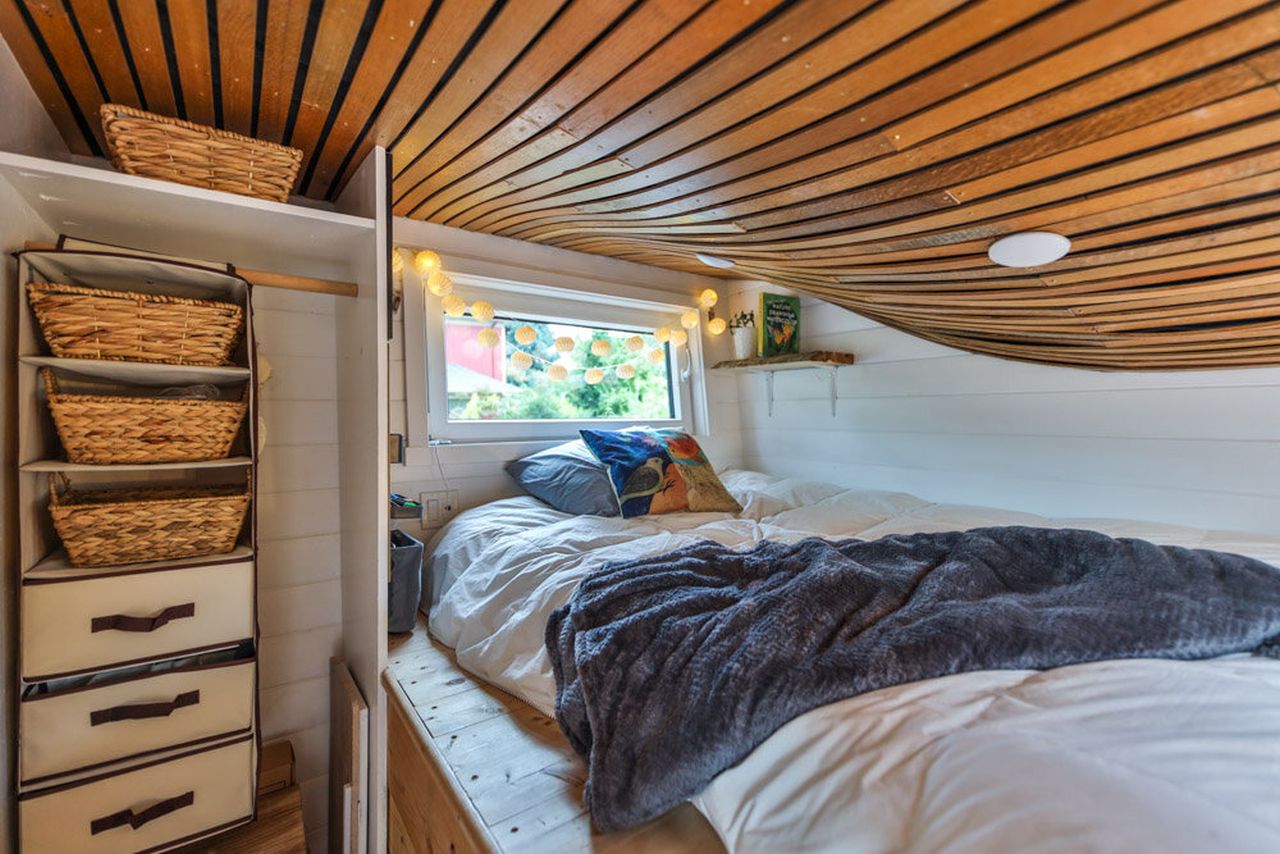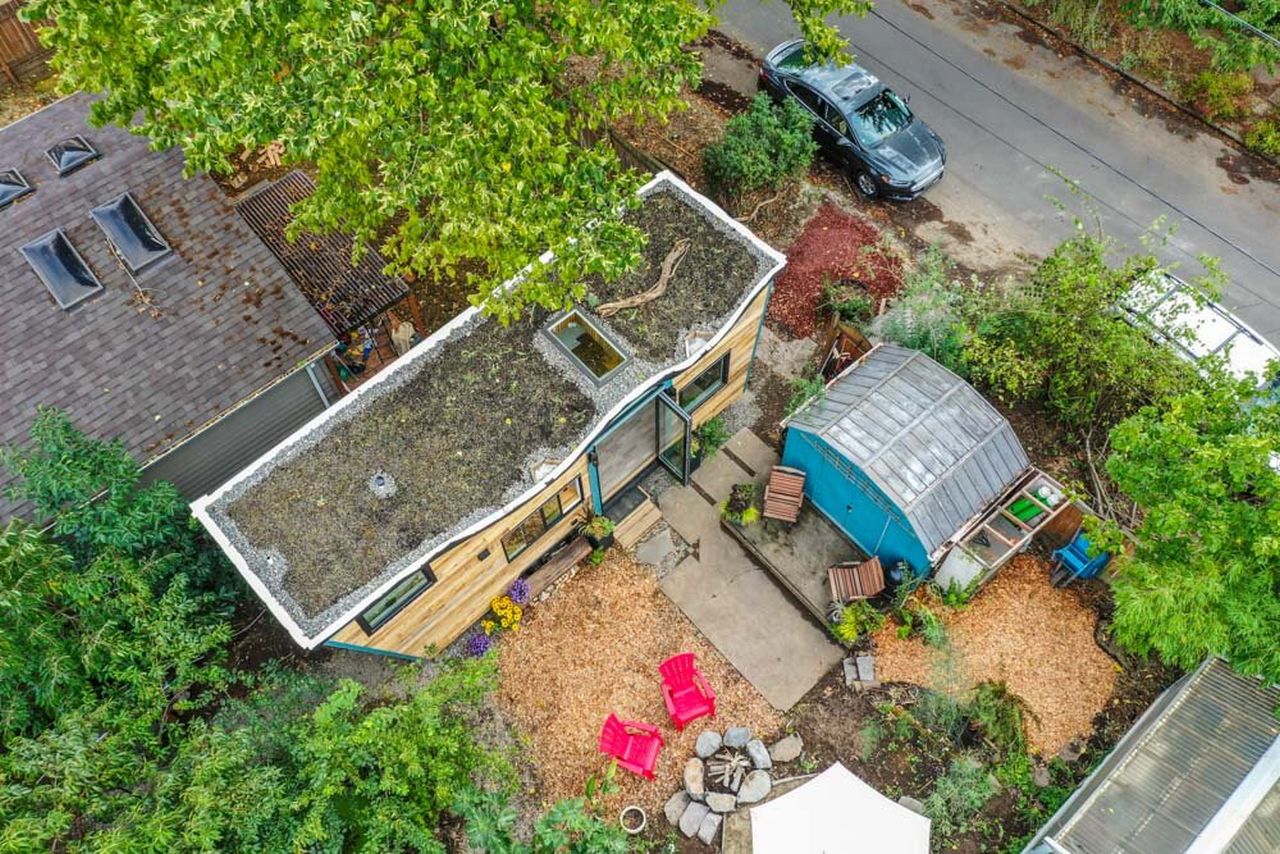 Via: Living Big in a Tiny House