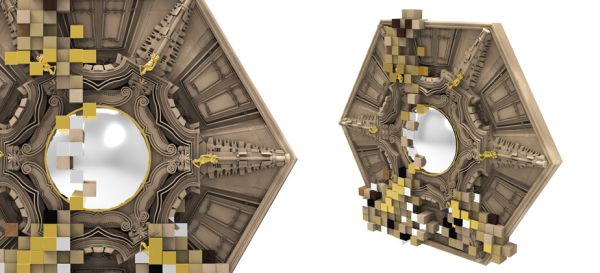 Almost looking some high level relic item from a fantasy role playing game, the Piccadilly Mirror has it all – magnificent construction, gorgeous details, intricate tessellations; all complemented by an upscale vibe of its own. In fact, the design language of this grandiose mirror (from Boca do Lobo) does not follow a specific pattern. Instead it combines an assortment of different styles ranging from geometric patterns to elaborate embellishments. However the 'piece de resistance' of the entire scope lies in the middle of the labyrinthine arrangement, in the form of a simple circular mirror with a convex bulging character of its own.
Quite astonishingly, the abstrusely bedecked wooden frame of the Piccadilly Mirror is handcrafted (from poplar variety). According to the designers –
Boca do Lobo's designers and artisans have combined forces and created a new design piece to integrate this dynamic and absolutely original family (Piccadily collection). Piccadilly Mirror is a result of new concepts that features impossible constructions, explorations of the infinity, architecture and tessellations. With a convex mirror, its frame is composed by poplar, highly handcrafted. It is truly fascinating how many finish combinations contribute to this unique piece of luxury furniture.
In many ways, it is the application of so many types of finishing details that makes the Piccadilly Mirror stand out from other contemporary designs. There is also a symbolic essence to the whole ambit, with the familiarly ethereal mirror 'shining' in the midst of all the perplexing patterns. The allusion to being distinct and powerful!
For more details, please check out BocaDoLobo.