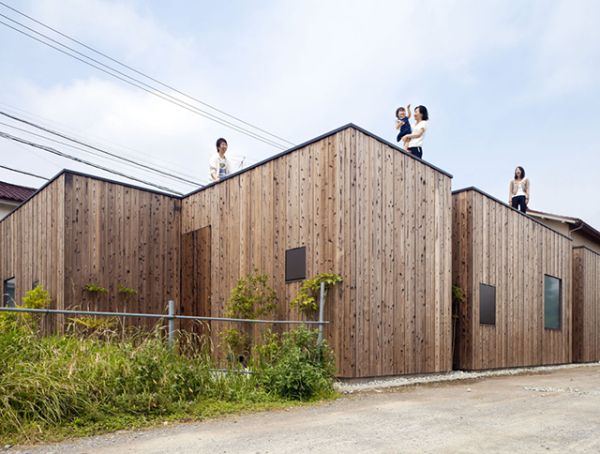 The core idea of a house is to provide a comfortable yet unique shelter for its inhabitants, while its structure also stands out from the environment. Well, Japanese architecture firm Atelier Tekuto has given a twist to this conventional notion by designing a residence whose interior actually replicates its exterior facade. Aptly named as the Boundary House, the building has been actually built with a special permit on a piece of land sandwiched between residential areas and farmland. As a reaction to this interesting site, the architects decided to design a house that would harmonize with the surrounding nature, instead of posing as an entity of urbanized expansion.
In terms of structure and zoning, the Boundary House exhibits a maze-like form with sixteen skylights and frequent ceiling openings. These inclusive features actually present the scope of merging for both the interior and the exterior of the residence, where natural lighting and physical openings blur the 'boundary' of an open and enclosed space.
This essence of fusion of the exterior skin and interior facades is further explored by the walls of the Boundary House. The interior walls are created from glue-laminated timber painted with a persimmon tannin (which consists of ferric oxide-based red coloring). This classy rustic composition actually goes on to mimic the Japanese cedar wood was used for the exterior walls. Moreover, identical potted plants are placed both outside and inside, thus accentuating upon the state of obscuring the 'in and out' areas. All of these is accompanied by a roof top garden that seamlessly combines with a more expansive garden present next door.
According to Tekuto –
(We) wanted to create a space where it is difficult to distinguish between the inside and outside by carefully choosing the materials for walls, floors, and ceilings: therefore, we have selected a high-density wall material, white flooring material, and a specially textured ceiling material. We believe that choosing the right material can be more effective than simply reversing inside and outside.
All images are courtesy of Toshihiro Sobajima.
Via: Knstrct