Steampunk-style interiors are still in and those who like to relive the glorious 19th-century era often embrace this timeless culture in their lives in many ways. All you need is to use materials like copper, brass, and other mechanical pieces to incorporate that Victorian touch in any space.
The steampunk subculture can be adapted into any area of a house- be it a living room, kitchen, bedroom, or bathroom. In this write-up, we are going to focus only on the powder room. From bathroom fixtures and color, we're going to acquaint you with a few stylish retro-futuristic decor elements and gizmos that are perfect tan o bring an industrial touch to any bathroom.
Check out the following list for help in giving a steampunk-styled makeover to your bathroom.
Steampunk Shower
Axor WaterDream by Front Design for famous brand Hans Grohe is a stunning steampunk style bathroom shower made entirely out of copper. Paying homage to the traditional workmanship, this shower system combines modern elegance with a twist of traditional design elements.
The Axor WaterDream steampunk shower consists of an inviting network of copper pipes supplying water and a conical copper showerhead. It forms a playful interplay between man, water, and space.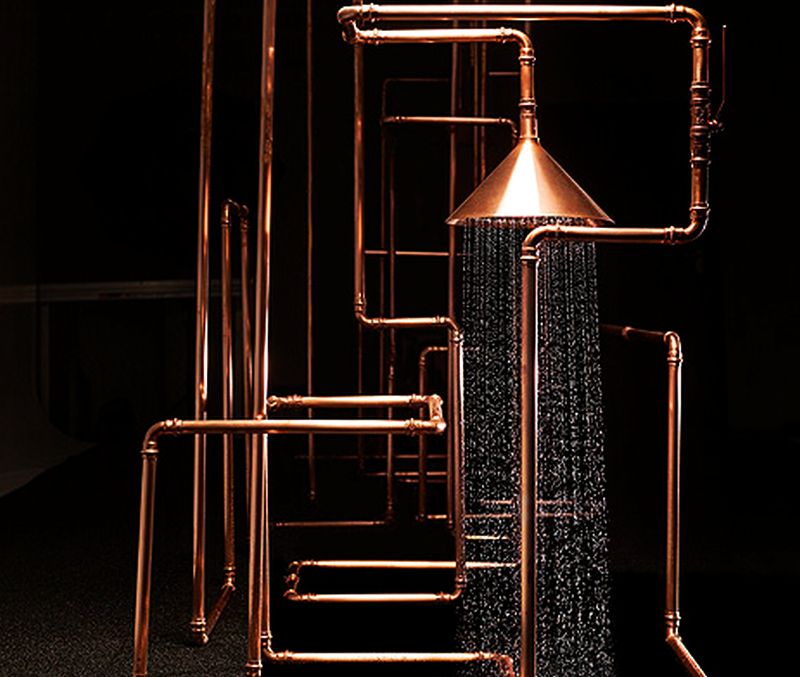 Steampunk Sink
Made from copper pipe, steel, and stainless steel components, this industrial-style pedestal sink blends the past with the present. Its antique boiler-style body and polished bowl with copper faucet add a new definition to its steampunk appearance. This fully-functional sink will be a fun and decorative addition to your bathroom, as well as the living room of a Victorian home.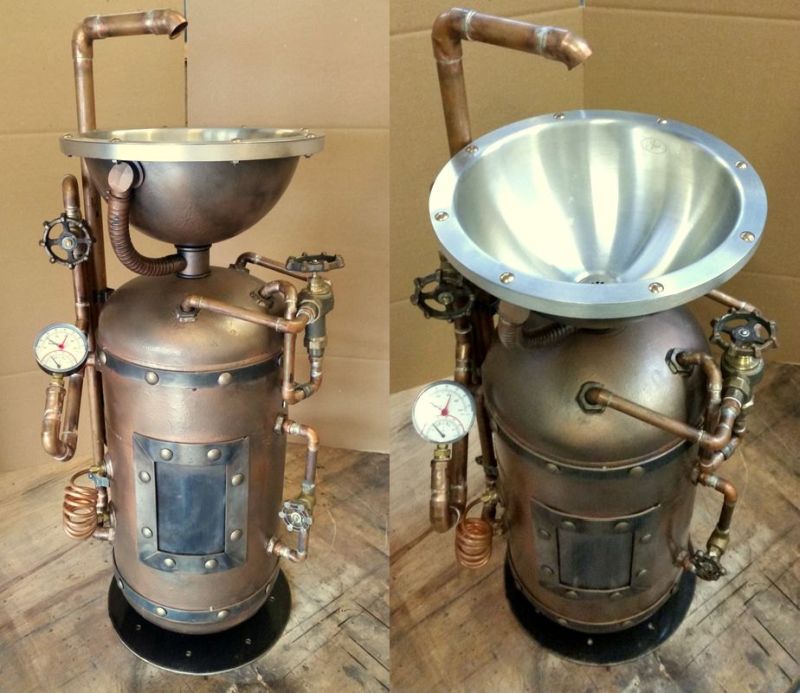 Industrial Style Bathtub
Made out of an old naval mine, this industrial-style bathtub by Marine Mine is a great source of inspiration for steampunk lovers. The exterior of the tub showcases its explosive past, while the stainless steel bathing space is smooth for enjoying a cozy bubble bath. The extended steel detonator mock-ups are used as legs of the bathtub.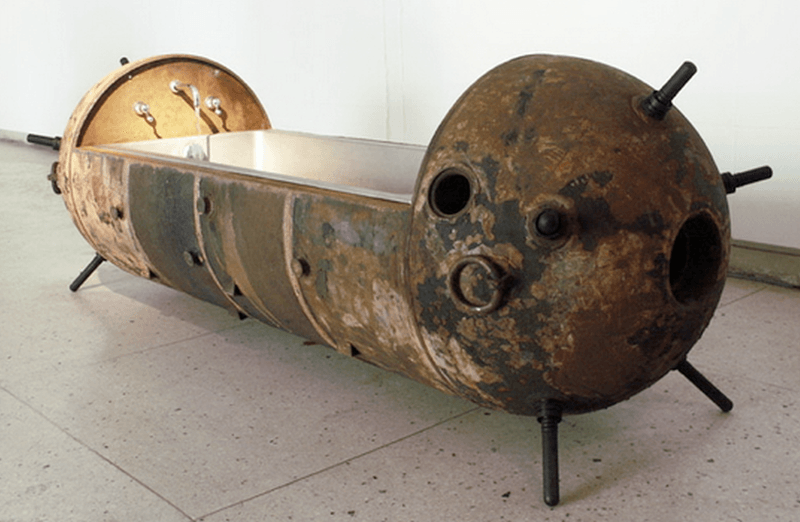 Bathing in this rusty bathtub is certainly going to faze your morning. Plus, it will add a unique character to your bathroom.
Steampunk Lighting
A steampunk style bathroom vanity light will not only brighten up your powder room but also be an attractive wall décor piece. Designed to suit vintage industrial-styled spaces, these kinds of lighting fixtures are a cool addition to any bathroom. It is likely to draw attention and be a focal point in any space.
This steampunk bathroom vanity light will not only brighten up your powder room but also be an amazing wall decoration. Designed to suit industrial and steampunk-styled rooms, this lighting fixture will be a fun addition to any bathroom space. The fixture is likely to draw all attention and be a focal point in your space.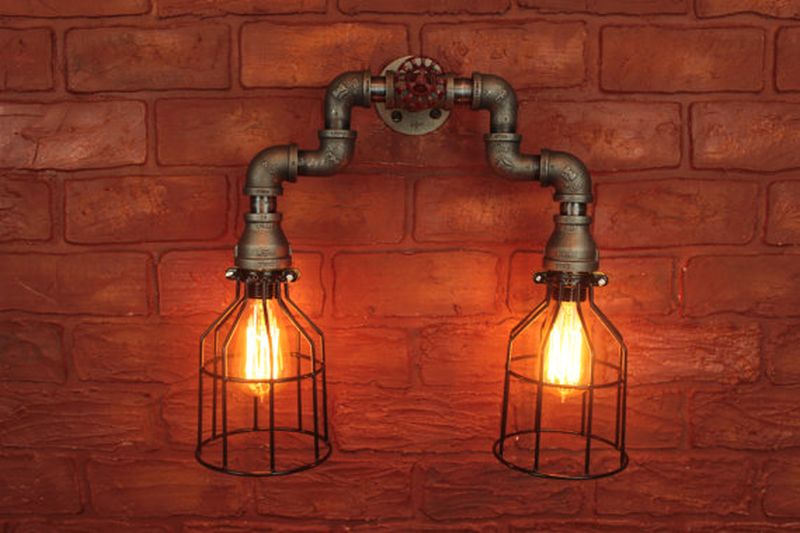 DIY Steampunk Toilet Seat
The idea of having a steampunk toilet seat seems odd but Cindy Chinn has made it a reality. He used a basic white toilet, and decorated it with chalk, metallic paints, and cut off bold heads to make an unconventional innovation meant only for a gothic bathroom. The entire design of the toilet seat seems to be coming straight out of the mechanical industry. It will surely add a unique charm to your Victorian-styled shower room.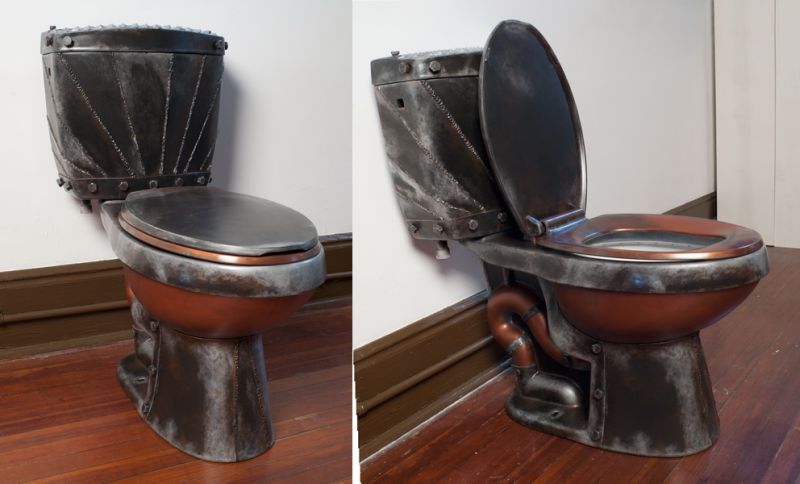 Toilet Paper Holder
To complement your steampunk toilet, you can install this industrial pipe toilet paper holder in your restroom. It is made out of black pipe and hose knob, and all set to give industrial appeal to your space. Besides holding toilet paper like a boss, this fixture will enhance your bathroom decor. It will be another stylish piece in your contemporary bathroom.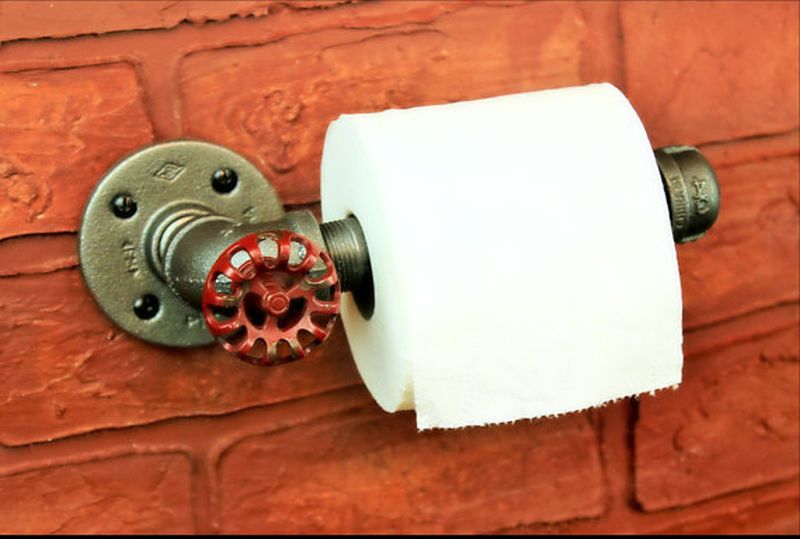 Steampunk Theme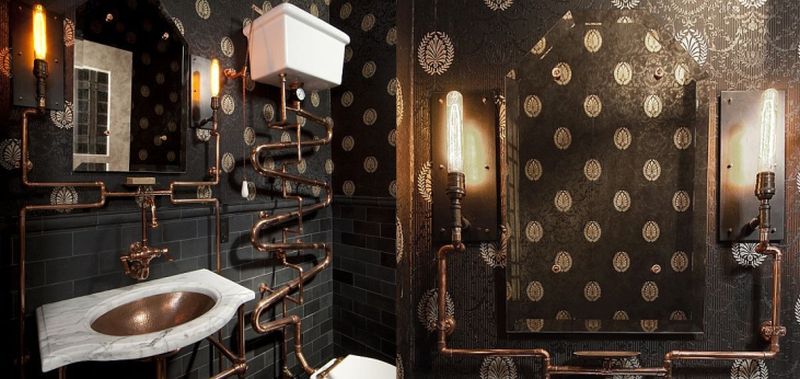 Take inspiration from this striking bathroom design by San Francisco-based architect Andre Rothblatt. The walls of the bathroom are decorated with Victorian-styled wallpapers, whereas copper piping, marble, and copper sink, as well as you can see mechanical gears and gauges adding exquisite character to the bathroom. This kind of bathroom design is sure to be loved by steampunk lovers.
If you're looking for a classic Victorian bathroom theme, you need to consider this one.
So, give a steampunk makeover to your bathroom using the aforementioned ideas.