Cats are no less than babies, as they also like to play with cardboard boxes rather than the new toys you bring for them. Just give your cat a box and the cute devil can play with it for hours trying to discover the untamed corners of its every corner. So, instead of wasting your money and time on buying other toys or cat houses for your grimalkin, invest in the modular and stackable Catty Stacks Cat Condos.
These are small, agile, and easy-to-make cardboard boxes for experimenting with your own 'cathitecture' that also features a bridge connection, where your feline friend would love to spend most of the time.
Design and Features
These cardboard stacks are connected with a bridge, unlike usual stacks. You just have to start by connecting two boxes with a bridge and further build up and improve your cat house design as you like. The eco-friendly boxes are made out of highly durable Corrugated Ultraboard that means your cat will be able to sleep in them without any fear of breaking them. This new model with the bridge is easy-to-assemble and easy-to-clean. It is sturdy and stable, so you don't have to worry about your cat destroying it in a matter of a week.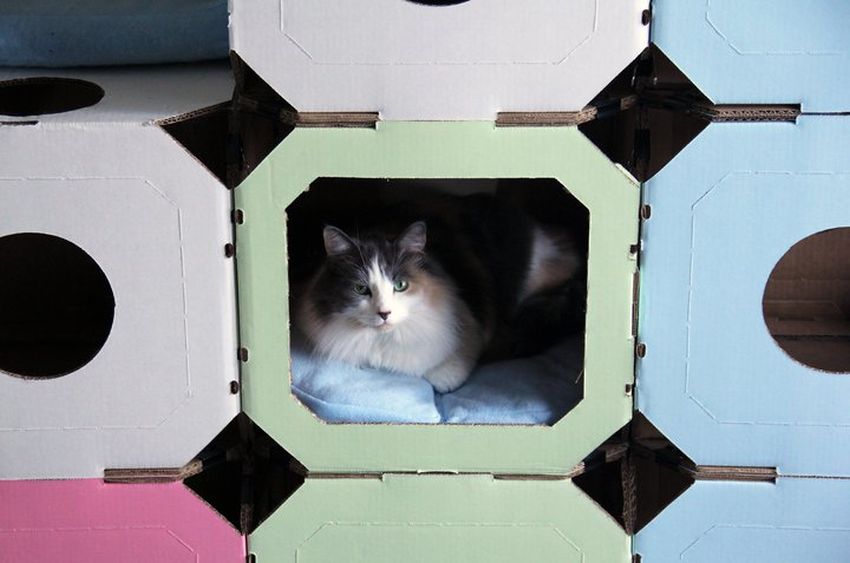 Reasons You'll Love It
– Fun to assemble
– Lightweight
– Stable and comfortable
– Connected with a bridge
– Great home for multiple cats
– Your cat(s) will absolutely love it
How Stable and Strong Are They
These modular cardboard boxes are amazingly stable if you know how to stack them correctly. Each box comes with its own top and bottom side. You have to accurately stack them on their bottom and top sides to keep your cat house in place. If the wrong sides are connected then it will definitely come apart. So, you have to take care while assembling the cat furniture.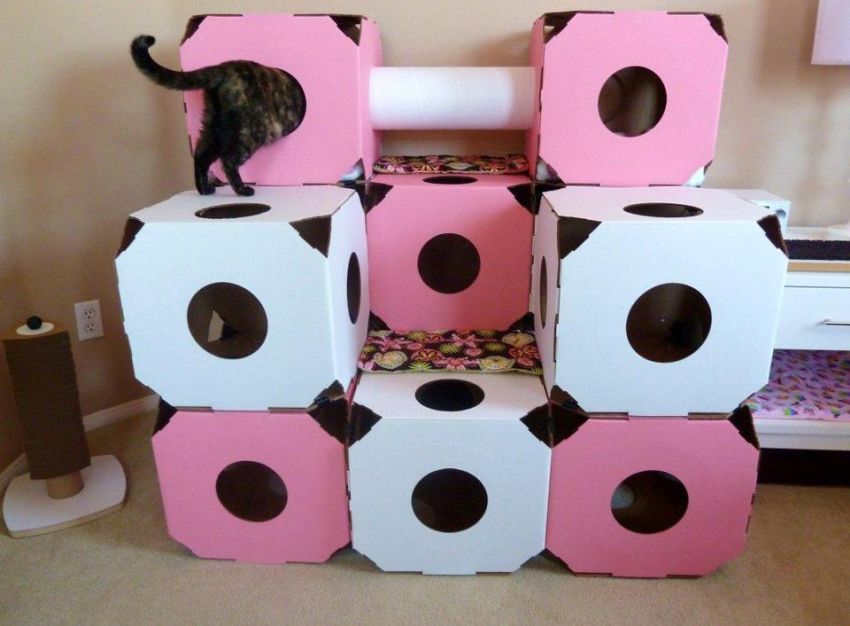 Also Read: A Cat Thing – Modular Cat Furniture Crafted from Cardboard
You have to figure out which side is supposed to go up/down, as there are small holes near the edges. On the other hand, side panels have larger holes in the center. Another thing that you need to keep in mind while stacking them is that the height of the vertical stack must not exceed more than the number of horizontal boxes. For instance, if you want to stack four boxes in height, there must be a minimum of three boxes at the base to maintain the stability.
Furthermore, each box is able to support the weight of up to 40 pounds which is more than enough for not one but two cats. This means it will not tear apart even if multiple cats are playing in this modular cat house.
Conclusion
If you live with cats, you already know they are fascinated with strange things that can be explored. Therefore, your feline friends are likely to love spending their play time in these modular boxes and also won't mind jumping across the bridge.
Another good thing would be that your furniture will stay hair-free and scratch-free. So, it is indeed a good investment.
You can purchase a set of two boxes with one bridge for $29.99. You can also buy multiple sets to create any size configuration.
These boxes are available in different colors/patterns such as chocolate brown, elegant giraffe, snow white, and pistachio green to elegantly match with your home interior.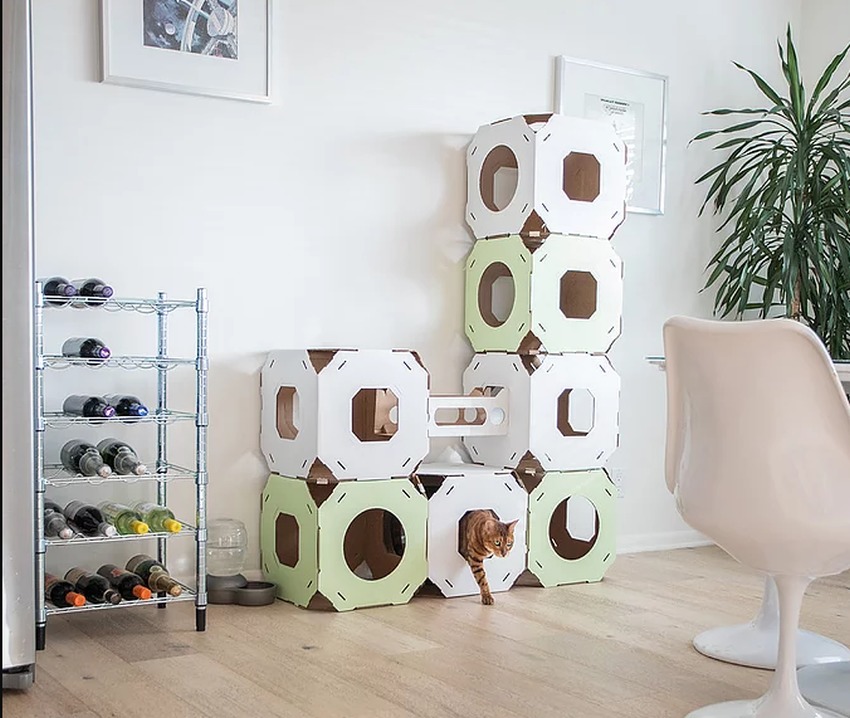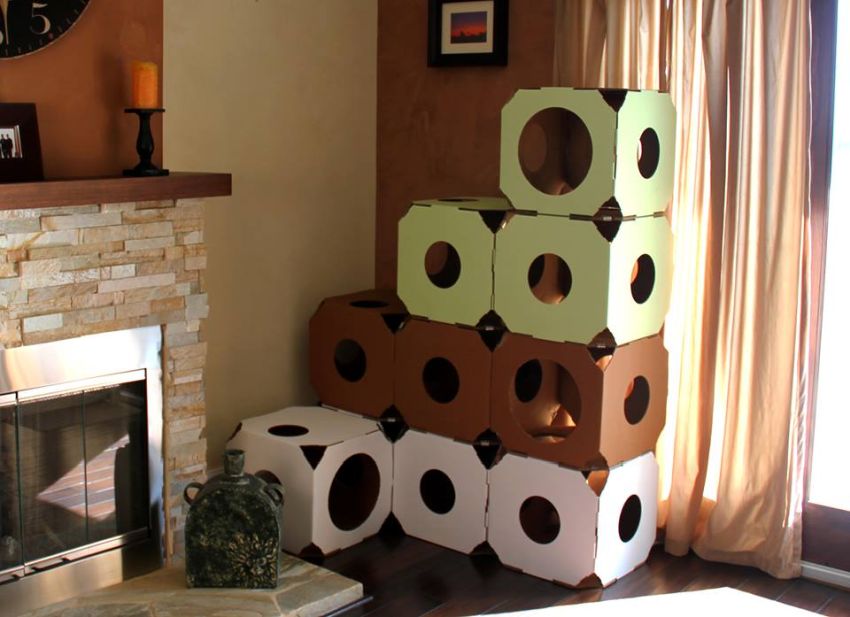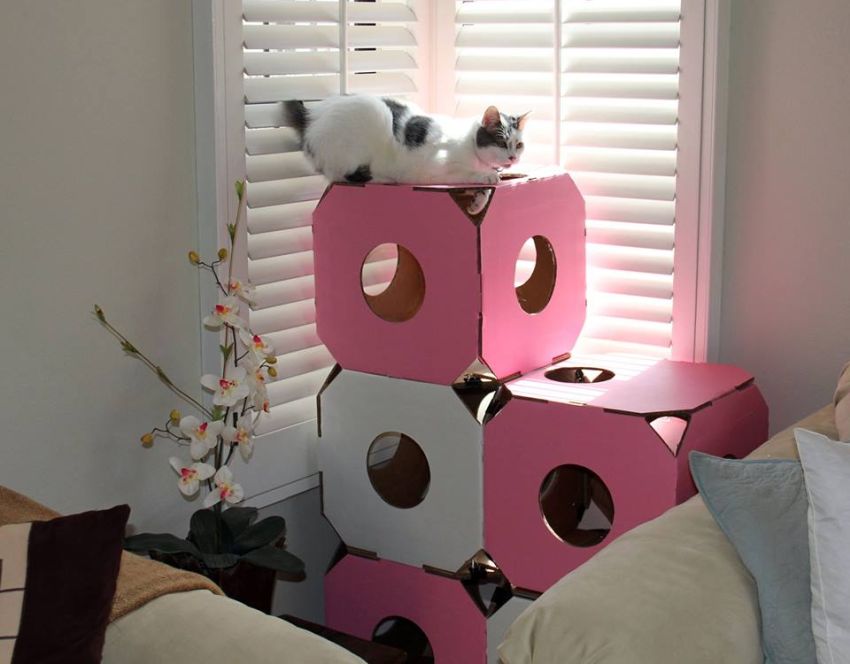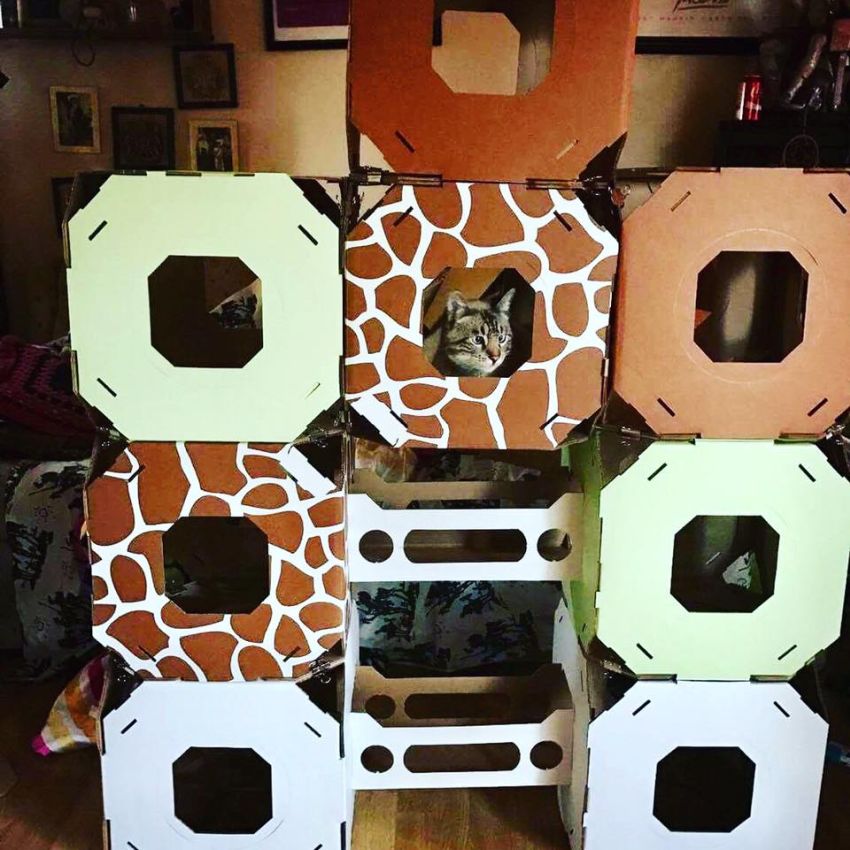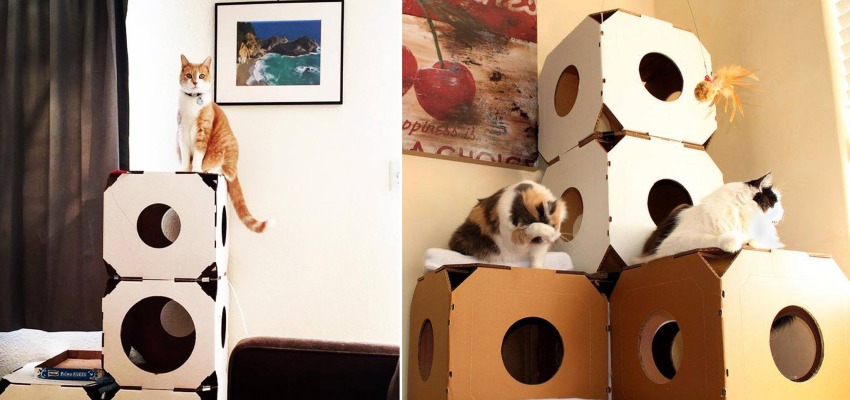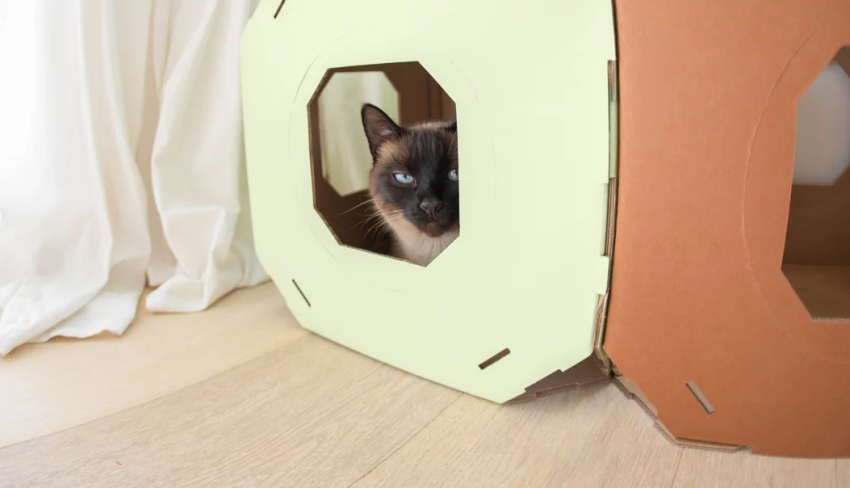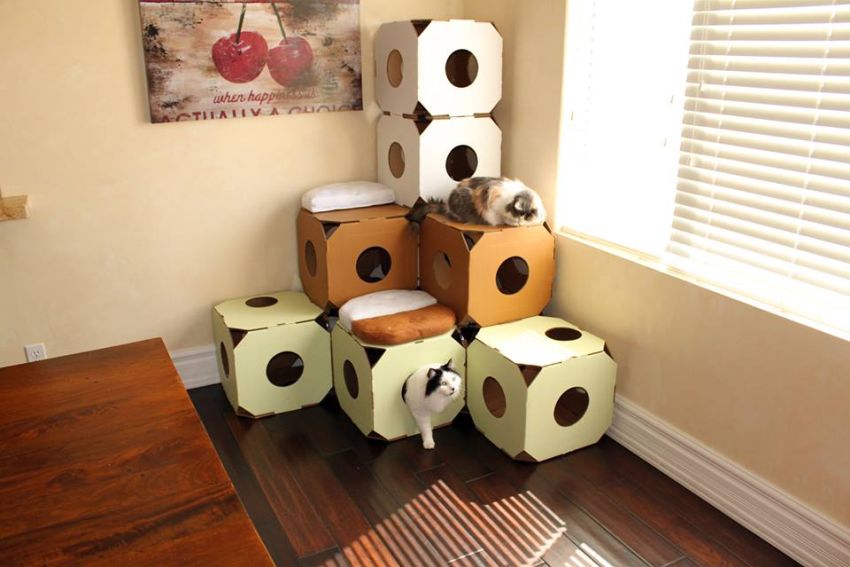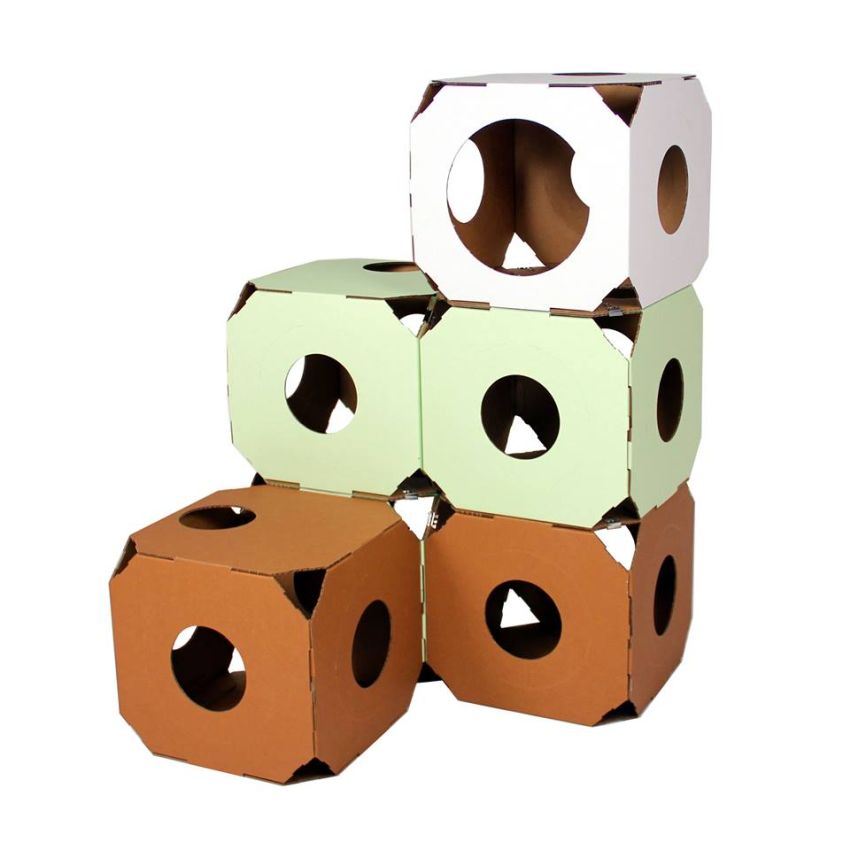 Via: Amazon