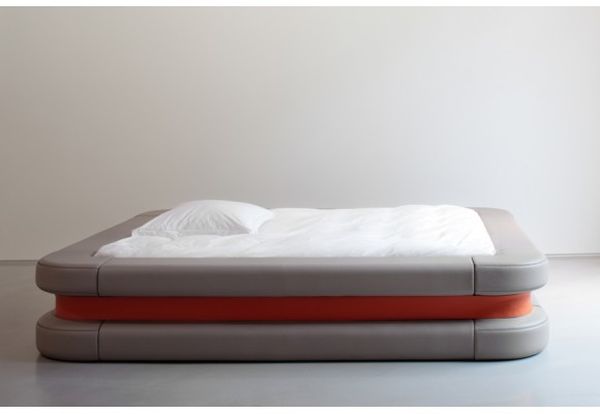 It is not everyday that we come across beds inspired by those tiny bumper cars. Of course, there is nothing 'tiny' about the Bumper Bed itself, with its substantial width of 2530 mm (or 8.3 ft). However, beyond sheer size, it is the playful style of the conception that really tickles our fancy. Conceived by London based industrial designer Marc Newson (created for Domeau & Pérès), the bed's design language is a sort of an amalgamation of different avenues, ranging from the mirthful essence of the aforementioned bumper cars to the more evolved nature of minimalism. All of these are complemented by dollops of comfort that is quite plain from the ample depth of the Bumper Bed (without any leg support), which stands at 450 mm (or almost 1.5 ft).
As with any quirky design, there is a history behind this mattress like quality of the bed. The designer himself had preferred a mattress on the floor to a bed up till 1997. And, in many ways, this inspired him to design a unique conception that would make people like him crave for a real bed. According to the designer's own admission –
Most people I know have at some point in their lives, slept on a mattress on the floor. So I thought it would be nice to design a bed that would envy people like me to replace their faithful mattress with a "beautiful bed.
Finally, as for the material of the Bumper Bed, the entire piece utilizes upholstered polyurethane foam blocks over a concealed wooden frame. These snug and soft blocks are held in their place by elastic straps, thus infusing the much needed solidity to the bed.
Dimensions – L 2130 x W 2530 mm, H 450 mm
Via: DomeauPérès