Smart home technology is getting better by the day. From smart lighting to furniture and entertainment devices to appliances; it has become a part of our life in every way. When everything in our homes is becoming smart, how could blinds remain dumb? This is how smart blinds and motorized shades have come into being.
They ensure convenience and safety while also helping maintain energy efficiency at home. They are easy to use, require less effort, and come with various customization options to match different tastes.
These smart and motorized window coverings are a modern way of maintaining privacy while also letting in the desired amount of natural light. They can be scheduled to raise or lower individually or as a group at selected times during sunrise or sunset or whenever you want.
Before buying any blind for your windows, you must be aware of the cost and size, installation process, and other available power and customization options. Some of them are controlled using a smartphone app and some come with remote control, but it is reassuring that they can be controlled at the push of a button. There are even some accessories that can let you turn your existing window blinds into smart or motorized.
List of best smart window blinds and motorized shades to buy
1. Somfy Smart Blinds and Shades for Windows
Somfy is one of the most popular and trusted brands for smart window blinds. It is a specialist in making motors and control systems for retractable window coverings. Somfy offers different options to choose from – you can keep the simple motorized blinds or one that can be controlled with a remote control or a mobile app.
The company uses different technologies including Z-Wave, ZigBee, Radio technology Somfy, etc. for connectivity, which makes them useful for a wide range of homeowners. Powered by Sonesse motor, these window blinds are designed to generate low noise during operation. There are also options like including a battery, plug-in, or the hard-wired installation.
Furthermore, the company also offers additional accessories to make the blinds more convenient, like a sun sensor or a small hub-like device that allows connection of the RTS motor-powered blinds with Amazon Alexa and IFTTT. All Somfy window coverings are designed and manufactured in Haute-Savoie, France.
Pricing: On request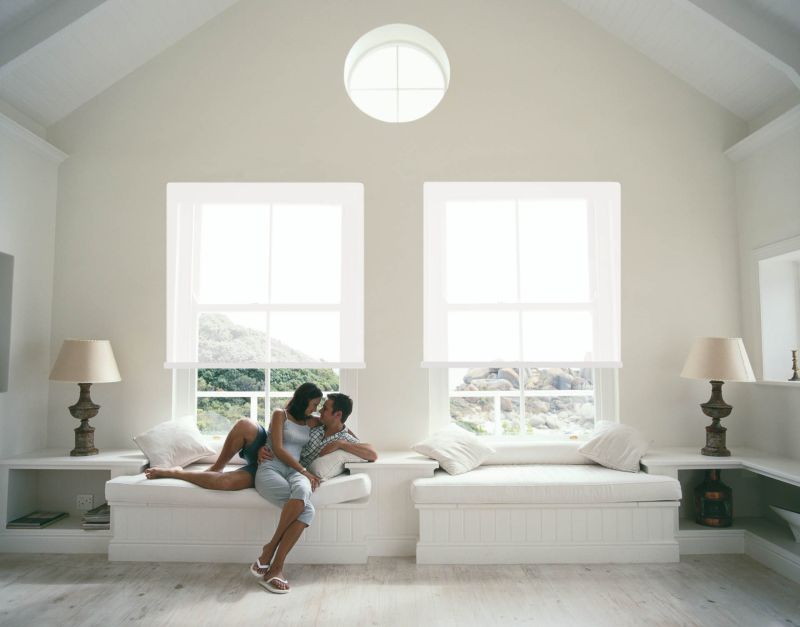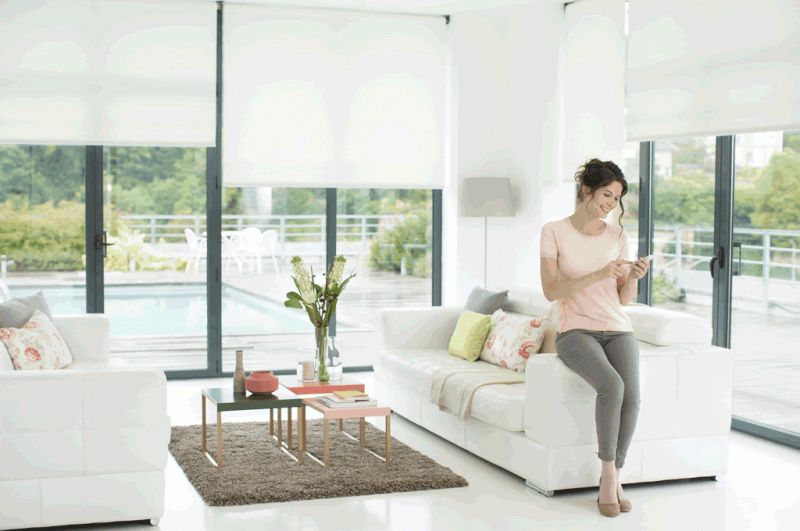 2. tilt by SmarterHome's MySmartBlinds
Utah-based tilt by Smarterhome also offers smart window blinds and shades, as well as automation kits. These Bluetooth-enabled blinds are available in two shades: white and walnut. They are compatible with windows 21-73⅞ inches wide. They come with a solar charging panel so you need not to plug them in.
Easy tool-free installation, automated tilting, simple scheduling, mobile app control, and sunrise/sunset automation are some of its cool features. Using the additional bridge, the blinds can also connect to Alexa and Google Assistant. There are options to choose color, sizing, mount type, and all sorts of customizations.
Pricing: $419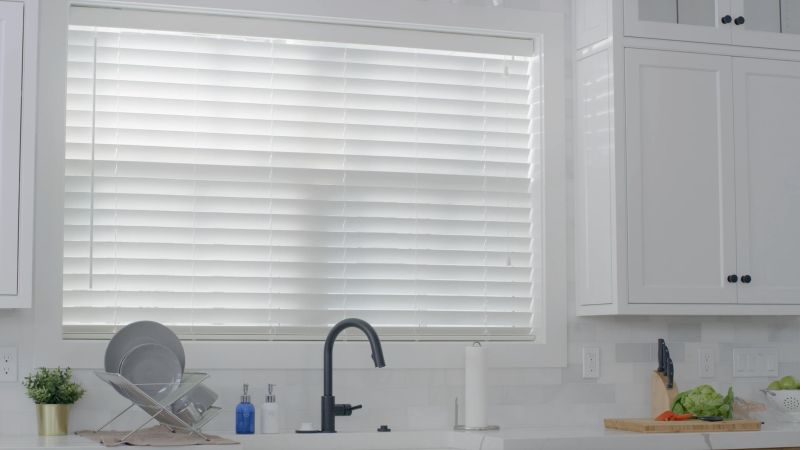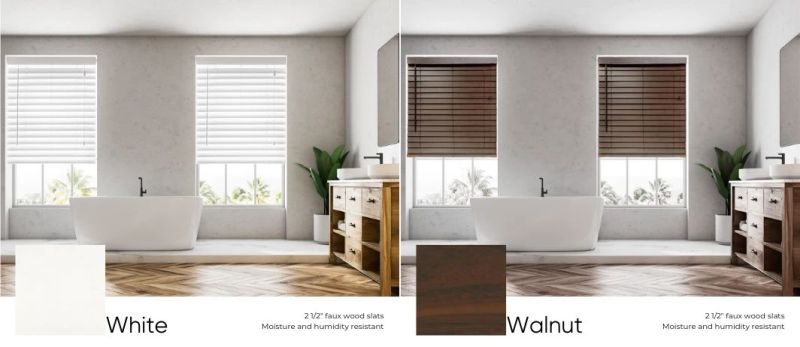 3. Serena Smart Roller Shades by Lutron
Available in insulating honeycomb and roller styles, Serena smart shades are a great pick for you if you want window coverings that are pretty effortless to install and use. You can control the shades using the Lutron app, smart remote, or voice assistants including Alexa, Google Assistant, and Siri.
Serena shades are available in sheer, translucent, and blackout fabrics. You can choose from 200 fabric options per your style. The customer has various customization options to get just the right look for your home.
Pricing: On request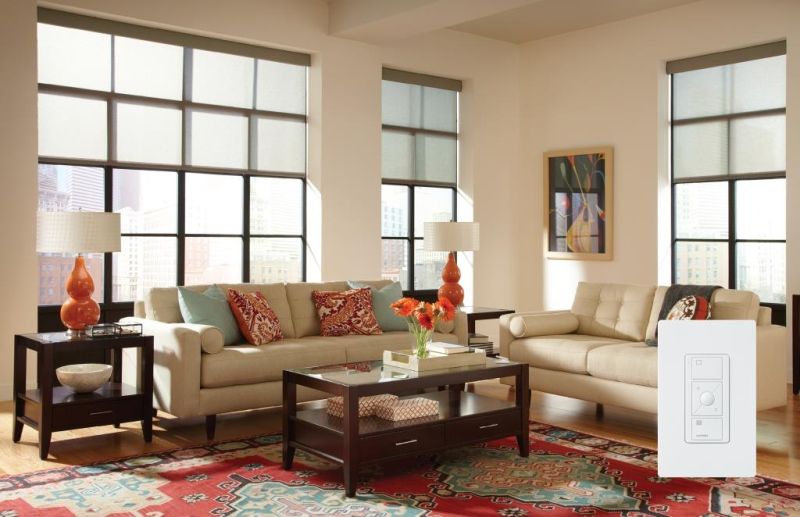 4. IKEA's FYRTUR and KADRILJ Smart Blinds
Swedish furniture maker IKEA launched the FYRTUR and KADRILJ battery-powered smart blinds a few years back. These cordless blinds come with a remote control and can be controlled with a smartphone app; however, the TRÅDFRI gateway is required.
Both the smart blinds can also be controlled using voice commands to Amazon Alexa, Apple HomeKit or Google Home. While KADRILJ blinds are made of a sheer that allows a small amount of sunlight to pass through, FYRTUR roller blinds are made of dense fabric that blocks out light completely. The IKEA smart window blinds are available different sizes.
Pricing: Starts at $155)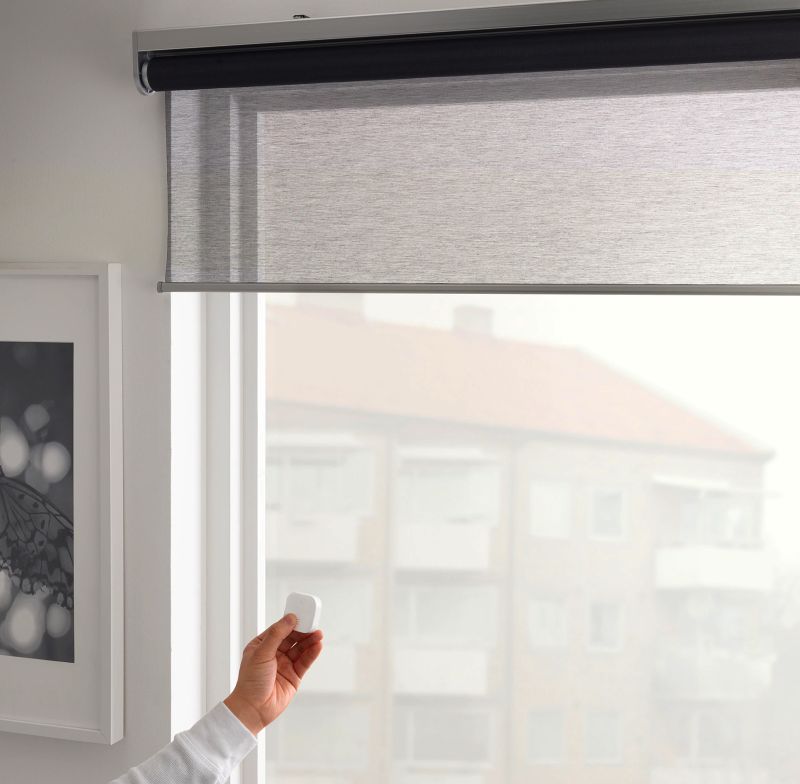 Also Read: Reasons You Should Adopt Smart Home Automation Trends
5. PowerView Motorization by Hunter Douglas
Recipient of Red Dot Design Award, PowerView Motorization is a wireless system by Hunter Douglas used to control window shades. You can control the Hunter Douglas window treatments with the PowerView Automation system through Pebble remote control.
It can also be operated using a companion mobile app or via voice commands over Amazon Alexa, Apple HomeKit, and Google Assistant, as well as connect to platforms like IFTTT. The PowerView hub will be the only requirement. These connected shades operate independently and can be scheduled for specific times of the day. Hunter Douglas PowerView motorized shades are a great addition to a smart home.
Pricing: Available on request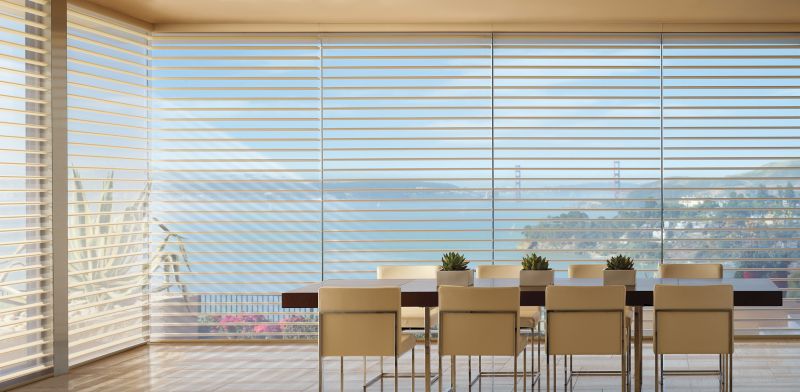 6. Yoolax Smart Home-Compatible Motorized Blinds
These window blinds made from Jacquard blended polyester fabric block maximum amount of sunlight. In combination with a smart bridge (BOND), Yoolax blinds connect to all versions of Alexa and Google Home. There are different choices of colors and valance options, which makes them more interesting for homeowners.
Each unit is powered by a rechargeable battery that lasts for about 6 months. There is a USB plug with a 2-meter cord to charge the blinds. The company also offers a multi-feature remote that can control a maximum of 15 separate shades in an area within a distance of 20-meters.
Pricing: Starts at $169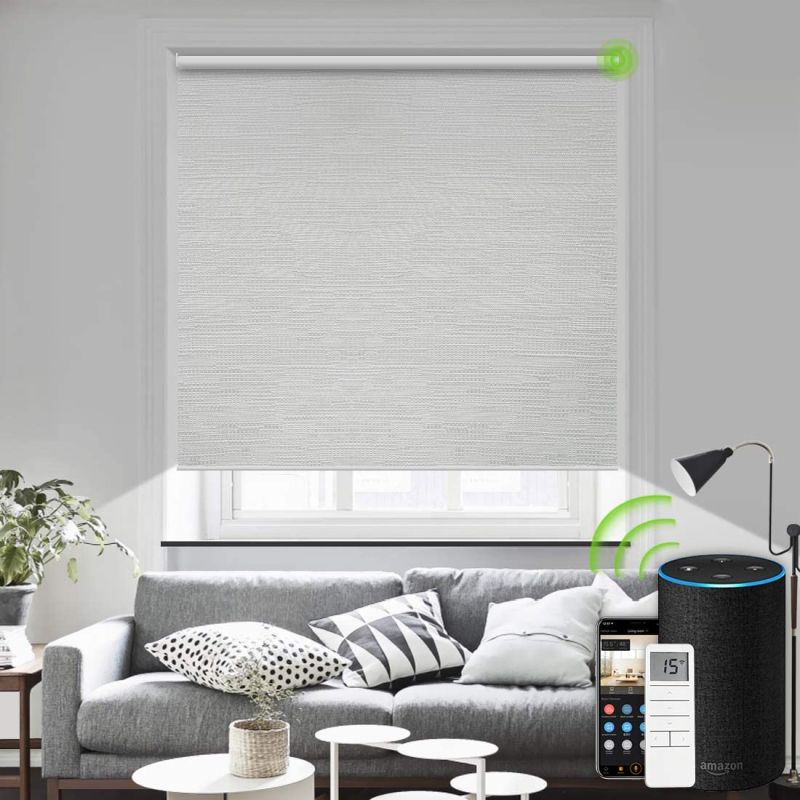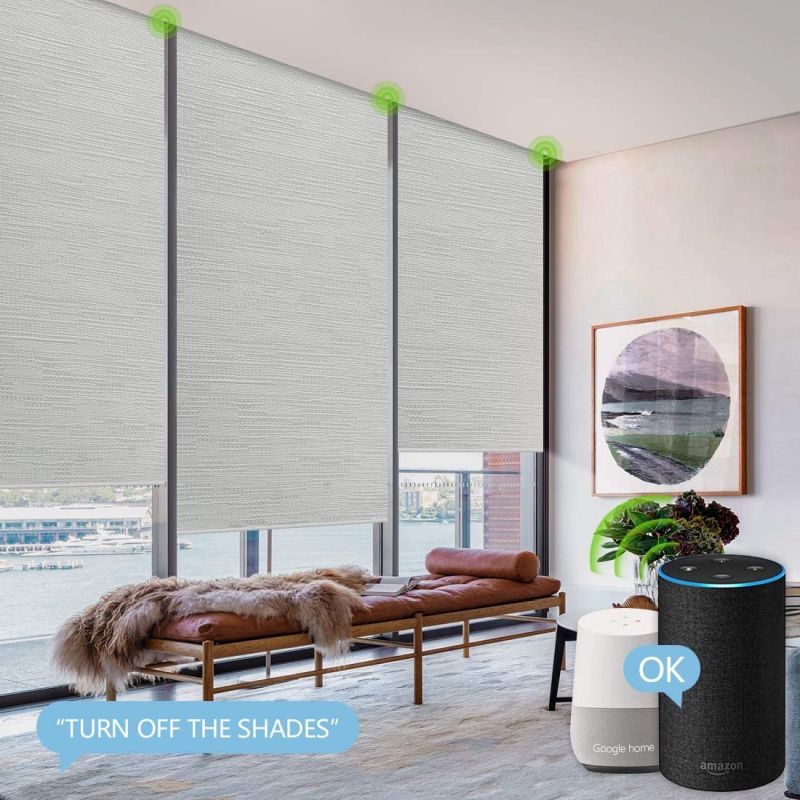 7. Graywind Motorized Shades
These cordless smart blinds are made from blackout textured fabric with waterproof back layer. Control with the included remote or program on the mobile app directly. It also works with Alexa, Google and HomeKit without any hub.
The customer can customize the size and other details of the smart blinds per requirements. There are 11 types of fabric choices.
Pricing: $149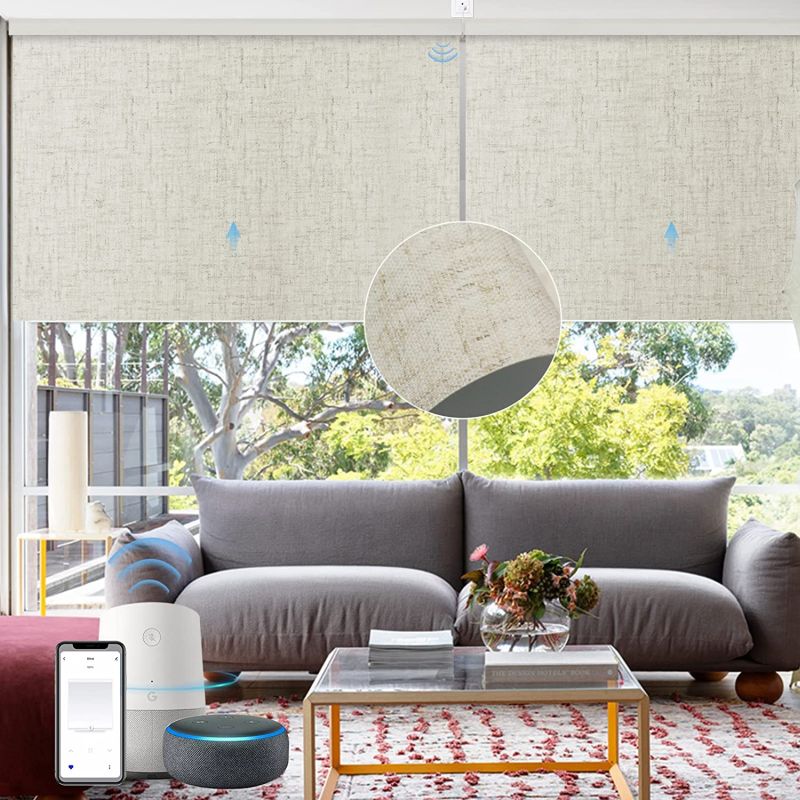 8. Omnia Blinds
If you've got a HomeKit-based home, OmniaBlinds powered by Eve MotionBlinds motor are just right for you. With native Apple HomeKit integration, you do not need any bridge or hub and can control your electric blinds directly from your iPhone or iPad. Furthermore, you can control the blinds from anywhere with HomePod mini and Apple TV 4K 2nd generation.
Motion Wi-Fi Bridge allows you to control your smart shades from Motion app. These blinds also come with a pull function that allows for easy control without any remote or app. With the companion remote control, you can control up to 15 units in a group. The blinds even work with the new Matter smart home platform.
What makes Omnia Blinds special is the custom size options. These blinds are made to measure so the user can fit the motorized blind perfectly within a particular window frame. There are nine different collections with a wide variety of colors to choose from for the fabric.
Pricing: Starts from $331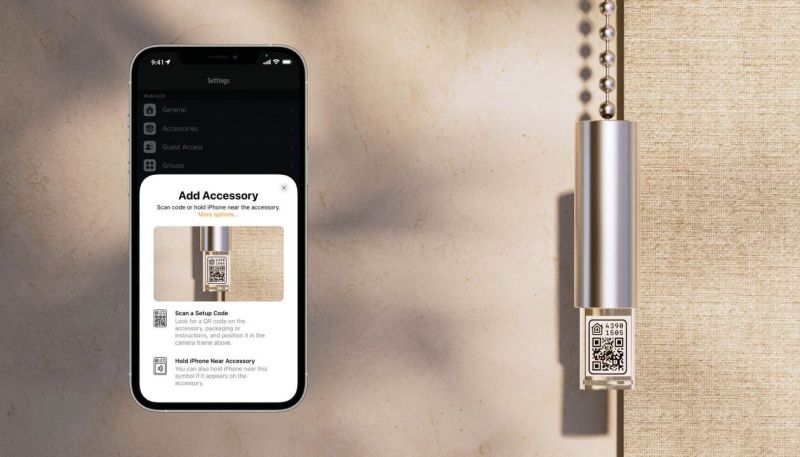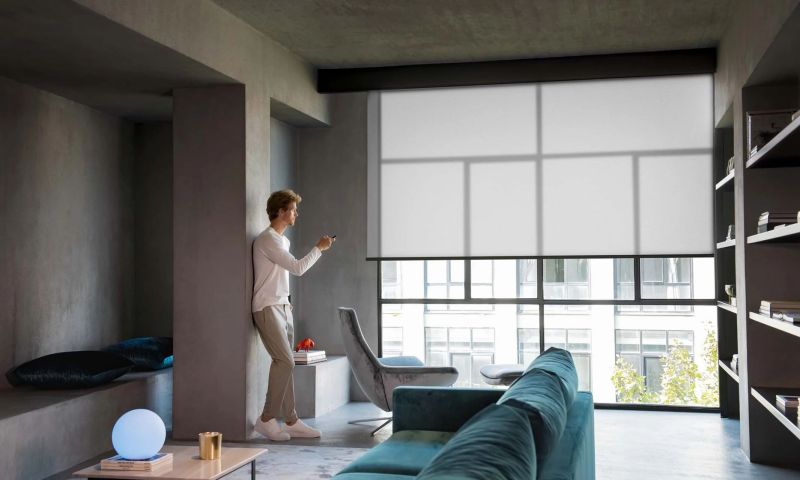 9. SonaApex by SonaShades
SonaApex automated electric blinds are perfect for gable-end, apex, and shaped windows. Made using Honeycomb fabric/ Duette fabric, the blinds uses no pull cords or attachment bars and operate easily with the touch of a button from a smartphone or smart device in conjunction with a smart hub. These blinds are compatible with control4, Lutron, Crestron, Alexa and Google Assistant.
The SonaShades smart window blinds are available in either battery, mains or solar power options.
Pricing: On request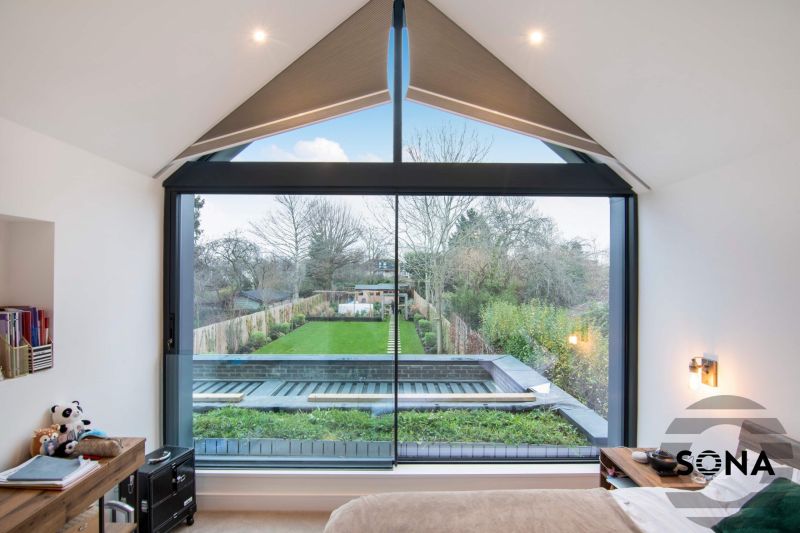 Smart Window Blind Alternatives
Smart blinds and motorized shades are pretty expensive but if you are interested in motorizing windows on a budget, keep scrolling down to look at other innovative accessories to turn your existing blinds into motorized or smart blinds. They are comparatively cheaper and not very complicated to install.
1. SOMA Window Shading Kit
It is a perfect alternative if you don't want to buy new smart blinds just because they can be controlled effortlessly. Soma shading kit comes with just an adapter that attaches to existing blinds. Each unit is a combo of the window shading kit, solar panel, and a USB charging cable. There are two types of shades – beaded chain and endless loop cord.
Install it using the double-sided tape or screws and you're ready to control your ordinary window blinds with a smartphone. You can even control it through Amazon Alexa and HomeKit with the additional Soma Connect.
Pricing: $149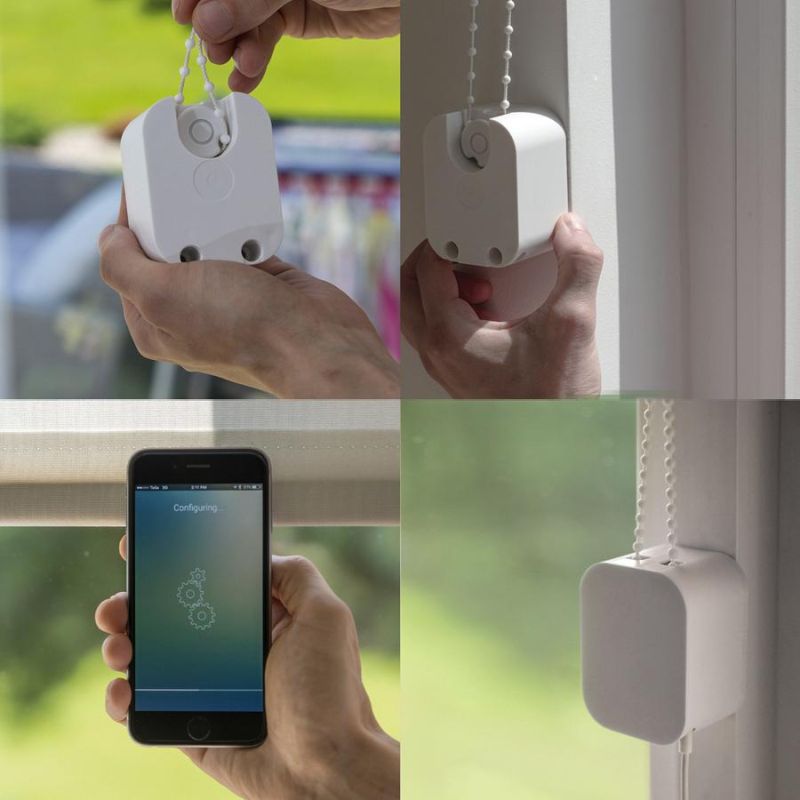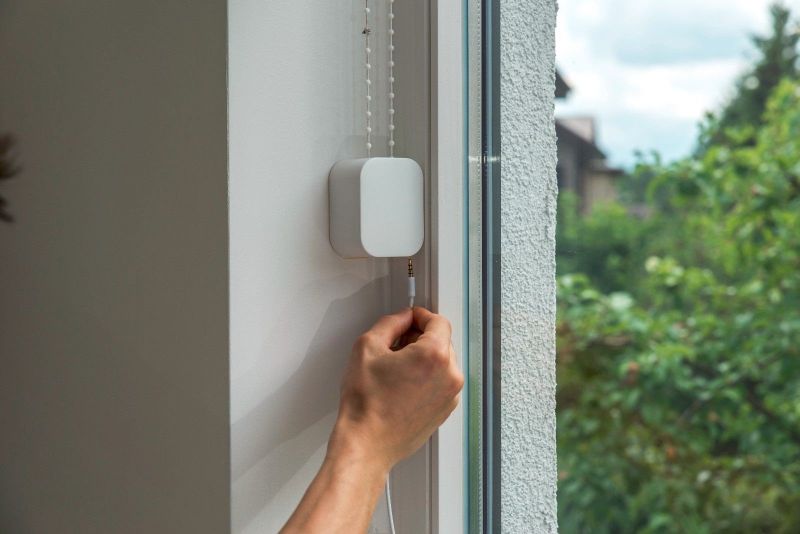 2. RYSE Smart Shade
It is a HomeKit-compatible smart window blinds solution. The device easily attaches to your shade's plastic or metal beaded chain and makes them smart. Furthermore, you can enjoy adding routines, group controls, and voice control features in combination with the RYSE SmartBridge. There are also on-device controls for user convenience.
RYSE SmartShade is currently certified to work with Google Home, Alexa and HomeKit. It uses Bluetooth technology for communication and can support shade sizes approximately 9 ft x 9 ft or a maximum of 10 lbs weight. There is a built-in lithium polymer rechargeable battery that can also be charged via a separately purchased solar bar.
The device will make it easy and convenient for you to control temperature and glare by deciding the amount of natural sunlight entering in easily with the companion Android and iOS apps.
Pricing: $169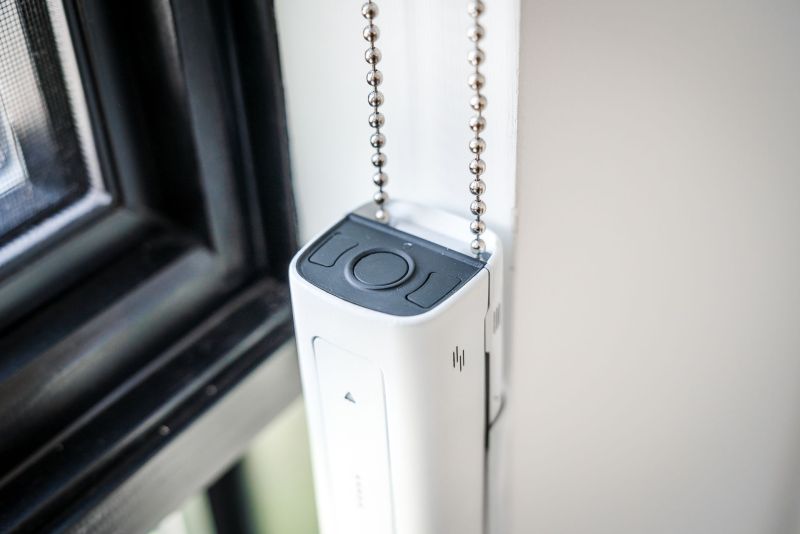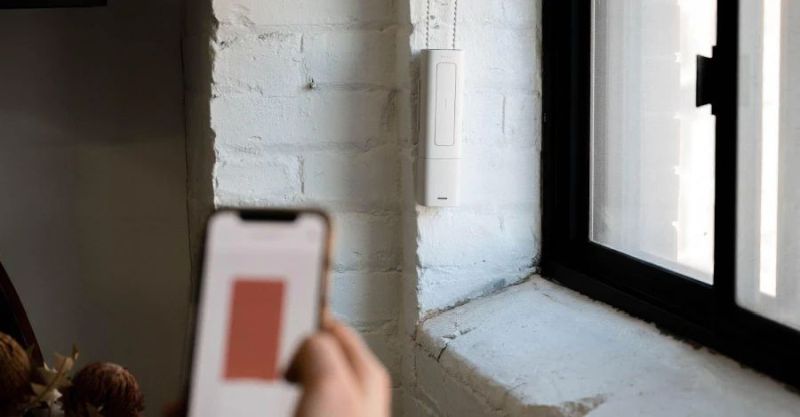 3. Sunsa Wand
This retrofit solution will help you automate your existing window blinds that has a wand. It installs in two minutes and requires no special tools. You simply need to remove the existing mechanism and attach the Sunsa Wand into place.
The blinds can be controlled with the companion mobile app or even with Alexa and Google without any additional hub. There is a built-in temperature and light sensor to help you save on energy bills. The smart wand is powered by four AA batteries that can run for up to a year. You can create schedules and groups of the blinds for your convenience.
Pricing: $149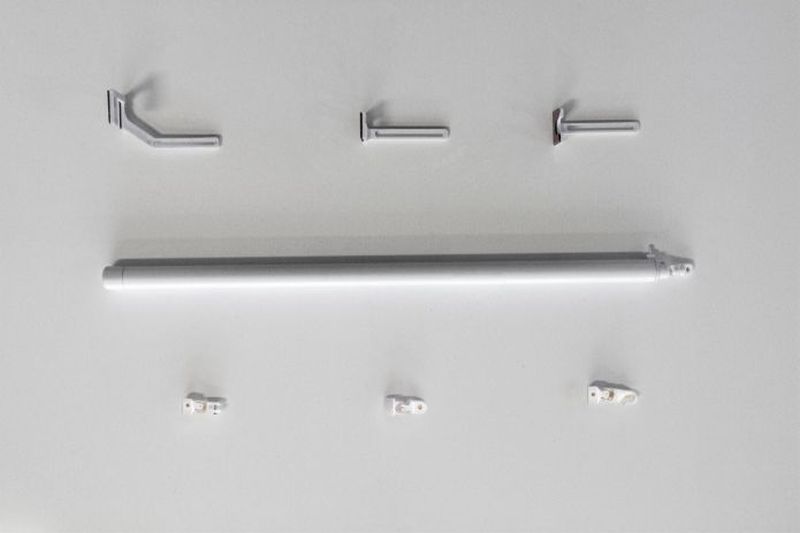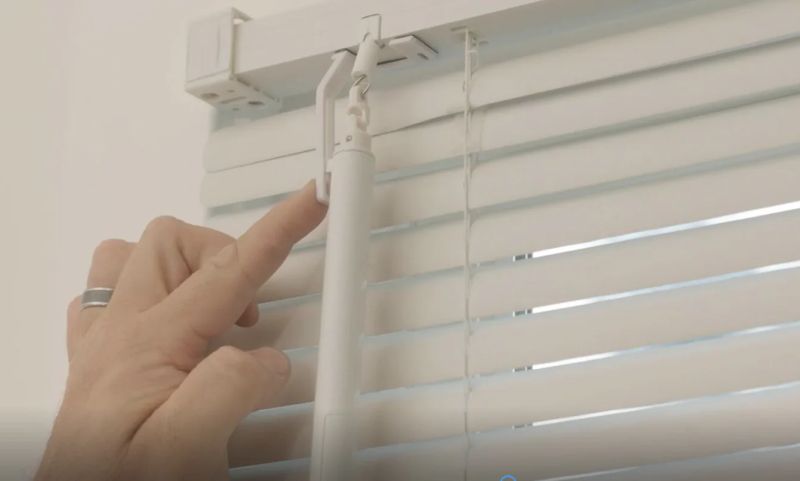 FAQs About Smart Window Blinds and Motorized Shades
The above-listed products would have given you a glimpse of what kinds of smart blinds and motorized shades are available in the market. Here are some frequently asked questions before buying smart blinds and motorized shades:
Q. Why choose smart window blinds and motorized shades for home (benefits of smart and motorized blinds)?
A. Smart and motorized shades have many different benefits in comparison to standard window treatments. They are stylish, simple to use, safe, and also preserve privacy. You can automate window blinds to close automatically during the hottest times of the day to keep heat out and keep temperatures down, which will help you maintain energy efficiency.
The automated window blinds also move throughout the day, which makes your house appear as if someone is at home. You can also customize these blinds to fit the sizes of windows at your home.
Q. How smart and motorized window shading systems work?
A. There are mainly three types of power sources for window blinds – built-in battery, plug-in power source, and solar power. Each device has a built-in motor that takes gives motion to the blinds. In case of smart binds, there is an essential role of a wireless connectivity platform like RF, Bluetooth, Wi-Fi, etc. They can be opened and closed simply by touching a button, a remote control, or an app on a smartphone.
Q. What is the difference between motorized and automated window blinds?
A. You can control a motorized window with the push of a button; however, an automated window treatment is controlled automatically by using a timer, a sensor, a smartphone app, etc.
Q. How do I measure the window size accurately?
A. When taking measurements of your window for blinds, the first thing to consider is whether you want to mount the blind on the inside or outside of the window frame.
On an inside mount, the headrail will sit back in the window casing so that it will emphasize the actual size of the window and it allows your window molding to be visible. Alternatively, on an outside mount, a blind can be mounted either on the window molding itself or above and beyond the window molding (source).