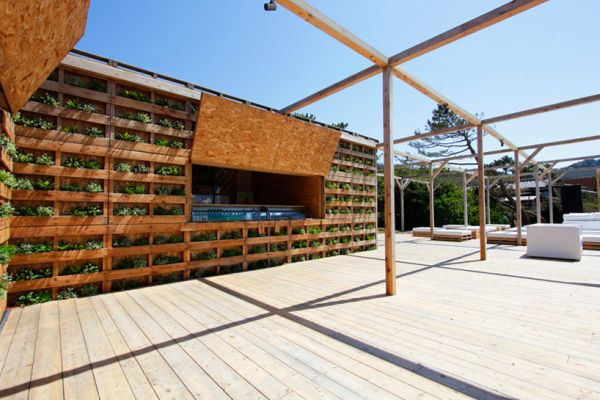 The virtue of 'openness' is sometimes relegated to lesser importance in many instances of contemporary architecture. Quite fortunately, that is not the case with the Caban beach house designed by Japan based architect David Guarino (from 'A Zillion Ideas' studio) in collaboration with local artisans. Constructed on a waterfront property in Morito beach, in the town of Hayama, Japan, the structure rather flaunts its scope of transparency with wide open facades that look on to the serene sea. In terms of functionality, the Caban beach house has been envisaged as a fusion of outdoor lounge and cafe terrace, with the inclusion of user oriented zones, like – various retail spaces (includes a bookstore and James Perse shop), a bathroom with shower and panoramic vistas from the exposed deck.
The architectural scope is however not just limited to this spacious scope of openness. The design also treads the sustainable, low impact path with utilization of shipping palettes and local materials. In fact, the vernacular elements of the Caban beach house are quite evident from the unique facade of the cafe counter made from these palettes. The outer skin of this wall facade showcases an array of recesses that double up as planters, which succeeds in combining the wondrous effect of lush green herbs with the rustic essence of wood.
The idyllic ambit is also extended to the furnishings with their minimalist designs and simple white drapes. And, in cases of rain or wind, the flexible structure of the Caban beach house can be easily covered and shielded with modular components, thus notching up on the practical level.
Via: Caban