Camping is always fun, but it also creates a hassle when you have to set up tents. Well, constructing a tent requires a lot of effort while figuring out which rod goes in what sleeve and often ends up spoiling your time. To combat the irritating problem, designers Han Kim, Hyumook Lim, and Sungha Lim have collaborated to create the Camping Doughnut tent to make your outdoor experience effortless and fun.
The Camping Doughnut has circular design that is made up of a series of curved fabric tubes, forming curved sleeping pods. Each single unit offers enough space for two rooms and living area along with window flaps, comfortably accommodating 2-4 persons. Combining two or more tubular tents, you can rearrange its configuration into S, C, I or O shape- as per your changing needs.
Due to this, the doughnut-shaped sleeper provides you customizable solution for comfortable outdoor sleeping and lounging spaces without any need of pitching. This tent is made from wind-resistant materials so that you can enjoy your stay comfortably even in wind-prone areas. When not in use, the campers can be collapsed down and attached to the roof of your car for easy transport.
Now forget conventional tents, as the doughnut-shaped camping tents are here to offer you more flexible and enjoyable space for your next camping trip.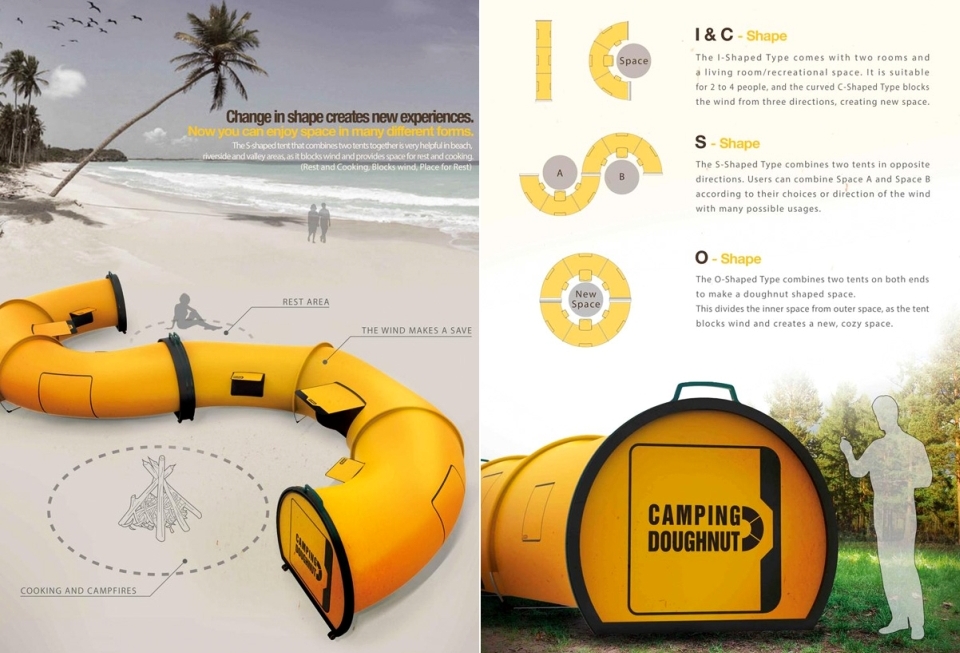 Credit: YankoDesign