Most of the kids are delighted to have an aquarium of their own, as their faces light-up when they see their tiny friends swim around in the water. But, because of a poor maintenance, the fish often dies early and the parents are left to see the sadden faces of the kids. If you are willing to get an aquarium for your kids, but don't have enough time to properly take care of the creatures inside, then you can get home the Capsule Aquarium designed by Sphere corporations, which has robotic fish inside to play with your little ones.
As the name suggests, the Capsule Aquarium is shaped exactly like a capsule. It is a wireless induction powered aquarium that is durable and self sufficient. The aquarium contains the world's first wireless induction-powered robotic fish called LumiPUFF, which not only float around and reacts like a real fish, but also emits light and can be connected to your Smartphone via Bluetooth.
Without adding a bulk to the overall setup, the Capsule Aquarium sits on a dark gray colored wireless charger, which powers the LumiPUFF as it swims around. This robotic fish reacts to any tapping on the aquarium, just like a real fish would do. You can remotely control this fish and the tank with your smartphone to change the color and light effects.
The Capsule Aquarium is expected to be available for sale in beginning of May 2015 for a price of $169 for early buyers and will later retail for $269.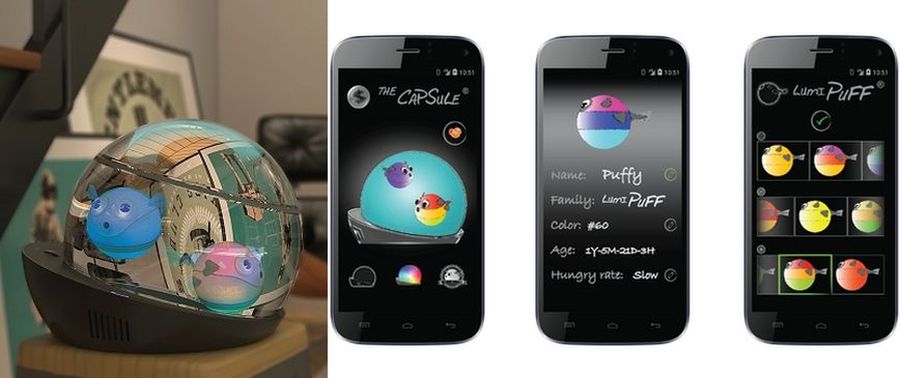 Watch the video below for more information:
Via: Digitaltrends