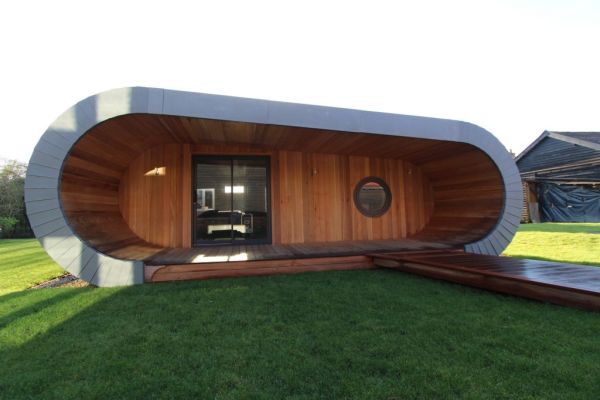 UK-based architectural firm Blue Forest, which often creates luxury tree houses and lodges, has recently developed the eco-PERCH, a pre-fabricated music studio with low impact on environment. It is created especially for a client who wanted a place to record his music peacefully without any disturbance. Keeping client's preference in mind, the firm has acoustically engineered the studio to record music in a sound proof environment.
Outer design of the studio looks somewhat like a huge capsule placed on the ground. This capsule-shaped studio is a pre-fabricated building built using sustainable construction materials. Externally, it has an outdoor deck, a sliding door, and wooden outer structure. This space is highly-insulated with double glazed windows and thermostatically controlled heating system to keep the place warm in winters.
Internally, the studio includes a large area with a double bed, kitchenette, a bathroom, mobile sound booth, mixing table and a built-in sofa for guests. The studio has solar panels and rain water harvesting system to generate energy and water without any external source, thus, making it an environmentally-friendly space.
It is located near an area which is close to nature offering a peaceful environment for the owner to compose and record music without disturbance. Besides a studio, this modular building can also be used as an office or a home for accommodating a family of four.
Via: BlueForest