The French company Carapate has built a teardrop trailer that weighs only 450 kg and can be towed by most cars. With the floor area measuring only 3.20-meter by 1.90-meter, it can sleep 2-3 people. On the other hand, the 1.70-meter headroom makes living in it comfortable, facilitates handling and minimizes fuel consumption during travel.
The mini caravan structure is made from marine plywood, whose insulating properties ensure an optimal environment in both summer or winter.
The interior space is equally cozy with three 140/64 cm mattresses that can also be moved according to needs. They can be used as a sofa, bed and even as outdoor seating thanks to the waterproof coating.
It has three sliding windows, a skylight, and a full side awning to open up to the outdoors. In addition, there are drawers and hanging storage bags to keep interior space organized.
The most innovative feature of the Carapate teardrop trailer is its kitchen that you can use indoor or pull out to cook outdoors. From gas and movable sink to countertop space, the kitchen has almost everything needed to cook on-the-go.
Also Read: Polydrops' Angular Take on Teardrop Trailer Design
The teardrop trailer is packed with features for a comfortable stay, however, it can be customized to include a 120-watt solar panel with 12-volt gel battery for its power needs. It can also be tailored to feature 220-volt power outlets, USB ports, LED strips, fire extinguisher, smoke detector, and carbon monoxide detector.
If you wish to purchase, the Carapate teardrop trailer is available for €14,000 to €18,000 ($15,600 to $16,100).
We got in touch with Jean-Marie & Fabien of Carapate and they were kind enough to answer our queries regarding the teardrop trailer: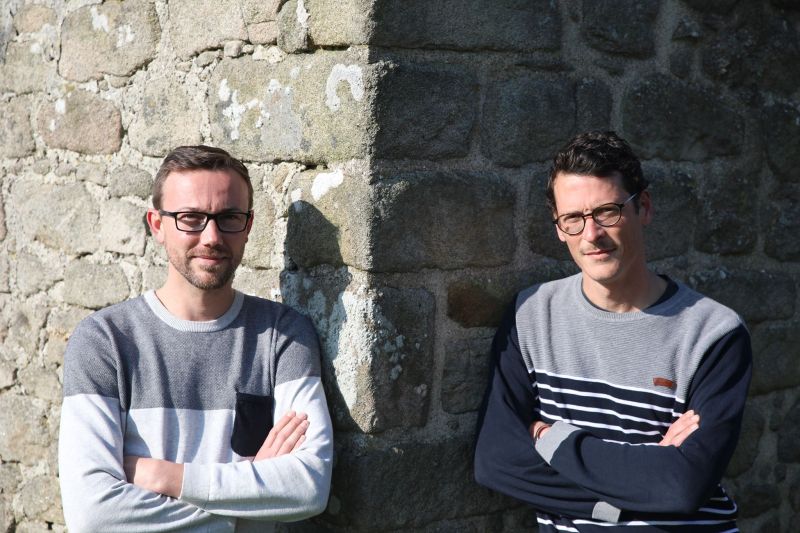 Q) Teardrop trailer market is flooded with options, what sets Carapate apart from the competition?
A) Choosing to offer options is important to us. For two reasons; the first is to offer options to give the customer a wide choice according to their expectations. Secondly, we know that in this area many people like to customize their vehicles in their own way. So we want to give them the opportunity to acquire or not the options. And finally, we offer a vehicle called: "La Carriole" which is aesthetically very close to the Carapate but more minimalist in its functions and interior fittings which could give ideas for modest budgets or more simple expectations.
Q) How has your friendship helped in taking the vision forward at Carapate?
A) Difficult to answer this question. Working with a friend or family member can be both exciting but also dangerous because you mix the personal and the professional. As far as we are concerned, we are close friends and we have been listening to each other throughout the adventure. If one feels overwhelmed, the other person takes over and vice-versa and especially when we have victories it is a joy to share it together, it motivates us!
Q) Give a brief outlook of your respective roles in the venture?
A) This is a house secret! But overall we are able to handle the same job. We share the tasks to move forward as best as possible. Obviously each one has qualities that we exploit to the best in the Carapate project! And we communicate a lot.
Q) What are the challenges of designing a mini caravan that's loaded with modern-day amenities?
A) I would say that the challenge in this project was optimization, we worked at mm to make the most of the space. Then like any project, it is all a matter of compromise, we start with the idea, then integration, experimentation and then validation. Knowing that all our choices are bound to evolve.
Q) How have local partners helped in bringing Carapate to life?
A) It is always interesting to work with local partners, first of all for ethical concerns and local manufacturing. Then it's easier to have meetings, have exchanges with our partners and be reactive!
Q) "Maximum of possibilities in a minimum of space" – what can we expect from Carapate in the coming years?
A) It's a good question! We are currently working on lighter and more accessorized versions of the Carapate. We are also thinking of heading towards areas that are outside the scope of the caravan, work in progress…
Q) What's the future of mobile living in your opinion?
A) As we can see right now mobile life is in full swing, it's a real tidal wave that will last!
Q) Any other forms of microarchitecture that you'll explore in the future or just stick to mini caravans for now?
A) We have a few projects in the drawers. When the time is right we can focus on developing them.
Q) What's your most cherished memory working as a team?
A) Many times remain unforgettable! The manufacturing of the first prototype after two years of work, the meeting of the public and their enthusiasm. Small everyday moments. And every day brings unexpected surprises!
Q) Share your adventure tale(s), if any
A) We both share a common agenda to know who will take the Carapate demonstration and when … It's a bit of a fight … And we tell our stories, weekends in the rain or in the sun of lead, the discovered cities and the meetings on the road. We exchange our good plans!