It is always a pleasure to watch things artistically and very accurately made out of quite unexpected materials. The same irresistible draw can be profoundly noticed in the paper and cardboard apartment made intricately by the Chilean artist Don Lucho. Dubbed as the Casa de Karton, this cardboard dwelling exhibits art merged with eco-friendliness as every detail in the house is entirely made out of recycled cardboard and paper. This artistic work creates a hype because of the originality and unique things inside the cardboard flat.
We cannot display this gallery
The most alluring thing about this wonderful artifact is the attention that Lucho has been given to the minute details in the work. This real looking home consists of all the elements you would find in a decorated accomodation including paintings, rugs, cups, spoons,roll of toilet paper, folds of blanket on the bed and even dirty socks and slippers on the bedroom floor. All of these things are hand drawn, which reflects his expert artistry.
To expand his carton fetish, the artist has also mounted an interesting looking car wreck outside the cardboard and paper apartment on the Santiago, Chile street, which is sure to attract the passers by to take a look at the splendid creation.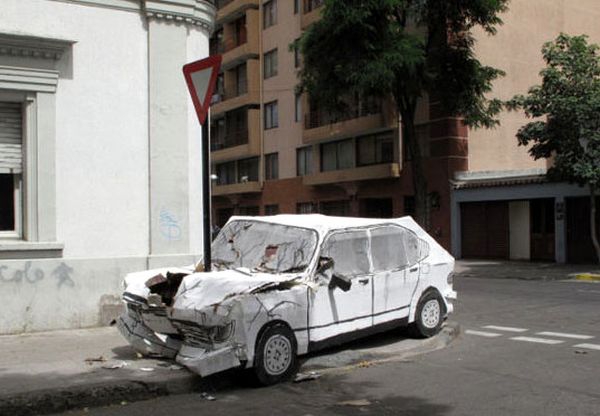 Via: Inspirefusion