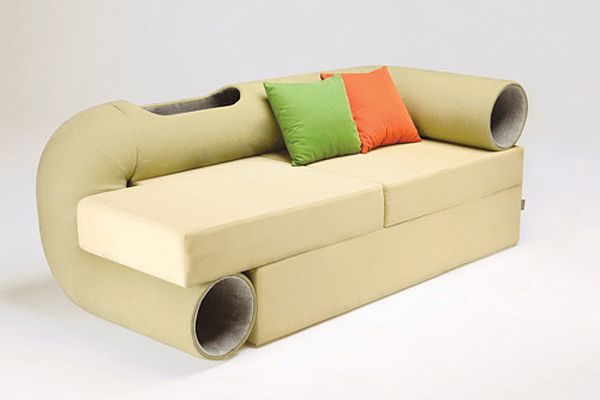 Cat is a lovable pet that succeeds to find a special place in our hearts by virtue of her sweet moves and providing us company when we are home alone. It very well plays hide and seek while crawling under/behind your bed or sofa. Working in favor of these adorable pets, a Korean industrial designer Seungji Mun comes up with a sofa design that offers cats a special space on your sofa. The cat tunnel sofa, this is what Seungji calls his creation. As the name suggests, the space saving furniture has a built-in tunnel that acts like a cat playhouse as well as an arm and back rest for you.
The tunnel is a connected subway that offers your little kitty quite a large space to play and rest while you sit on the comfortable couch.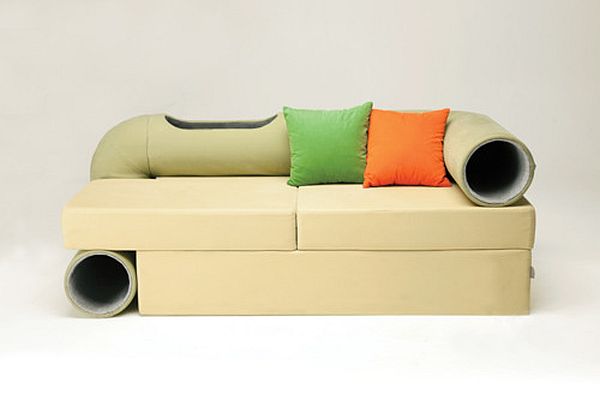 The designer's hypothesis is based on the fact that Korea has a growing number of pet owners and the space inside their homes is very limited thus limiting pets' play and activity space. This indicates that industry related to pets is swelling. Hence, he came up with this practical piece of space saving furniture that integrates both, sofa as well as cats' play space in one. As per Seungji, the particular design of the cat tunnel soda is an outcome of the research work done on cats' behavior and habits by pet experts.