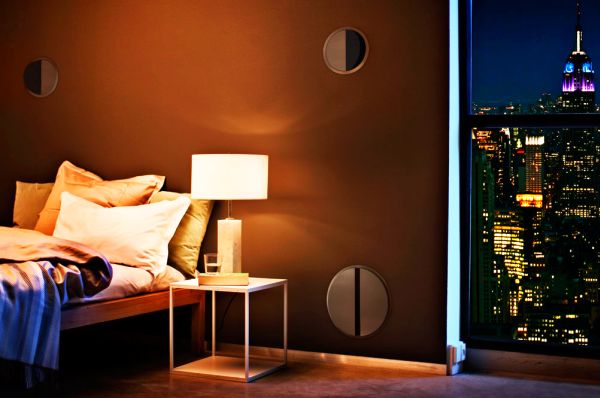 If we asked you to spot the sound system in the above picture, chances are that most of you would fumble across a few visual steps to catch it. Anyway, so as not to create any suspense, the speakers are the three separate circular components mounted along the wall. And, that in essence has always been Bang & Olufsen's trademark, given the Danish company's long association with avant-garde ideals. This in many ways result in fascinating products like the above pictured Beolab 15 / Beolab 16 built-in sound system, which poses as an exquisite item that compliments your home decor.
Showcased in this year's CES, the sound system comprises of three components: BeoLab 15, which entails a pair of two-way active speakers, BeoLab 16, which is an active sub-woofer and the Amplifier 1, which as the name suggests is a state-of-the-art amplifier for shelves. According to the company, the design ideal was influenced from their expertise in developing advanced yet compact car stereos for automotive giants like Audi, BMW and Mercedes. This certainly explains the inconspicuous nature of the sound system, which elegantly conforms to the wall facades.
However, beyond the classy visuals, the in-wall (and in-ceiling) system is also endowed with some deft audio quality. This is adroitly represented by the BeoLab 15's automatic tilt, once the music begins to emanate from the depth of the walls. This in turn enhances upon the middle tones, thus bringing the listener psychologically 'closer' to the sound effect.
Finally, coming the commercial scheme of things, all of the three sound components will be available at exclusive B&O stores, from this month only. As for pricing, the comprehensive figure on the tag will read out $4,595.
Via: Bang-Olufsen