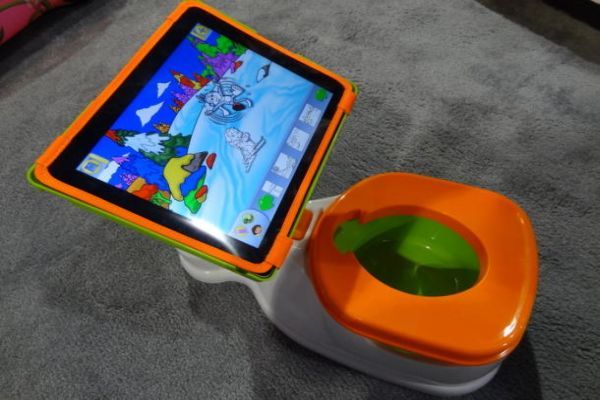 Quirky yet practical? Yes, we think so! CTA Digital has recently showcased their hi-tech potty for the 'untrained in civilly answering the nature's call' toddlers. The product in question is christened aptly as the 'iPotty', as the technologically advanced shit contraption integrates iPad as a digital distraction for the children.
In the conventional sense, this vivaciously plastic colored potty has all the traditional features like a conveniently removable plastic seat and a separate pee guard for the male toddlers. However, the unconventionality starts with the iPad holder that is compatible with iPad 2 and iPad 3. And, worry not; there is also a specially contrived transparent plastic sheet that guards your precious Apple device from those involuntary bouts of splashes.
As for the functional scope of the $40 iPotty, it is quite a clever idea to distract your kid with cartoon apps from the Apple's app store, while they perform their human bound duty. Some of the software (both paid and free) include specialized potty training apps like Smart Potty Training, Potty Training Social Story and Pull-Ups Big Kid App.
Via: NYDailyNews