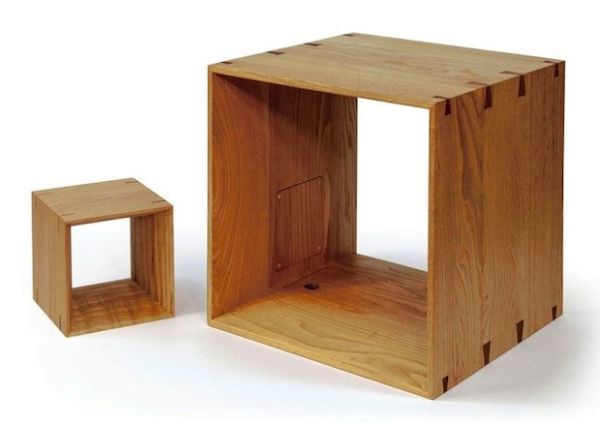 Yes, it is no cruel joke; the above pictured conceptions are actually the real speakers we are going to harp about. Now, before you start crumpling your eye brows, the hollow, cube shaped wooden frames are the speaker material, as opposed to some sound emanating mechanism housed between them.
Specially made for streaming real-time sounds from nature, the cubes are hand-crafted from chestnut frames. The so called nature sounds are generally comprehended by their medium and high pitched nature, like a chirping bird or a rustling twig. In this regard, the design consideration of these cubes follow a certain protocol that facilitates the emanation of those particular range of pitches. However, there is one significant disadvantage of the invisible speakers. The design language doesn't allow them to convey sounds with deep bass, and so they cannot be used as a  conventional music system.
Of course, that was not the commercial purpose of the company. Catering to a niche market, these high-end speakers have a different set of functions that would entice avid nature lovers (with presumably fat bulges in their pockets). These functions include a service package offered by JVC, which entails subscriptions of live streamed nature based sounds collected from selected peaceful areas in Japan, like the mountains of Takayama City and Morotsuka Village. The users in turn have to utilize a special app that plays these live sounds in a wireless mode through the speakers.
Finally, as for pricing, the small speaker (5.35-inch) will set you back by around ¥60,000 (about $680), while the larger model (12.2-inch) will set you back by ¥300,000 (about $3,400).
Via: JVCKenwood