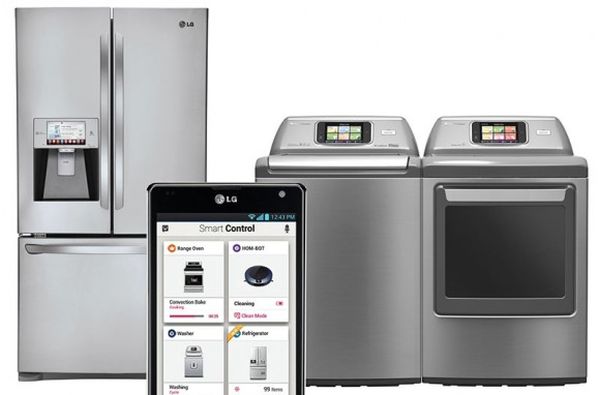 South Korean electronic giant LG is certainly going for the big guns in this year's CES. Earlier we had talked about their voice controlled air conditioner and also fleetingly mentioned something about their gesture controlled universal remote. And, now it is quite evident that their CES portfolio includes a wide variety of 'smart' home appliances, ranging from refrigerators, washing machines to even kitchen ovens and robotic vacuum cleaners.
This scope of 'smartness' basically entails two of the major control technologies (i.e., NFC and smart apps), which are being used in the current field of wireless communication. Firstly, all of the above mentioned appliances will have their pre-programmed NFC tags. So, you can control these devices by a simple tap of your NFC enabled smartphone. Secondly, these machines can also be controlled and monitored by LG's very own Smart Control app.
On the functional level, all of the appliances are furnished with LCD displays. These info screens are directly related to the usability of the individual device. For example, the refrigerator can display the list of food items inside, thus helping you out with your grocery list. Even the robotic vacuum cleaner can be set on an automatic route, which cleans up your house and also recharges itself while you are away on work.
At the end of the day, it is all about the wireless control of the device, which doesn't require your physical presence. This technological process poses as an efficient measure to streamline your domestic work management, so that it doesn't come in the way of your professional work load.
Via: LGNewsroom