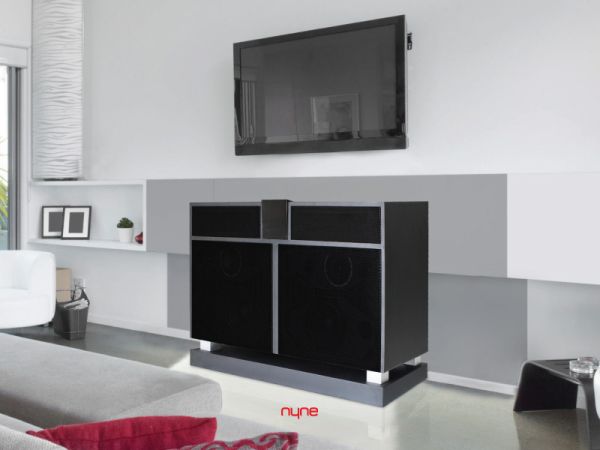 Home media center: the very term concocts a reverie of a comprehensive system with boisterous speakers and paraphernalia of wires. But with technology comes improvement of user convenience, and in this regard audio company NYNE is about to unveil their advanced SMC-1000 Smart Media Center in the Sin City. Touted as the 'first of its kind', this media center will fuse all the user oriented features like functionality, aesthetics and of course a superior quality of sound.
Some of main attributes of the SMC-1000 include a 2.1 stereo system with a 400-Watts RMS power from two mid-range drivers. This is complimented by two tweeters and a sub-woofer with a capacity for 96db SPL. Now, beyond the audio features, this remarkable machine will also integrate a slew of connectivity attributes via a centralized system. This centralized component will have connectivity options with audio and video devices, through both wireless and wired connections, like 4 HDMI ports, 2 USB ports, Optical and Coaxial digital inputs, built-in Apple Lightning dock, Apple Airplay, 3.5 mm Aux-In and finally Bluetooth. So basically, these connection options allows the SMC-1000 to be hooked to a variety of media devices like smartphones and tablets  (as well as operating systems like Android and iOS).
Moreover the media center has many compartments, one which can be used as a gaming center. In fact, it is by virtue of these compartments that the confusing bundles of wires are aptly hidden.  This in turn gives the machine a clean, aesthetic look that notches up on the scale of user's convenience.
Via: NYNE