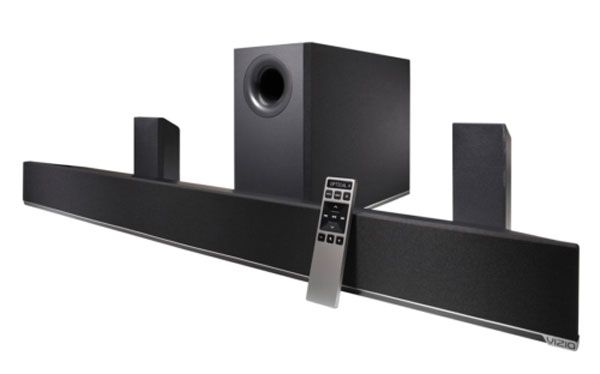 With those humongous HDTV screens making their splash in this year's CES, the whole spectrum of user experience would remain incomplete without a complementing sound system. To fill that audio oriented void, Vizio has ceremoniously unveiled their premium line of home theater sound systems. The line consists of Vizio specialty 5.1 channel sound bars that go up to whopping sizes of 42-inches and 54-inches. In fact, the 42-inch system won the category of CNET Best of CES Award for Home Theater and Audio.
The commercial initiative of the company was directly focused on the ultra-thin frames (and thus, inadequate sound quality) of large screened HDTVs. Thus taking advantage of this technological 'lacuna', the superior quality sound systems come with a conveniently compact bearing. They are also incorporated with loads of sharp audio oriented features like built-in DTS. In this regard, the systems can actually offer a clear sound output even over 102 dB, and that too with less than one percent harmonic distortion.
However, the scope is not only about the high quality sound effects, but also entails the convenience of usage. For example, the 42-inch, 5.1 channel output system integrates wireless technology with its sub-woofers that have a range of around 60-feet (thus covering most interior spaces like large living rooms). Moreover, users can stream live music directly from the sound bars through Bluetooth enabled mobile devices.
And, finally to notch up the scale of user oriented functionality, Vizio also offers a LCD based Display Remote, which acts as the portable interface for viewing current inputs, adjusting bass effects or even activating the built-in DTS audio. As for pricing, the much touted 42-inch model comes with a tag of $329.99, while pricing for the 54-inch is yet to released.
Via: PRNNewsWire