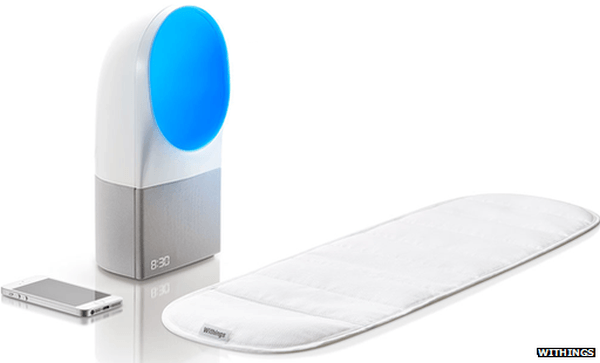 France-based Electronics Company Withings has unveiled a smart sleep system called Aura which combines sound and light effects for providing a better sleep and gently wake you up in the morning. This revolutionary designed sensory device records one's bedroom environment such as noise pollution, room temperature and light level and offers scientifically approved light and sound programs. The Aura smart sleep system positively impact the sleeping conditions by adapting to the sleep cycles of an individual. The sensitive sleep system by Withings will be one of the many sleep associated gadgets to be launched at the CES 2014 in Las Vegas.
The Aura smart sleep system consists of a bedside sensory device, sleep sensor and a mobile application. The bedside device is equipped with a LED lamp, clock, speaker and sensors to monitor the noise, temperature and light in the room. The sleep sensor is a soft intelligent sensor that glides under the mattress and records body movements, breathing patterns and heart rate. The mobile application lets you watch all the recorded data and provide you better understanding of your sleeping cycles and waking patterns. The app also allows one to set alarms and personalize fall-asleep programs.
The Aura smart sleep system by Withings is priced at $299 will be launched at the Consumers Electronics Show (CES 2014) which will get under way tomorrow in Las Vegas, Nevada.
Via: BBC/PP