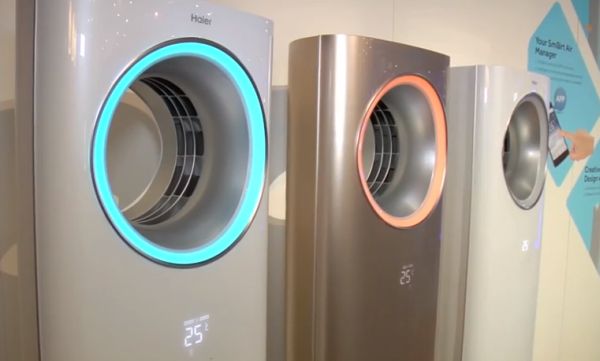 If you wanted an air conditioner cum heater you could control with your smartphone, you have your wish granted by Chinese consumer appliance make Haier. For consumers demanding accessible and less complex smart home experience, Haier at CES launched Tianzun smart air conditioner which users can control with their smartphone from just about anywhere. Designed for the Chinese market basically to address the issues Chinese people currently have with their floor standing air conditioners at home. People aren't really pleased with how cold air cascades at them from traditional conditioners, Haier Tianzun betters that by creating a wind tunnel effect by air jet mixing cold and room air and bringing it to room temperature. Tianzum provides nice, comfortable flow of air instead of cold blast of air that is often so chilly.
In addition to being innovative in functunality, Haier's Tianzun smart air conditioner is the first connected appliance that meets Apple's MFi standards, i.e. it will connect automatically with Apple devices (iPhone/iPad/iPod) without passwords or registration. More importantly, Tianzun will bear Apple's "Made for iPhone/iPod/iPad" seal of approval.
The Tianzun air conditioner doubles as a heater and air purifier for home or office. Connecting to the smartphone/tablets via an app, the Tianzun can be switched on and off or can be used to activate its different functionality from wherever you are. Haier hasn't released any details on the pricing or availability of Tianzun air conditioner yet, but we will provide you with the same as soon as we have them.