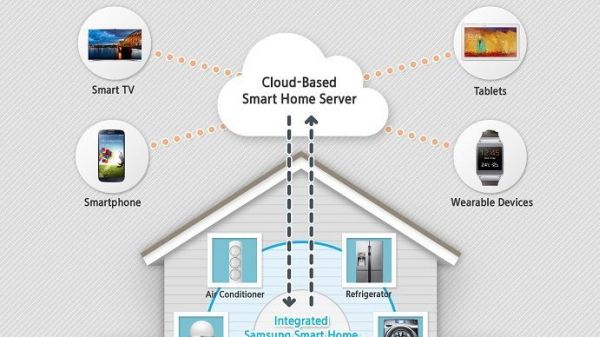 Samsung, the South Korean electronics company is all set to unveil their new platform that will give users the power to manage all of their linked appliances and devices through a single app. Dubbed Samsung Smart Home, the platform will be launched at CES 2014 which will kick-off tomorrow in Las Vegas. A customer will be able to control all his house hold gadgets from TV sets to smartphones and washing machines to his digital cameras through this service.
According to the company, the new service will offer three main features: Device Control, Home View and Smart Customer Service.
Device control will allow the users to control the lighting and air conditioners by customize setting on their smartphones and Smart TV. One can also use voice command to control devices from his TV remote or Galaxy Gear. Just by speaking "Going out" into the mobile device will turn of the connected lights and appliances. The Home View feature will allow the users to monitor their home while they are out by providing real-time video feeds to their smartphones through built-in cameras in the connected devices. The Smart Customer Service will notify the user whenever an appliance is due for servicing or a part has to be replaced or cleaned.
For the time being, The Samsung Smart Home service will work for selected range of Samsung TVs, smartphones and appliances.
Via: Techradar