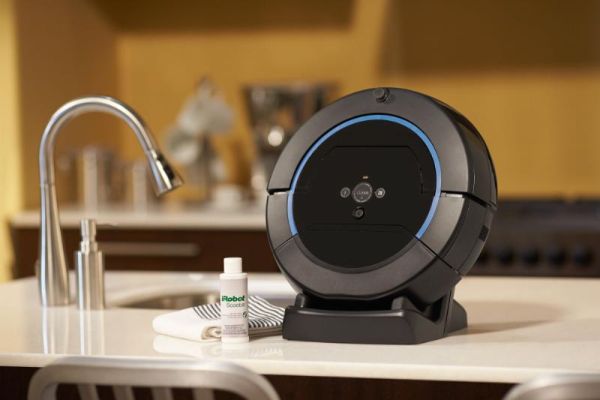 American Technology Company iRobot Corporation will be demonstrating its latest floor-cleaning robot at the CES 2014 today. Christened Scooba 450, the full-sized floor scrubbing robot is claimed to be three times more effective than its predecessor by the company. It uses the Three-Cycle Cleaning Process for clearing floors more efficiently removing up to 99.3% of bacteria. The iRobot Scooba 450 will go on sale from today onwards in North America at a price of $600.
The Scooba 450 is easy to use and provides amazing cleaning performance. The iAdapt Responsive Navigation Technology is perfect for wet floor cleaning and the dust or heap of dirt can be easily removed by scrubbing brush which spins at about 600rpm. The instruction buttons and verbal signs makes the washing operation a lot simple. You can dry and charge the device at the same time, all thanks to Scooba DryDock Charging and Drying Stand. The Scooba450 is equipped with two cleaning modes: a 20-minute short cycle for compact spaces and a full 40-minute cycle which covers an area up to 300 square feet.
iRobot Corporation will be showcasing the Scooba 450 Floor cleaning Robot today at the Consumers Electronics Show in Las Vegas.
Via: PRnewswire