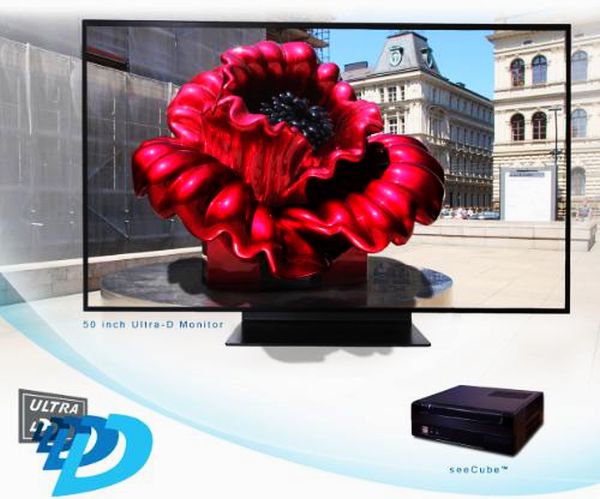 Watching 3D content on your ultra HD TV can be an enthralling experience but those 3D glasses can get uncomfortable to wear over long period of viewing. To get over this problem Stream TV Networks is going to showcase its consumer-ready 4KTVs loaded with Ultra-D glasses-free adjustable 3D TV technology at CES 2014. The new age TV will come in 50" and 55" models, out of which some of them will have seeCube-4K technology which converts 2D 0R 3d stereoscopic source into 2160p glasses-free 3D content. To power up the processing of these high-end TVs Stream TV Networks has Qualcomm 8074 processor (2.3 GHz in quad configuration) and conversion chip that converts 1080p/2 million pixel content into 4K/8 million pixel viewing experience, thereby reducing production costs. Along with the quad core processor the TVs will have Adreno 330 GPU that can handle playback and display in 2160p video.
The Ultra-D TV will allow the user to enjoy high quality 3D content without 3D glasses and that too in a 4K screen. When it comes to compatibility with other gadgets, Stream TV Networks Ultra-D TV will have the ability to seamlessly connect with satellite/cable service, VOD, Blu-ray player, Xbox, PlayStation or stream internet content from services like Hulu, Baidu, Youtube, Netflix, Totou TV etc.
You can have a look at the Ultra-D range of TV at a press conference on January 8th at the Venetian Hotel, Marcello Ballroom 4503 CES 2014 from January 7-10 at the Las Vegas Convention Center, Central Hall Booth 14032.