Brooklyn-based Gourmia, manufacturer of innovative kitchen countertop appliances, is all set to display their flagship cooker at CES 2016.  Dubbed as 10-in-1 Multi Functional Robotic cooker, the high-tech cooking device offers a selection of cooking styles that helps to make meal preparation easier and healthier.
The robotic cooker supporting innovative features and technology comes with built-in hands free stirrer, 3D cooking technology and pre-programmed controls. Proving to be every cook's new companion, according to Sam Ash, chief-marketing officer, Gourmia is like having an extra pair of hands in the kitchen and in many ways an extra stove too.
It is fitted with exclusive technology like hands-free stirrer to eliminate the time-consuming manual mixing and stirring. The self-operating stirring system helps in making perfect stir-fry's, sautés, Asian dishes, risotto, stews, scrambled eggs and even more. On the other hand, 3D cooking system consists of two parts: a base-mounted heating system that increases the searing effect of food, and advanced hot air circulation system that surrounds heat energy to cook faster, better and more efficiently.
Featuring 10 different cooking styles, i.e., bake, steam, sauté, fry, stew, stir-fry, cook, roast, soup or making sauce, everything is possible with one robotic cooker. Designed to offer effortless cooking, the cooker comes with pre-programmed control panels with one-touch button settings.
The smart cooker is also available on Amazon for $150, and crafted especially for culinary enthusiasts and tech freaks. The Gourmia's 10-in-1 Multi Functional Robotic Cooker offers uniform cooking and serves healthy meal at a touch of a button, without even adding cooking oil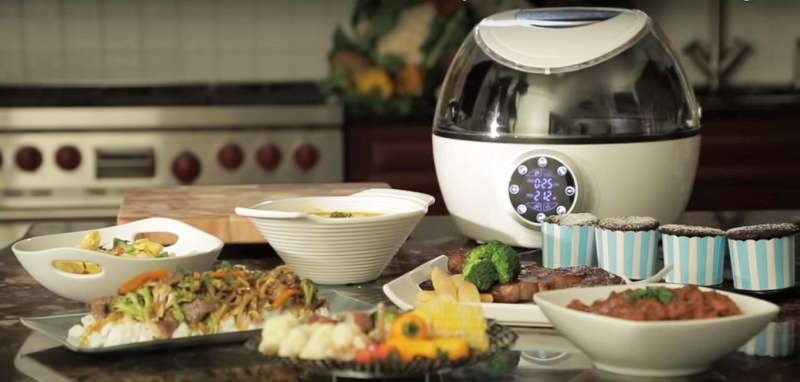 Via: Gizmag