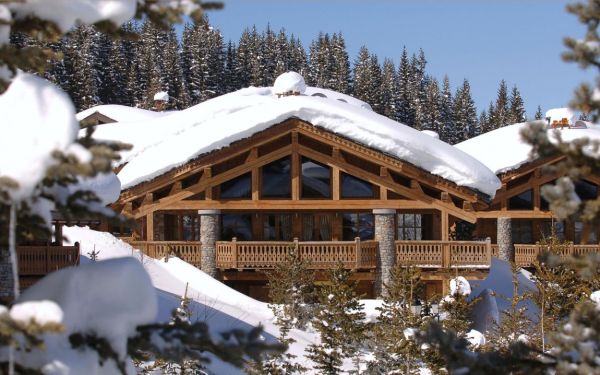 Chalets are a common site in the French Alps, but Chalet Les Sorbiers is one of the most luxurious and enticing ski chalets here. Located in Courchevel, France, the luxury ski chalet is part of Courchevel's luxury hotel, Le Kilimandjaro. Situated at a distance of 500 meters from the hotel, and being tucked away in the mountainside, the picturesque Chalet Les Sorbiers offers 5 star hotel facility along with a peaceful and secluded environment to ski lovers. At a stone's throw from the famous ski slopes in the French Alps, Chalet Les Sorbiers has contemporary wooden exteriors and fine wood paneling along the walls and ceiling.
The guests at the Chalet Les Sorbiers are welcomed inside by a massive wood burning stone fireplace with soft luxurious sofas all around it. Besides, the ski chalet projects alpine charisma and has been stuffed in with latest home technologies and elegant furniture. To guarantee its guests a luxury stay, the Chalet Les Sorbiers has a chef, a butler and a housekeeper. These have been recruited to ensure you get the tastiest food and that the chalet is maintained at its best all through your stay.
After your ski trips, you'd definitely want to relax. Chalet Les Sorbiers has all arrangement made ahead of time. For your relaxation, the bathrooms at the chalet feature hot bath tub.  There is a home cinema installed, where you can watch your favorite movies which cuddling on the soft sofas in front of the wood burning fireplace. Guests at Chalet Les Sorbiers can also skip over the Kilimandjaro Hotel for a fabulous spa, a swim in the pool or a training session at the gym.
Via: Homedsgn