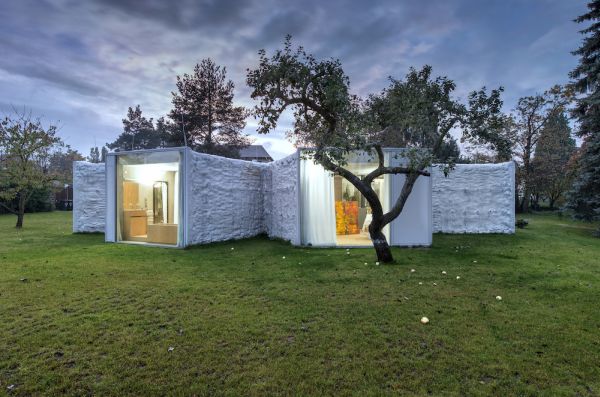 Czech-based studio Petr Hajek Architekti has created the Chameleon House in middle of a beautiful garden near Prague. The house features six different rooms all facing in different directions, forming shape of a lazy lizard in sun-lit meadow. Each room contains a huge glass wall offering unique views of natural surroundings and brings in the natural daylight inside. However, to provide privacy each glass wall is mounted with curtains flaunting in every room.
Each room faces a different tree planted in the garden- the living room faces the apple tree, the master bedroom is opposite to the cherry tree, the bathroom faces the peach tree, the guest room is next to the silver spruce and the children's room is against the walnut tree. Interior of the house is lined with wooden flooring and contains a contemporary furniture and décor objects. It includes all necessary facilities like urban dwelling, a kitchen fully equipped with latest cooking range, stylish bathroom fittings and fancy lighting.
Exterior of the house is all covered with a lumpy polyurethane foam providing natural earthly feel to this small dwelling. The surface is coated with a semi-gloss paint which upgrades its look and also reflects changing colors of garden and sky to form a natural camouflage to blend with surroundings like a Chameleon lizard, thus living up to its name. Each room is extended towards the garden to bring the owner close to nature.
Via: ArchiExpo