If your loved ones are fascinated about the infinitely big solar system and interstellar mysteries, then you have got the best chance to surprise them with baking this delicious space-themed cake. However, the chocolate moon cake doesn't seem to be very tasty, but the craters and the American flag (not sure if it's edible) pinned atop a toothpick signifying a historical date are more than enough to satiate your quest for the great extraterrestrial phenomenon.
Simple to cook, the cake by Sara Kate Gillingham is an adaptive version of flourless chocolate cake by David Lebovitz, which is later covered with empress pearl dust on top to give it a moon-like appearance.
Material you need:
290 grams of coarsely chopped bittersweet/semisweet chocolate
200 grams of butter, salted or unsalted cut into pieces
½ teaspoon of almond extract
5 large eggs (room temperature)
One cup of (200 grams) sugar
Empress pearl dust
Process:
Preheat the oven at 350-Degree F.
To start with, first butter a 9-inch springform pan and dust it with cocoa powder to soak excess butter. For making the springform tight, you can also wrap aluminum foil outside the pan.
Melt chocolate and butter in a double boiler (microwave) with occasional stirring until smooth. Stir in the almond extracts and remove from the heat.
Whisk together eggs and sugar in a large bowl and add melted chocolate and whisk until smooth.
Now pour the batter into prepared springform pan and cover the top of the pan with sheet of foil. Now put the pan into a larger baking pan and fill it with enough hot water.
Bake the cake for one hour and 15 minutes.
To check if the cake is done, touch the center with any sharp object (toothpick, knife, etc.). If it comes out clean, then your cake is ready to be served. Now lift the cake pan from water and let it cool for some time. Once the cake is completely cool, brush some pearl dust on it and your space-themed moon cake is ready.
Cake storage:
The cake can be wrapped and stored in refrigerator for three to five days.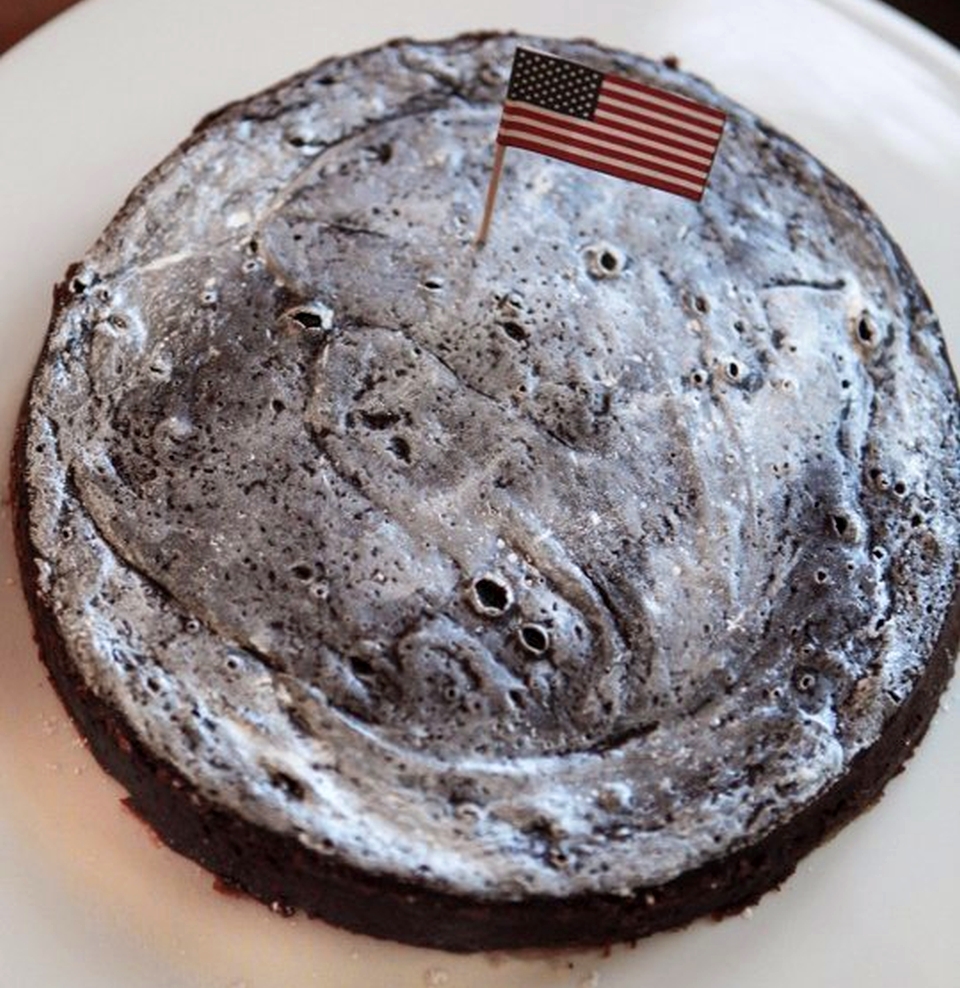 Via: Foodiggity