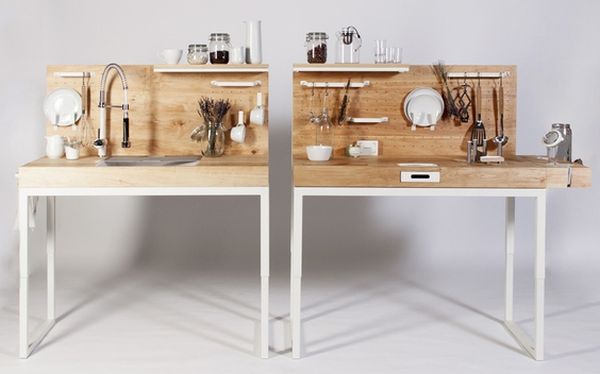 Berlin-based industrial designer Dirk Biotto has created the ChopChop kitchen workstation for elderly and physically disabled persons. He noticed that elder and differently-abled persons usually find it difficult to chop vegetables and pickup heavy pots  while preparing stuff for cooking. To solve the problem, Biotto made this height-adjustable kitchen workstation with easily accessible tools.
ChopChop is made of wood with a backboard to hang kitchen utensils like mugs, plates, spoons, etc. The counter-top of this kitchen can easily be adjusted according to an individual's height. So, that you can work comfortably on the counter. It includes a sloped sink on which heavy pots can be filled with water and one can slide them with ease on to the working surface. The sink has an extendable hose so that filling a pot with water and doing the dishes does not strain the hands.
ChopChop kitchen counter also has a grater on its surface; beneath the grater is a pull-out box to collect grated vegetables. The grater can be used to grate or chop vegetables using only one hand and chopped veggies can be collected easily when you're done with grating. On its right side is an extension to keep jars and cans.
Other necessary things like bottles, cups, and glasses can also be placed on the counter so that you don't have to go to any other part of the kitchen to find them. Hopefully, Biotto's smart design will improve working environment in conventional kitchen for elders.
Via: FastCoDesigns